Class BlOG
Diverting directions! - Thursday 21st March
This week we have been busy thinking about words that we can use to give directions and how to write instructions to move from one place to another. We have created some beautiful maps of Gillingham and used these to help us to think about how to get from one place to another and what instructions you would need to give someone so that they arrived successfully!
With that in mind, for homework this week we would like you to create a map of your journey to school - we have talked about whether everything needs to be on those maps - Mrs Cutler and Mrs Walker agreed that their map does not need to include the church as they do not pass that, but Miss Brown's map does! The key thing that we are looking for is that the children think about the things that they pass on the way to school and open their eyes on their journey! Mrs Walker's map is included on the pictures below!
Marvellous museum visit
We've had a super start to our week with a visit to Gillingham Museum. We followed our aerial photos to help us to find our route and arrived at the museum with time to spare! Everyone was fascinated exploring the different displays and the children really enjoyed talking to the museum staff and asking questions! To complete our visit we had a talk from Mr Woodcock and found out all about Gillingham's famous bacon and eggs!
We were even lucky enough to be given postcards of John Constable's painting of Town Bridge to bring home as a souvenir.
A massive well done goes to the children for their great behaviour and attitude and a huge thank you goes to the museum volunteers and the parents who came with us and make a memorable museum visit!
HAPPY WORLD BOOK DAY FROM BADGER CLASS!
Our class winner was Dylan for coming as his true hero - Coyote Peterson!
Investigations galore!
This week we have been busy investigating fractions in maths - we've tackled some pretty tricky questions looking at how to write fractions using numerators and denominators, which fractions look different but actually mean the same amount, and applying our skills to solve problems using real pizza to help us! Maybe you can solve the problem?
Meanwhile, in our role as Street Detectives we've been investigating and comparing old and new photos of places around Gillingham. We've noticed some interesting things and we've got even more questions now! Hopefully some of them will be answered when we visit the museum on Monday!
Street Detectives
We got our imaginary magnifying glasses out today and went looking for clues to see what we could learn about Gillingham in the present and in the past.
We made sure that we not only looked around us but that we also looked up and down to check that we found as many clues as possible and we did a super spotting job - so good in fact that the walk that Mrs Walker expected to take us an hour took nearly two!
We found out lots of interesting facts about Gillingham but we also came back with lots of questions and things that we want to discover more about.
Luckily, in the afternoon we had a visit from a local resident who was able to answer lots of the questions that we had and who made most of us wish that we lived in the Gillingham of the past rather than the present!
Hopefully the pictures below will prompt the children to be able to share a little of their learning so far with you!
Perfect pirates
What a perfect pirate-y end to our Land Ahoy theme!
Our day began with a pirate story before a mysterious bottle appeared containing instructions to find the "X" that marked the spot and hopefully some treasure! Luckily, we did not cause any chaos around the school (!), or end up in Mrs Preston's office, as the desire for the treasure overtook the possibility of reading the instructions!
"We've found three lots of treasure!" - well go and put it back then! We worked on our ability to follow the instructions until playtime by which time we had all found some treasure!
After play we learnt about directions and clockwise and anti-clockwise rotations as we tried to direct the pirate ship around the killer turtle, avoiding the island and the other pirates to reach the treasure. We really enjoyed the challenge of this and even wanted another go after lunch!
Finally it was time to welcome the parents in to celebrate our learning. We hope that they enjoyed watching our pirate dance, hearing our sea shanties aboard the Jolly Roger, watching our Grace Darling drama and looking at the reports and poems that we had written as well as our amazing art work!
Thank you all for coming and sharing our celebration with us - on to Street Detectives next!
Healthy us!
This week in our jigsaw learning we have been thinking about keeping keeping healthy. This morning we thought about fruit and vegetables and what would go well together to help us to make some yummy fruit and vegetable kebabs.
There is no homework this week, although we would like you to keep working on your common exception words and there will be some exciting news and learning ideas about our new theme coming home when you join us for our pirate celebration on Friday!
In maths after half term we will be looking at fractions so it would also be great if you could start using the language of halves, quarters and so on in the holiday.
Happy holiday everyone!
Investigating shapes
This week we've been investigating 2d shapes. Hopefully all of the children can explain to you what a 2d shape is and can also tell you about polygons!
Today we've worked in teams to investigate the properties of the shapes and identify how many sides they have, how many vertices (we're working on our mathematical language!) and whether they have a line of symmetry or not.
Our homework is about symmetry as well and as an extra challenge - can anyone tell me how many lines of symmetry in a circle?
Next week we're going to move on to looking at 3d shapes so see what you can find out before we start!
We've also been busy this week having a go at some quizzes. Everyone has had a really positive attitude to giving things a go and persevering when they were not sure so they should be really proud of themselves!
Because of this we haven't tackled a new spelling rule this week so instead of sending home a spelling homework, I thought I would send you this link so that you can practise your common exception words - www.ictgames.com/littleBirdSpelling/
We've continued to think about sea rescues and we've started to gather some amazing adjectives to support us in moving on to poetry writing next week - maybe you can come up with some more words at home to add to our list. We are particularly interested in alliterative phrases such as "wet water" - that's not very exciting is it? I'm sure you can do better!
Grace Darling
Although we are still busy writing reports about pirates, we've started to think about other people who are on the sea as well this week!
We found out all about the story of Grace Darling on Monday(hopefully the children can fill you in!) and on Tuesday we recapped what we knew and used our knowledge to act out our own version of the story! What amazing actors we have in our class!
In other news, we have finished our work on money today and will be moving on to shape. There will be a shape based homework to follow but it would be really helpful if you could do as much talking about both 2d and 3d shapes as possible to support the children in their learning.
Money, money money!
This week we have been investigating how to exchange coins for other same value coins - for example, we can make £1 with two 50ps, five 20ps, ten 10ps, twenty 5ps, fifty 2ps or one hundred 1ps! We were also able to use our knowledge of commutativity to help us.
Next week we are going to investigate how many ways we can find to make the same amounts using different coins, e.g. how many ways could I pay 78p?

Ahoy there shipmates!
We had an exciting start to the new term in Year 2 when we came back from playtime to find a mysterious chest had appeared in the classroom. We had lots of ideas about what it might be, who it might belong to and where it might have come from. When we managed to get the lid off we discovered that it was full of things belonging to a pirate. We were just wondering where it might have come from when we heard a shout of "Land Ahoy!" from next door and discovered that a pirate and his ship had arrived! The children did a great job of interviewing the pirate, coming up with some really interesting questions and we have learnt lots about what it is like to be a pirate! This afternoon we explored pictures of some real pirates and we all found out our pirate names! Apparently we have five Captains in our class and none of them are grown ups!
Missile Attack
Attack and defend!
In PE we've been working on attacking and defending games and strategies!
We set up our own apparatus castle and after climbing around the "castle walls" we took it in turns to be defenders or attackers!
Amazingly, Lilly's team managed to storm the castle twice using the same route, taking the castle in less than 10 seconds! Maybe we need to keep working on those defensive skills!
An end and a beginning! November update.
Sorry for the gap in blogging - I will endeavour to catch up!
So this post tells of the end of one topic and the beginning of the next - both very exciting events!
On Friday 19th October we held our "Big Messy Art Exhibition" which was the culmination of our Muck, Mess and Mixtures topic. Everyone loved being involved, not only in the planning of the art, but also in setting up the exhibition itself and creating leaflets to guide you round.
We had a super turn out and some fantastic tour guides! We even had our own cafe and gift shop.
When we came back after half term, the first day was very mysterious as we were not allowed through the curtains into Fox class!
On the second day we had a big surprise as when the curtain was pulled back we had our very own castle to play in!
We spent the day immersing ourselves in our new theme of Towers, Tunnels and Turrets ans we had some fantastic story telling going on as the two kings fought over the castle!
Friday 12th October
AMAZING ADDITION!
We've been busy developing our addition skills this week. We started off by adding ones to a two digit number, then tens and then yesterday we put it all together so that we could add two two digit numbers!
We worked with dienes to help us to begin with and moved on to using place value cards but by today lots of us could do it without using anything to help us and some of us even solved an extra tricky problem!
In case the children want to talk you through how to add, I've included a picture showing our steps below!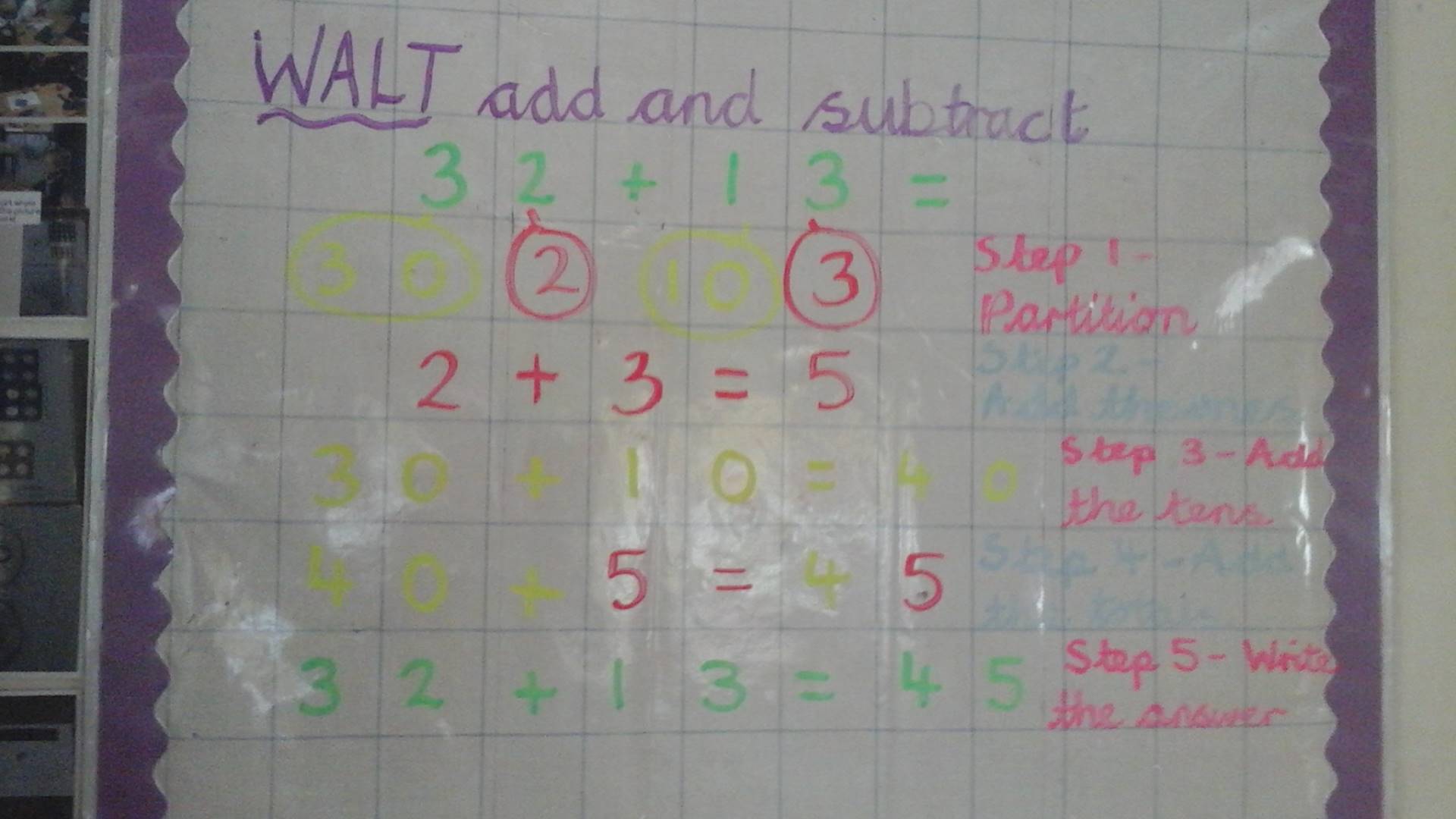 Monday 1st October
CLEVER CLAY!
Today we've been experimenting with what happens to clay if you add water to it and we found that we could do something amazing! We could paint with it!
The clay became more and more slippery as it became wetter and wetter - we found out that this is called clay slip and it makes some really interesting textures!
Friday 28th September
Yesterday we set up an interesting experiment to investigate mixing liquids. We put some baby oil in a jug and added red ice cubes - then we watched to see what would happen. We made some sensible predictions but no-one managed to guess what had happened by this morning! We had some super discussions about why we thought it might have happened - I will leave the children to tell you all about it!
Thursday 27th September
Today we've been finding out about a new artist called Kurt Schwitters.
We learnt that he was an artist from Germany and that he used all sorts of different things to make his art. He liked to do collage and sculpture.
We looked at lots of his art and then had a go at creating our own versions!
Wednesday 26th September
We've been busy problem solving today, using our new found knowledge of counting in 3s!
Miss Brown is collecting beads to make a tiara!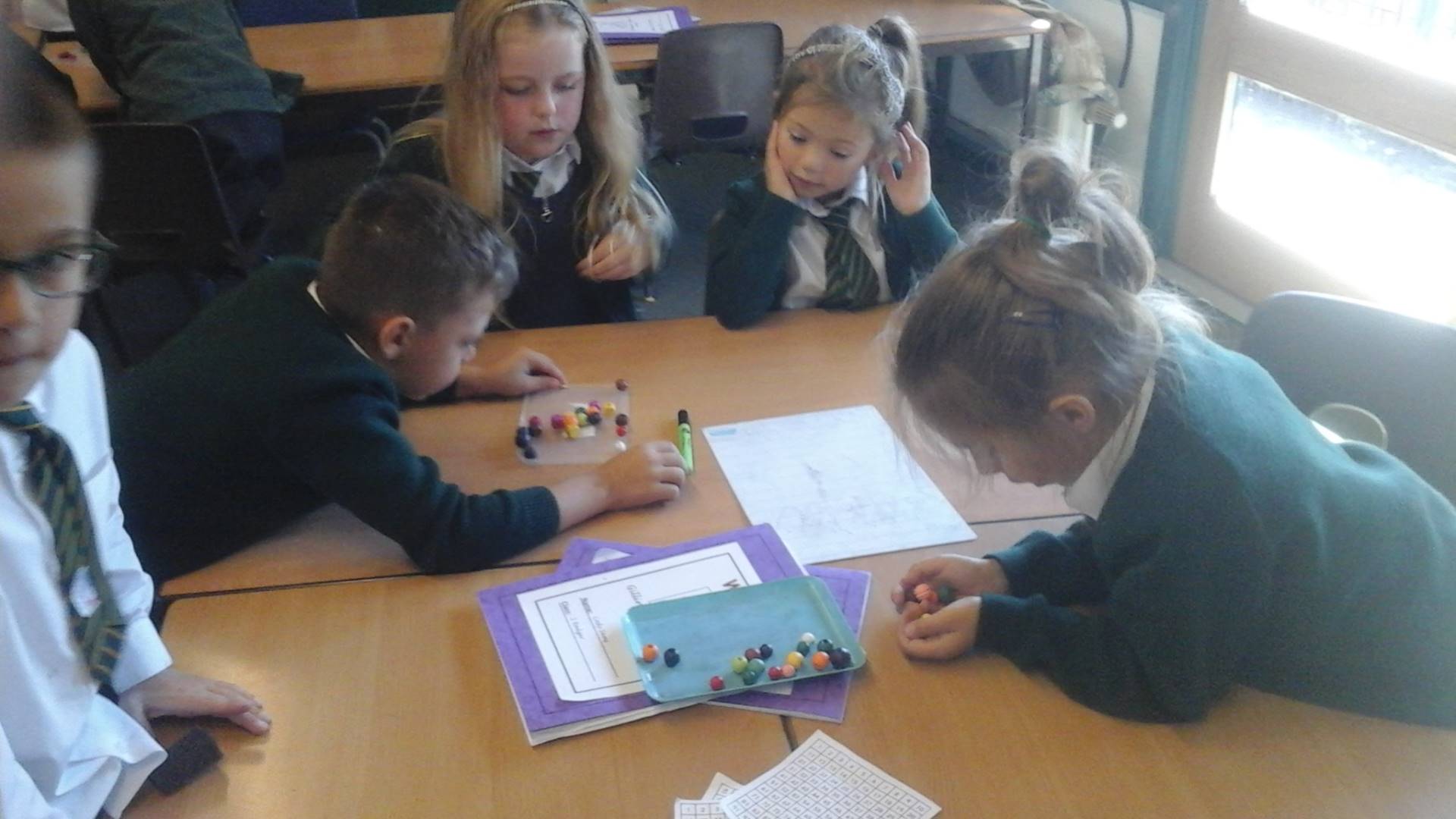 She has 6 beads already and she has collected beads for 6 days.
She collects 3 beads each day. How many has she got after 6 days?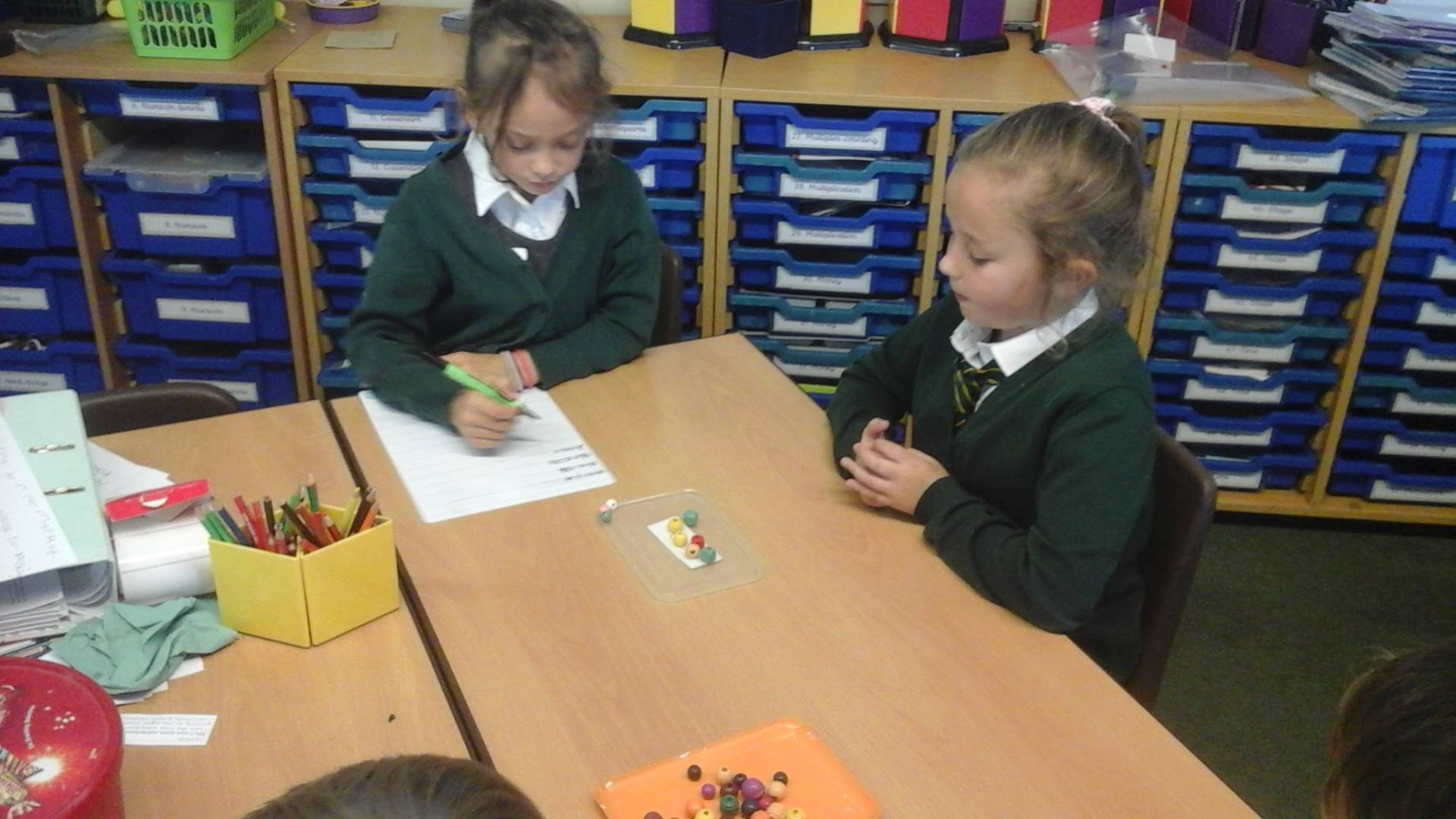 Can you work it out? We did!
Tuesday 25th September
Monday 24th September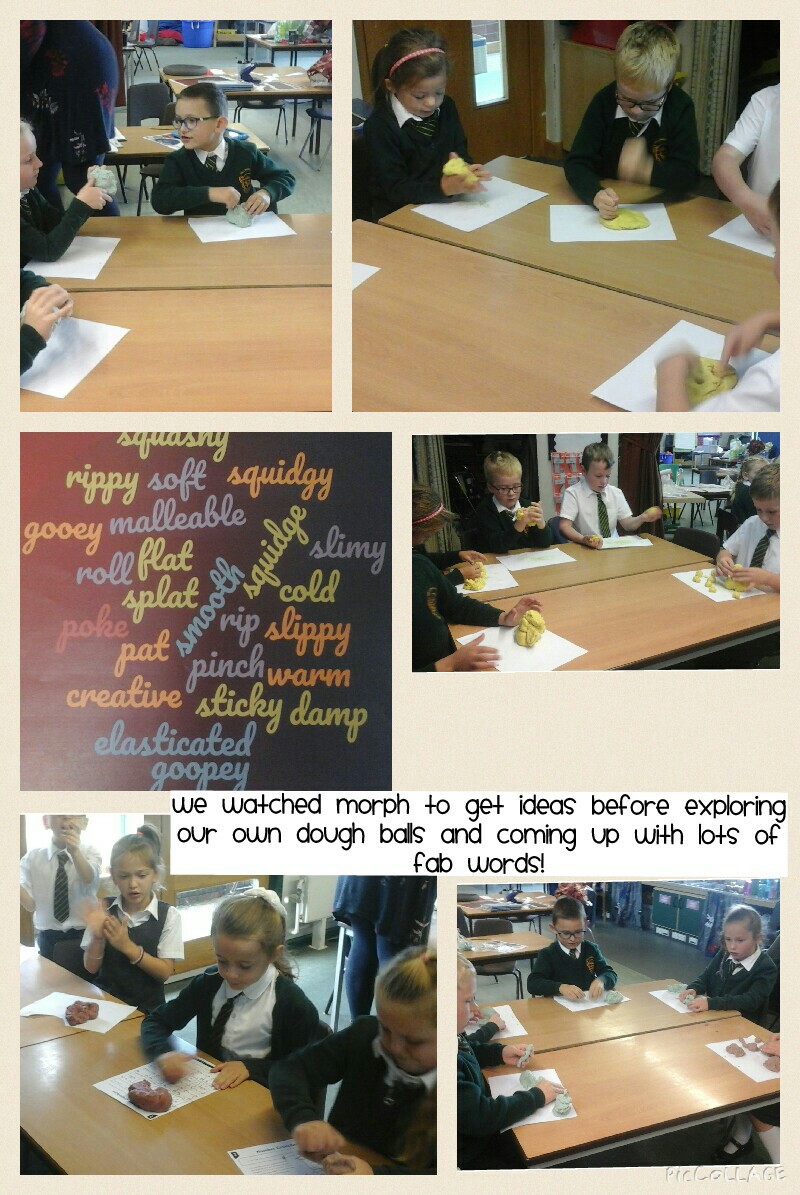 Friday 21st September
Melting moments
On Wednesday we investigated melting and found out that chocolate melts really well so it seemed only right that we apply our knowledge by melting chocolate and using it to make cakes - oh, and we got to see what happened when it cooled down again as well!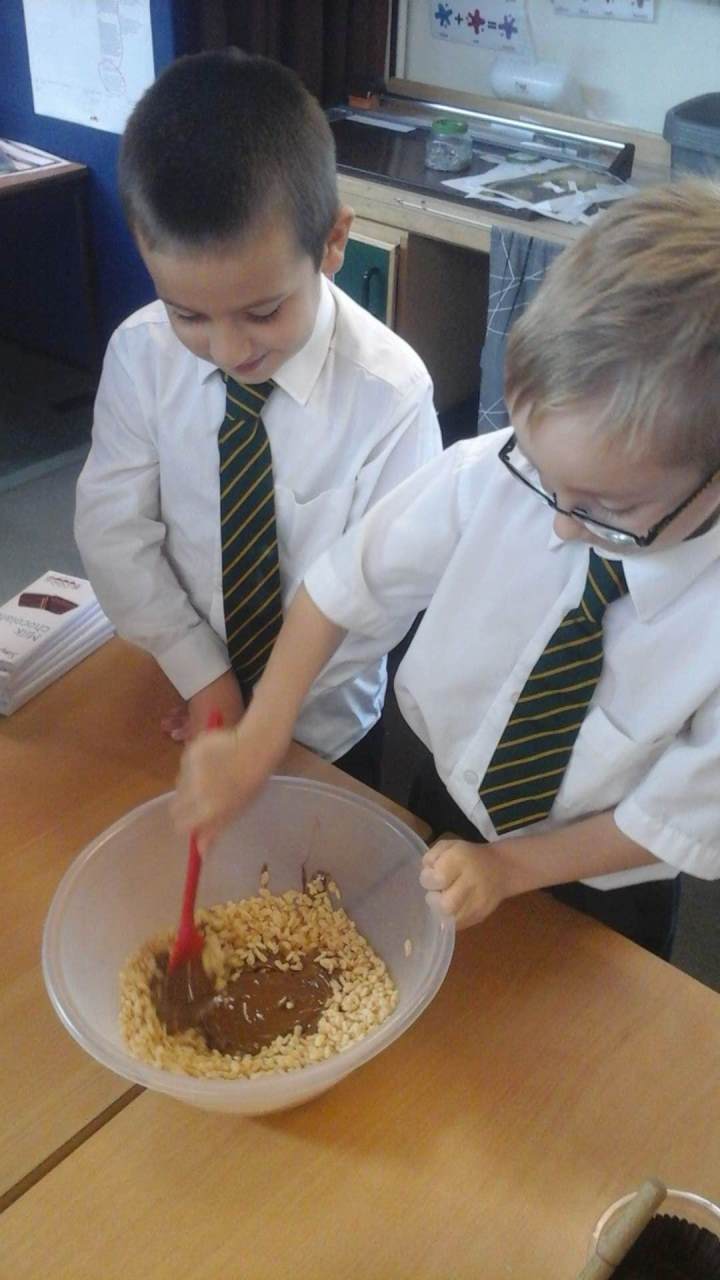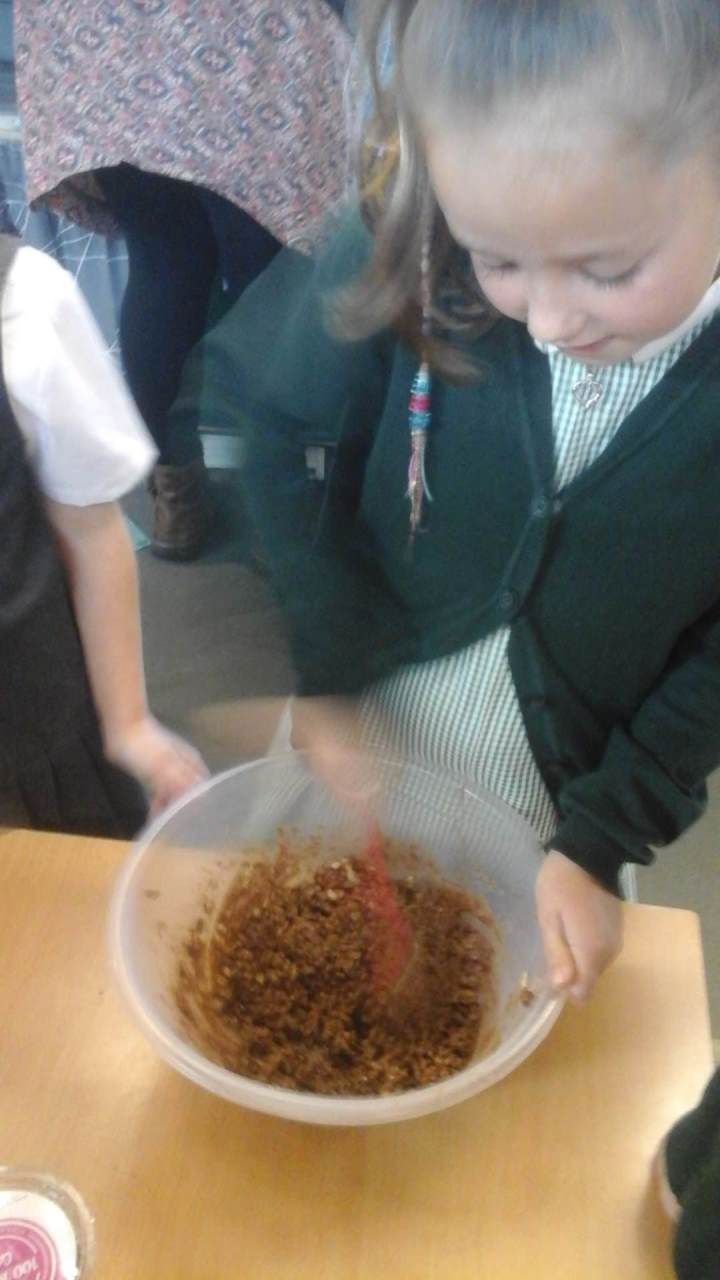 Thursday 20th September
Who'd have thought?
Ice cream in a plastic bag - surely not! The grown ups were dubious to say the least but imagine our surprise when not only did it work, but it tasted like ice cream - yum! Except that was, for the group who managed to open the bags and muddle the ice cream with the salty ice cubes freezing it! Yuck!
As Maisie and Fynley explain...
First we got a small bag and then we put blue milk in the small bag. Next we put the sugar in the small bag . Then we put the small bag in the big bag. After that we put the rock salt in the bag and then we shook it.
You can tell from the clean bowls in the pictures that it must have been good! Maybe chocolate milkshake next time...
Wednesday 19th September
Magic melting!
We've been busy being Scientists today and investigating which things would melt. We looked at some different foods and tried to predict whether we thought that they would melt or not. Some of them were quite easy like ice cream but some of them were a bit more tricky to guess! Then we put them in the oven and checked them every two minutes for ten minutes to see what would happen and whether our predictions were correct!
Tuesday 18th September
Monday 17th September
We had a tricky morning to start our week, solving riddles about the different materials that we have investigated so far this term. We decided that the clues with descriptions in were much easier to solve than the clues where we had to find letters, which was lucky because we have been doing expanded noun phrases this week where we have to expand our noun phrases by adding adjectives in to describe the nouns! Some people even managed to use their expanded noun phrases to create their own riddles - see if you can work out which one is about jelly and which one is about shaving foam!
I am weird, slimy and come out blue,
Put me in water and see what I do,
Get in with your feet, I might be slippery,
What am I?
by Tim
I'm wiggly and I'm wet and I'm very yummy to eat,
You put me in the fridge till I'm ready to eat,
You eat me for pudding and you put cream on me.
What am I?
by Maisie
Friday 14th September
Revolting Recipes!
This afternoon we have been learning about imperative verbs like "cut", "chop", "get", "put", "mix", and "taste" by following instructions to make some of Roald Dahl's revolting recipes. We have made the Enormous Crocodile, some snozzcumbers for the BFG and Mr Twit's beard food! Then we tasted it and amazingly they were quite popular!
See if you can play a game giving each other instructions and spotting the imperative, bossy verbs at home!
Thursday 13th September
Tuesday 11th September
Terrific tasting!
Great excitement today as we were able to use our sense of taste as well as our other senses!
Most of the children were really brave about trying new things and were keen to have a go at everything - even if it did produce some interesting faces!
We tried olives, curry sauce and poppadoms, salsa and tortillas, salami, hot dog sausages and kiwis to try and give us some international variations! The biggest surprise hit was the number of children who would happily have eaten the whole jar of olives!
Monday 10th September
This morning we have started to look at Place Value. There were lots of pegs on the table and we had to think about how we could make it easier to count them. We had some great conversations! We thought about grouping them by colour, but we decided that that didn't really help! Putting them in a line made it easier to count them but it was still tricky to remember what number we had got to. Putting the pegs in the numicon shapes helped us to organise them and some people came up with the idea of counting in twos which really got us thinking. We finally decided that the easiest way was to group them into tens and then see how many extra ones we had left over - that made it much quicker to count and we didn't lose our place!
We are going to be carrying on our work about tens and ones in the next couple of weeks and finding different ways of showing this. We will try and share pictures so as you know what we are doing and how!
It would be really helpful if you could support at home by:
doing lots of counting forwards and backwards in tens, from any number (not just 0,10, 20, 30 etc but 6,16,26,36 and so on as well),
identifying how many tens and ones there are in two digit numbers, e.g. on door numbers when you are out and about or price labels in the supermarket
asking children what is one more/less or ten more/less than a number
counting forwards and backwards to 100 from any starting number.
Happy counting!
Friday 7th September
Stupendous Scientists!
We found the word "stupendous" in the dictionary yesterday when we were looking up what stupidity means as it was in our story. We were really interested by the fact that "stupidity" meant to be stupid but "stupendous" meant to be amazing or tremendous. As we were amazing and tremendous scientists this afternoon it seemed like a good time to use our new word!
We have been investigating what happens to different things if you put them in water. We experimented with clay, flour, sugar, salt, glitter, shaving foam and baby oil and looked at whether things could be stirred, whether they floated or sank, whether they dissolves and so on. We had some very interesting conversations especially about why things float and sink and we've even come up with some new questions to investigate in the future!
Do have a look at our investigation windows to see our ideas – maybe you could even do some investigating at home!
Thursday 6th September
Marvellous muck and mess!
What a fantastic start to our new theme we had yesterday morning investigating mess!
We used all of our senses except the sense of taste (that is yet to come!) to experiment and find out about a whole range of different things from cloud dough to baked beans, goop to shaving foam!
It was just as well we had brought in our old clothes to wear as some of us went for the full body (and hair) experience! Thank you very much for remembering to send old things in and for all of the baths which were probably needed last night!
As we got over the initial excitement we started to come up with some fantastic adjectives to describe the experience and we built up quite a word bank which we used to help us label our great display in the corridor in the afternoon – do come and have a look!
What a magnificently messy morning we had!
Tuesday 4th September 2018
BRILLIANT BADGERS!
We have had a fab first day back in Badger class. We started the day with a run through of routines so as everyone knew the important business about going to the toilet, drinks, snack etc! Then we had a good chat about our holidays before we went off to write. The grown ups in each group had to do really good listening because then they had to remember something about each of the children's holidays to share with the other groups - it was quite tricky!
This afternoon we hear a story about "The Huge bag of worries" and we talked about all of the things that might worry us about being in Year 2. Luckily we've fed all of our worries to the worry monster now so we don't need to worry about them any more!
We're looking forward to getting really messy tomorrow!
Thursday 20th September