Class Blog
Tuesday 12th March
Over the past week, during our Topic lessons, we have continued to deepen our knowledge and understanding of how the circulatory system works, and are looking forward to making blood later this week. In English, we are continuing to read 'The Wildwood' and have worked hard to write our own 'missing' newspaper reports / posters for Prue, Mac and Curtis. We will now be planning our own story endings in another piece of narrative writing. In maths, we have learnt about converting between metric unit of measures, and have used this to calculate answers; this week's focus is how to calculate area, perimeter and volume. Our weekly spellings focus on adding the suffixes cious, tious, cial and tial.
Wednesday 27th February
Wow - we can't believe it's Wednesday already, and what a day it's been. In order to launch this half term's topic, we decided that hands-on, practical fun was to be had by dissecting a pig's heart. All children embraced the challenge of exploring the different features of the heart enabling us to begin our learning about how the heart works as part of our new topic 'Blood Heart'. Although there were some reluctant takers at first, the children amazed us with how quickly they overcome their worries and 'plunged' themselves into the dissection. Look out for the information coming home this week (Thursday) about our new topic and the home-learning opportunities too. In other subjects, Maths, we have been learning about finding percentages of amounts, including percentage increases and decreases; in English (reading and writing) we are getting to grips with the story 'Wildwood' by Colin Meloy and have created our own knowledge organisers to help us remember how to write and correctly punctuate dialogue.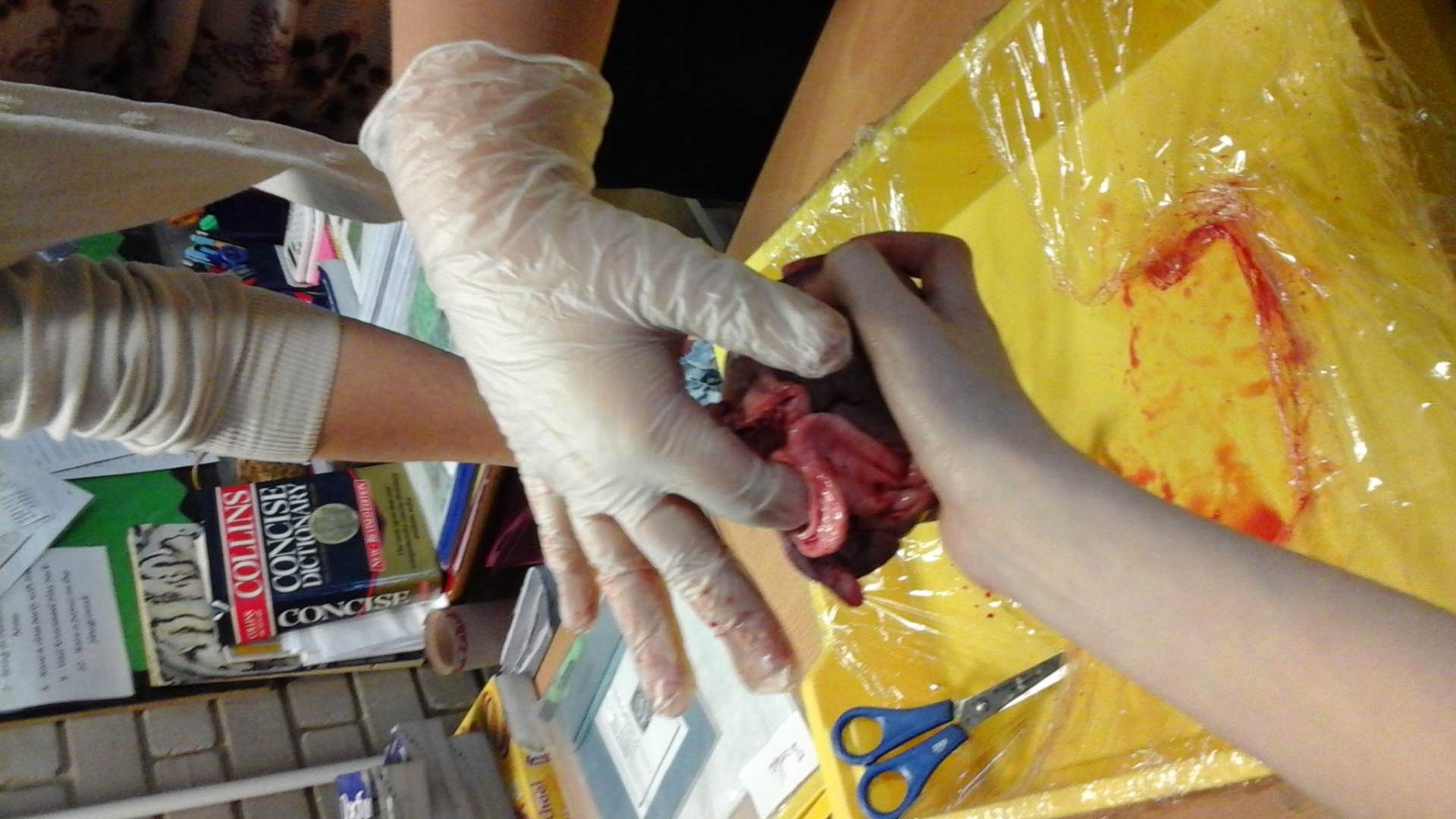 Friday 8th February
Where has this half term gone? Only a week left before a well-deserved week off! The children in Year 6 have worked exceptionally hard this week to finish their independent narrative writing, hold a debate as to whether Shackleton's Transantarctic Expedition was indeed a success of failure, plan and carry out a scientific experiment to test which material makes the best insulator as well as completing a set of year 6 tests. Having started our new class reader, The Polar Bear Explorer's Club, this week we will focus our guided reading sessions on using VIPERS to answer different questions. By linking our maths to our Topic (science learning), we will be using line graphs to present our results from our experiments, and drawing conclusions about which material was the best insulator. In other maths learning we will be focusing on the properties of shape, translation and reflection on a co-ordinates grid. In English, we will be writing up our balanced argument from our debate, developing our re-drafting and editing skills.
Friday 1st February
Friday's snow day could not have been better planned to help us bring to life our Shackleton inspired stories which we will now be finishing on Monday! Hopefully, we have all managed to enjoy the snow and can use our real-life experiences to add extra detail to our writing! We are also looking forward to holding our own debate, but the subject of which will remain a secret for now! In our maths learning, we have looked at how fractions, decimals and percentages are equivalent, as well as securing our knowledge of calculating with fractions (this week's homework) and finding fractions of amounts. Next week, we will be learning how to find percentages of amounts and calculating percentage increases and decreases. In guided reading this week, we are looking forward to reading a new text - The Polar Bear Explorer's Club. Science will be the focus for our Topic learning this week.; the children will be tasked with planning and carrying out a fair test to find out which materials make the best insulators for keeping drinks hot when in the Frozen Kingdom.
Friday 25th January
Another week has flown by! Where is the time going? This week has seen us writing dog diaries, thinking carefully about how we can use cohesive devices to glue our ideas together. Calculating with decimals has been our focus in maths, and we have continued to expand of knowledge of the Frozen Kingdom by comparing the Arctic and Antarctic regions. Everyone who made it to our 'Polar Expedition' embraced the challenge of building a shelter, navigating an obstacle course (with a sledge) to collect tokens which could then be exchanged for items for a survival kit, and all in just 30 minutes and whilst getting dark! Great fun was had by all, especially eating cold beans at the end! We are looking forward to using this experience next week when we write the ending to Shackleton's Journey. In maths we will continue learning about decimals and how these are equivalent to fractions and percentages, as well as continuing with some SATs revision. Please look out for the new reading books which we have sent home today to support the children with their reading homework. We will also be using these in school during our whole class reading sessions.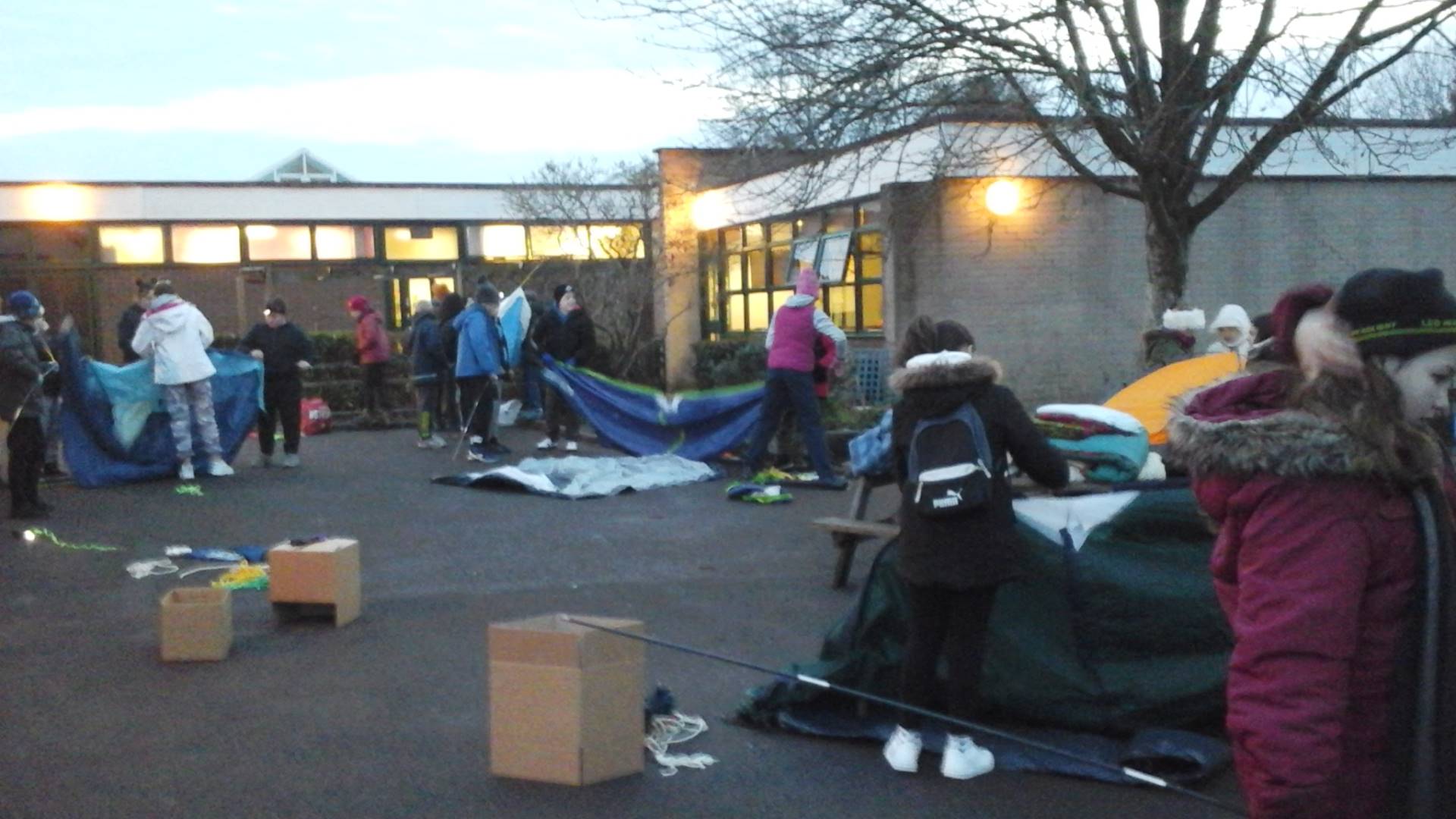 Friday 18th January
This week has seen us immersing ourselves in the story of 'Shackleton's Journey' which we have used to inspire our writing. We have written letters to potential donors in an attempt to persuade them to donate the much needed money for the purchase of Endurance, as well as writing a postcard home to a loved one informing them of our imminent departure. All correspondence has been sent in role as a crew member from the expedition.
Next week will see us writing from the perspective of the dogs, and following on from Wednesday's after school 'Polar Expedition', planning our own adventure stories. Comparing the Arctic and Antarctic regions during topic lessons means we are now ready to write a fact-file detailing their similarities and differences.
Our fractions' learning has culminated in us now being able to multiply and divide fractions, and we are looking forward to calculating with decimals next week.
The story of The Snow Leopard has inspired our reading sessions; we are now going to compare it with The Ice Bear.
Friday 11th January 2019
Welcome back everyone. We have all quickly settled back into the routines of Year 6, fully embracing our new Topic 'Frozen Kingdom'. Faced with a range of items on Tuesday morning, which were encased in blocks of ice, the children enjoyed piecing together the different clues to hook them into the text that will be the focal point for the initial learning in this topic - Shackleton's Journey. Using Longitude and Latitude, we have been able to recognise the position of our Frozen Kingdoms in relation to us and the rest of the world. Fractions have also made an appearance again this week - addition and subtraction - and we are looking forward to using them to multiply and divide next week. Look out for information regarding our topic learning and project homework ideas - these were given out on Thursday.
Friday 14th December
What an amazing week! The children have worked extremely hard to bring our Topic Work about the Victorians and associated Revolution to a close by attending a Great Exhibition of their own. All children had to produce a two minute presentation of a social or industrial cause of their choice , with the aim being to attract sponsorship and investment from Queen Victoria and her influential politicians and businessmen. The causes ranged from improving the conditions in prisons, to investment in fashion; the presentations included a first glimpse of the camera, life without and then with street lamps to vaccinations for smallpox. The children have been truly creative! Thank you Year 4 for being our audience, and Mrs Earley for being our very own Queen Victoria!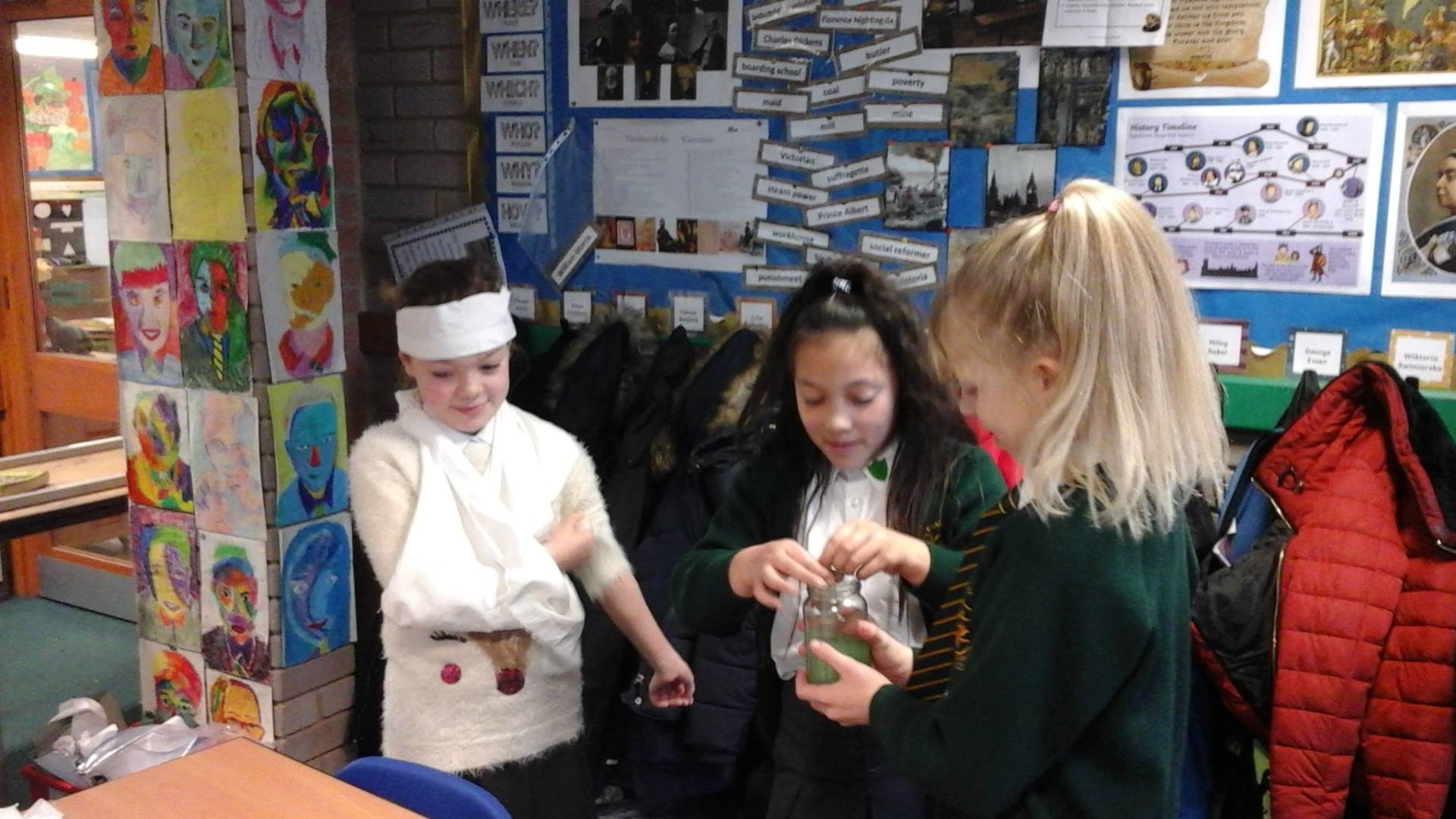 Thank you too for embracing our Victorian Day by coming to school dressed as a Victorian - you all looked the part.
Reading aloud from the bible - not the morning work activity we're used to.
Monday 10th December
This week we are looking forward to completing our very first Innovate Project enabling us to showcase everything we have learnt about the Victorians and 'The Revolution'. Alongside this, we will be making Victorian treats to sell at our Christmas Fayre on Thursday. Don't forget to dress as a Victorian on Thursday too :)
Friday 30th November
In maths this week, we have had fun using the cuisenaire rods to help us deepen our knowledge and understanding of fractions: what one is; how to find equivalent fractions; how to simplify fractions; and how to build fraction walls. We will continue with fractions next week as we learn how to add and subtract with them, as well as revisiting how to find fractions of amounts. In our Topic and English lessons, we have researched about what life was like for a poor Victorian child, and we had much fun on Wednesday when we got our hands on some 'real' Victorian artefacts: chimney sweep brushes, coal, weighted irons, 'muffins', a washing bucket with sheets and a dolly. Ask us about the writing we have since produced! Much discussion has been had during our Jigsaw lessons too this week as we have thought about what it means to be normal and what it means to have a disability.
Monday 26th November
Time seems to be passing ever quicker as we are now only a few weeks away from Christmas! Our second Topic - Revolution - has captured the minds and imaginations of all children and has resulted in them writing about what life was like in a Victorian School. This was followed by them working in small groups to research a topic of their choice related to the Victorians: Christmas, the workhouse, illnesses, crime and punishment (to mention just a few) - which they then presented to everyone else. Our English lessons have also centred around writing a biography about the life of a famous Victorian. Perfecting the Victoria Sandwich also helped raise money for Children In Need last Friday. So, with this week now upon us, we are looking forward to writing a diary based on the life of a Victorian Child as well as learning about fractions!
Friday 9th November
Wow - what a couple of busy weeks to start the second half of our autumn term. From reading and reciting poetry, to a morning in a Victorian School Room. All children have returned following Schoolhampton and Okehampton with a real buzz about them, all ready and eager to learn, putting into practise many of the key skills acquired during their residential week.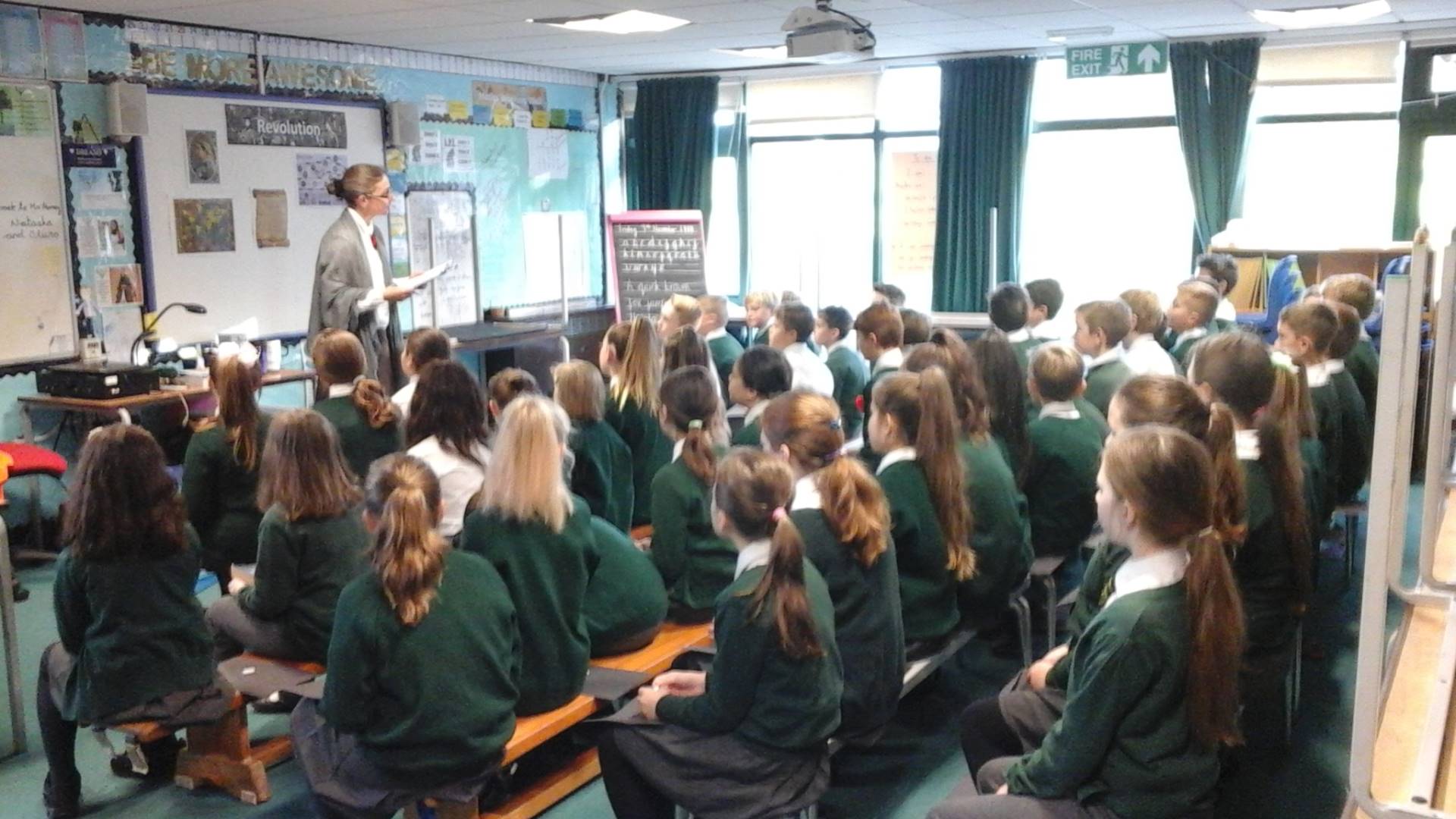 Friday 19th October
As Schoolhampton nears its end, we have had another extremely busy day working with Tim Hall who has left us with five key life skills / messages:
1 - It is important to have goals and want to be successful
2 - We can learn anything if we really want to
3 - Effort always leads to results
4 - We learn through following a process
5 - Life is so much easier if we get on with everyone!
The day started with enjoying our last breakfast together (including bacon rolls). We then began our workshop with Tim which has involved a pencil trick, juggling, making paper aeroplanes, and then building tepees. For more information, you can visit his website: http://www.bego.co.uk/education-workshops/primary-workshops/yr56-growth-mindset-motivation
We are now looking forward to ending the day with cakes to celebrate what's been an amazing week - well done and thank you everyone for all of your hard work. Have a great half term.
Thursday 18th October
Well - where has the week gone? We have had another fun-filled day full of working in teams to make pizzas / fresh pasta, followed by a very enjoyable trip to the swimming pool. We are really looking forward to our visitor tomorrow - a great way to end what has been a brilliant week.
And here's a quick glimpse of 'Our Reading Retreat'.
Thursday 18th October
We've had a fun packed day today! We have taken part in low ropes, team building games and archery.
Looking forward to Pizza and jelly with ice-cream for tea followed by a DVD and popcorn.
Wednesday 17th October

Everyone has enjoyed another fantastic day at Okehampton. The bike ride to Meldon Reservoir was good fun and the gorge scrambling was brilliant. Getting everyone in and out of wetsuits was a challenge! Great picnic lunch and everyone looking forward to bangers and mash for tea.. - Mrs Marney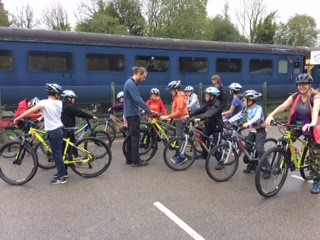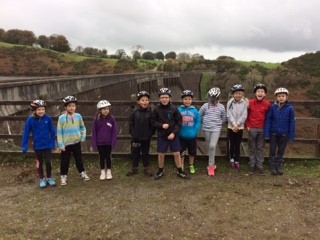 The children really went the extra mile for the room inspection this evening!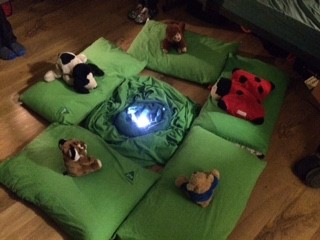 Then we had a fantastic night around the bonfire singing songs and playing games, with hot chocolate and biscuits afterwards.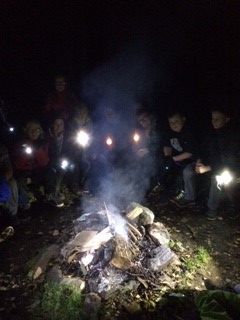 Schoolhampton
What another busy day at Schoolhampton! The children were all keen to set to work completing Our Reading Retreat which now looks pretty amazing! There are just a couple of bits to finish off before all is revealed. We spent the afternoon working in teams to complete a number of challenges involving chairs, drain pipes and tennis balls, planks of wood and skipping ropes, and newspaper. We are looking forward to tomorrow's Schoolhampton Bake-Off and an afternoon at the swimming pool.
Tuesday 16th October
Well done everyone at Schoolhampton for working as a real team, and with great enthusiasm on today's project of beginning the revamp of what will soon be known as 'Our Reading Retreat'. Pictures will be posted at the end of the week showcasing our creativity, but in the meantime, here are just a few snap shots of some of the work which has been going on.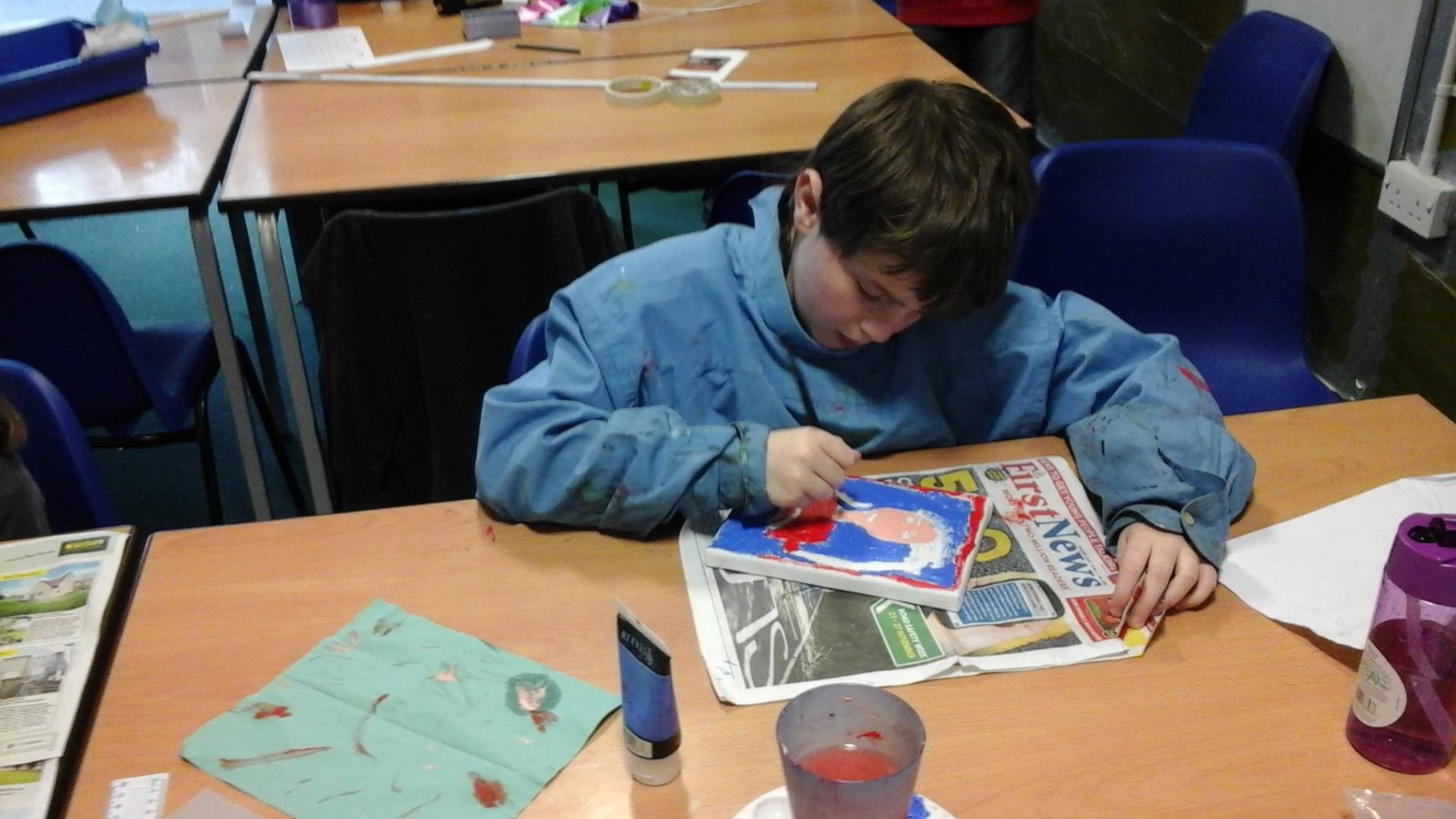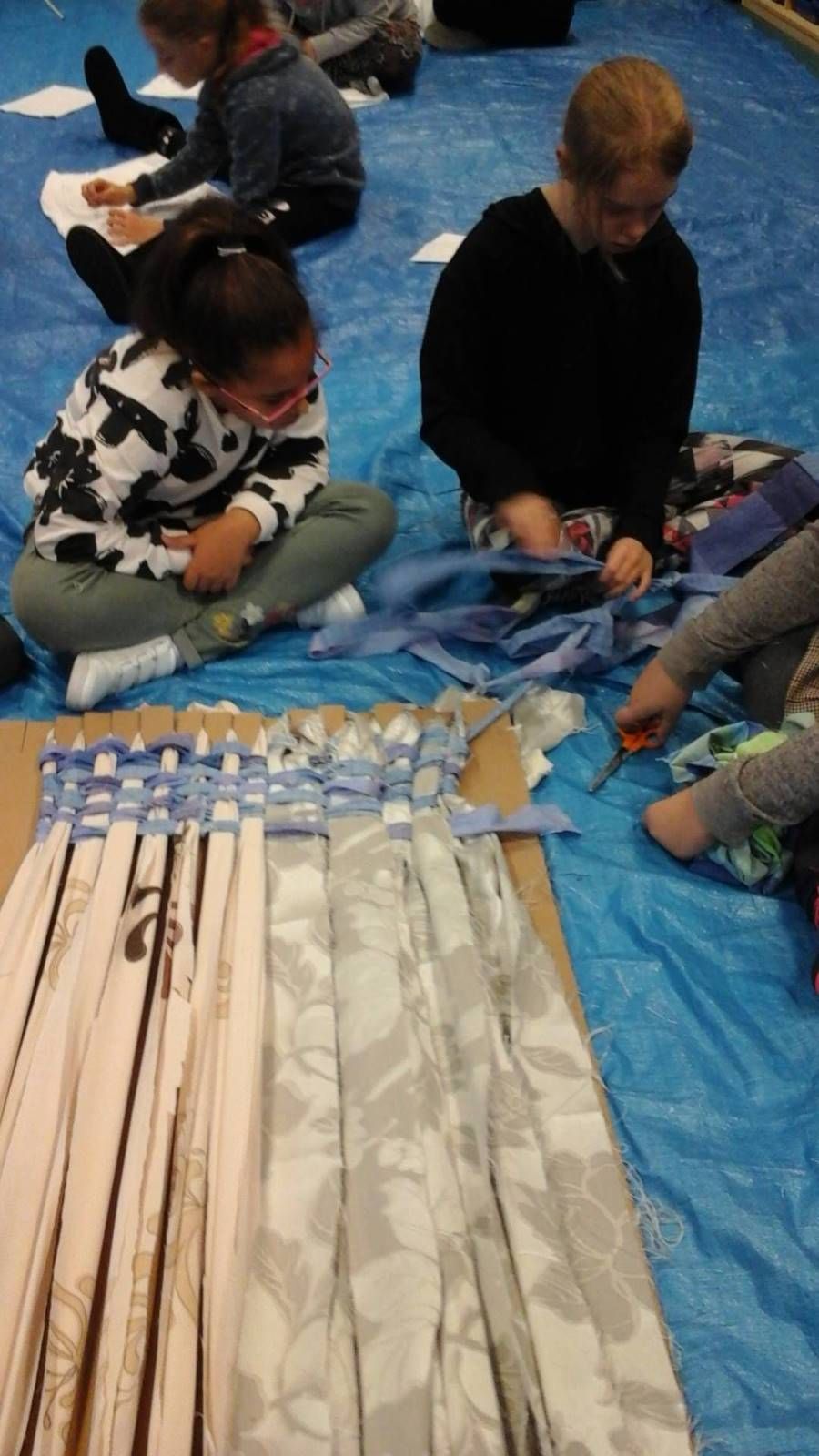 Okehampton
Everyone slept well and we're now having a brilliant second day at Okehampton!
We're spending the day at Bracon Tour and taking part in bush craft, mountain boarding and the climbing wall.
The children are very excited about the roast dinner this evening and a quiz....Mrs Marney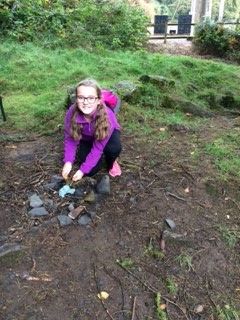 Monday 15th October
Okehampton -
We arrived safely and the children have enjoyed their first activity of orienteering or weasling. Bit drizzly but children not worried!
We've already had an orienteering competition - and here are the winners! - Mrs Marney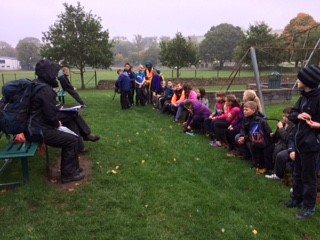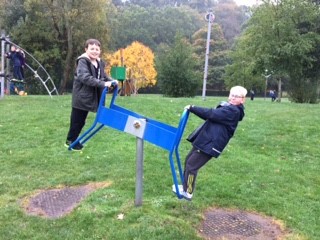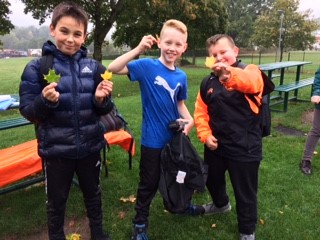 Evening
We have just had dinner. Wendy, the cook, remarked that our children were the best behaved and most polite children that she has seen all season. We are so proud of our children.
After dinner we enjoyed toasting marshmallows on the campfire and then went on a night walk - it was great fun! - Mrs Marney
Schoolhampton
We have made a great start with breakfast, team building games and plans for revamping 'Our Reading Retreat'. - Mrs Mawer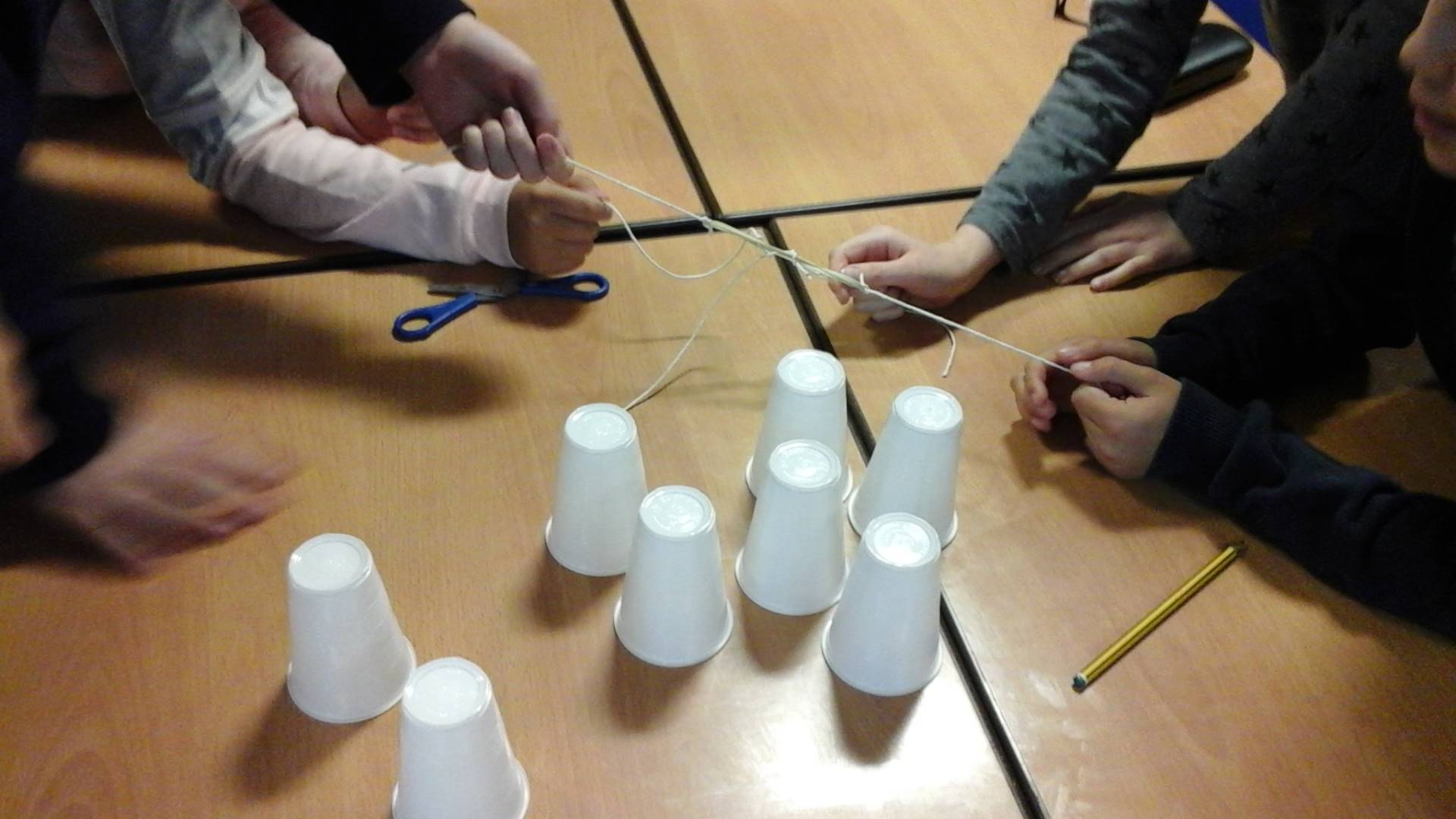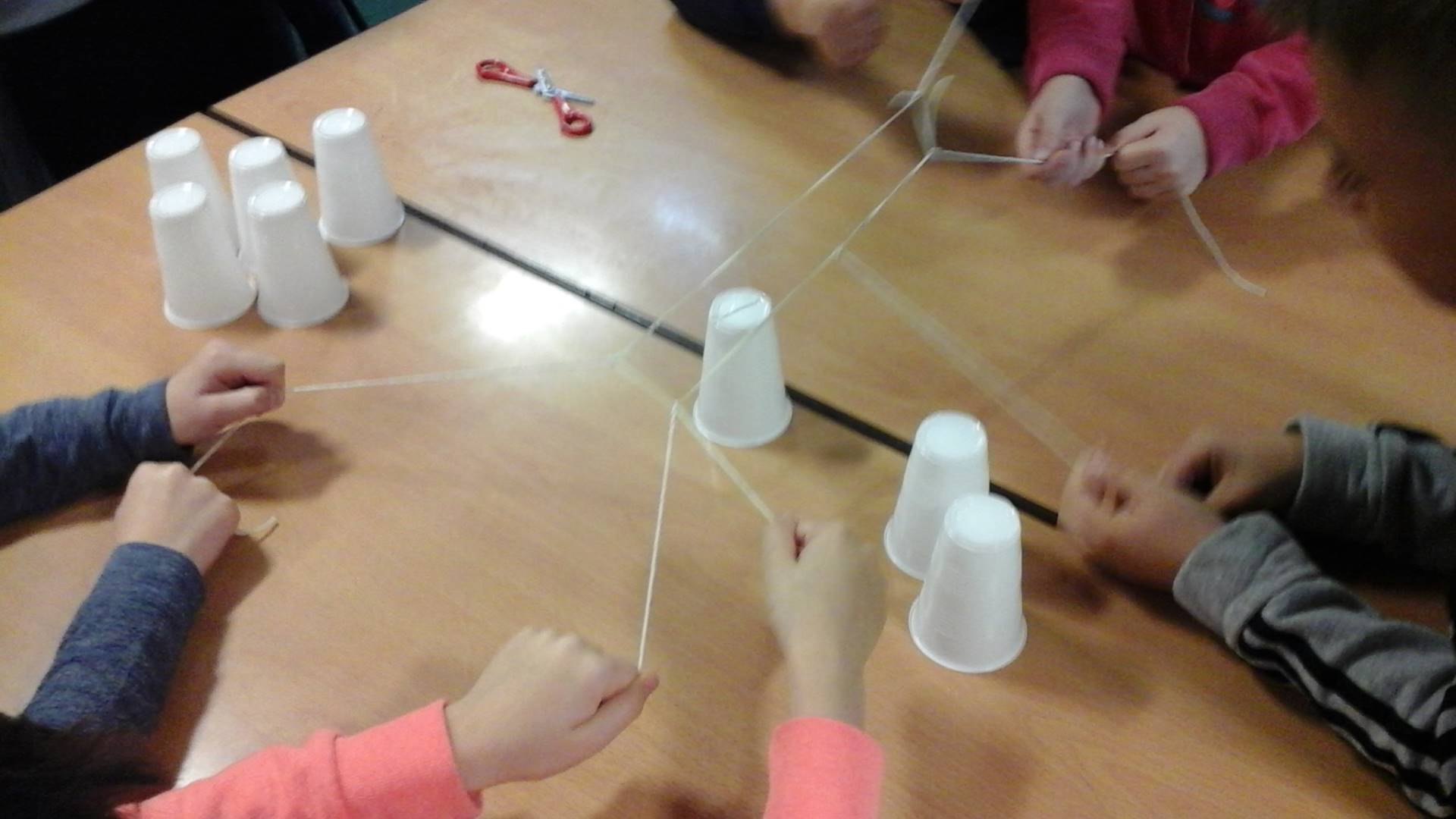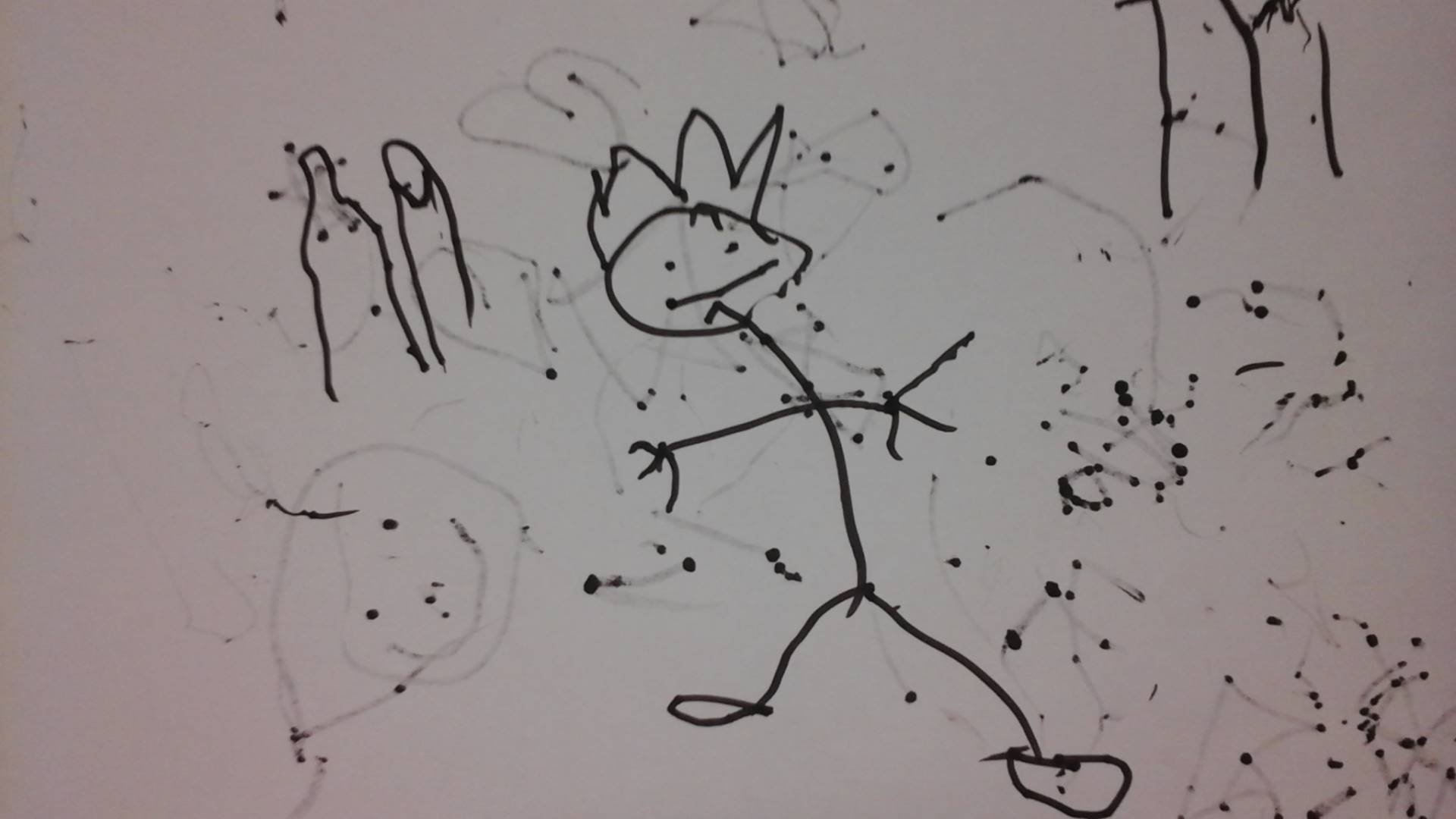 Friday 12th October
Thursday 11th October
Year 6 enjoyed an art day on Wednesday where we explored how colours evoke emotions through expressionism artwork. We used the famous picture of 'The Scream' by Edvard Munch to experiment with how colours evoke different emotions. What emotions do you feel when you look at this version? Look out for our self-portraits coming tomorrow which will show how we have interpreted our understanding of colours and the emotions they evoke.
Friday 5th October
Today, Year 6 have celebrated National Poetry Day by working collaboratively to learn, rehearse and perform poems.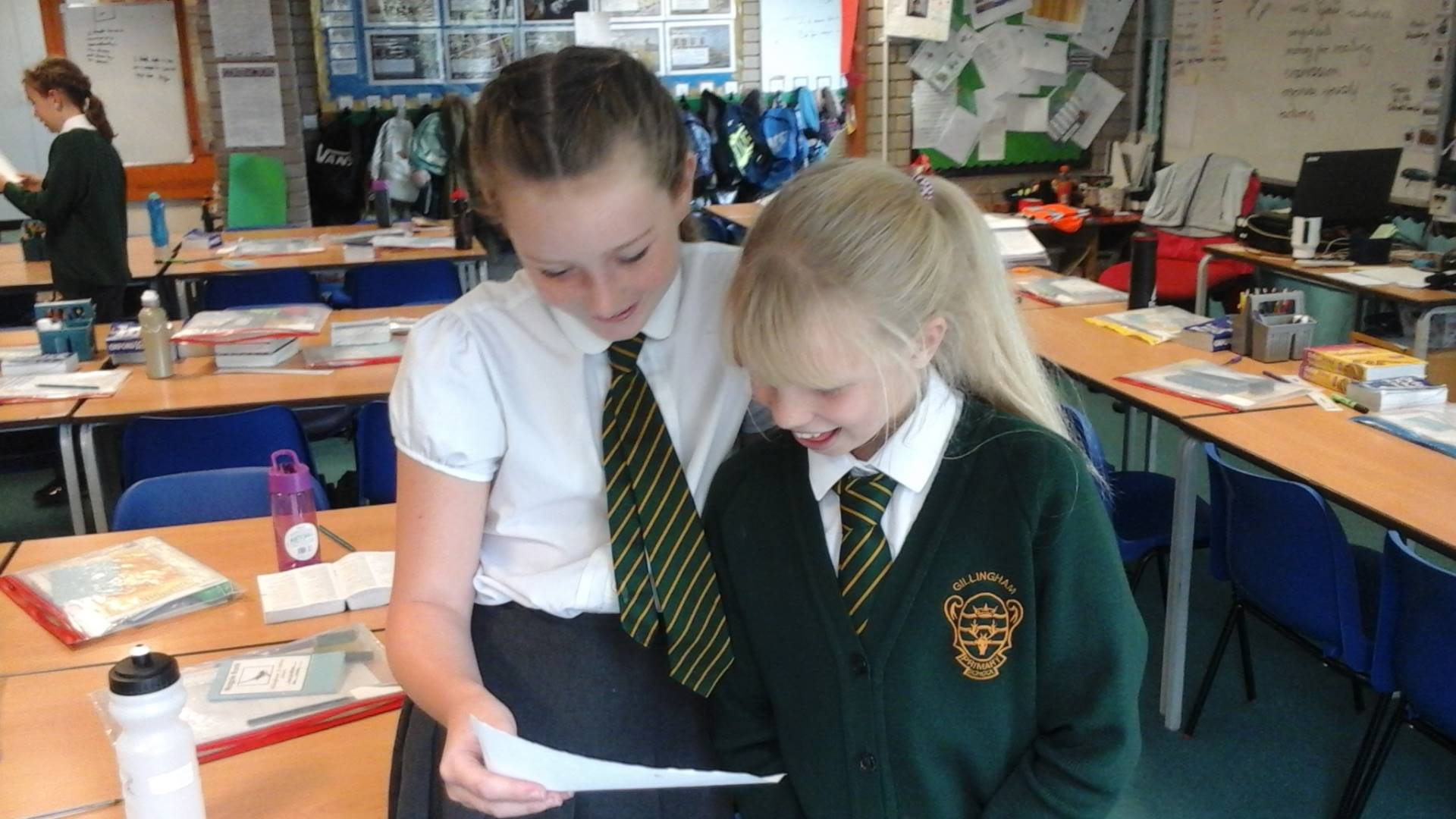 Thursday 4th October
Year 6 have been learning all about how we see. We have had fun making colour spinners to prove that white light is actually made up of the different colours of the colour spectrum. It took us a while to get them working, but thanks to some great team work, resilience and perseverance we all got there in the end!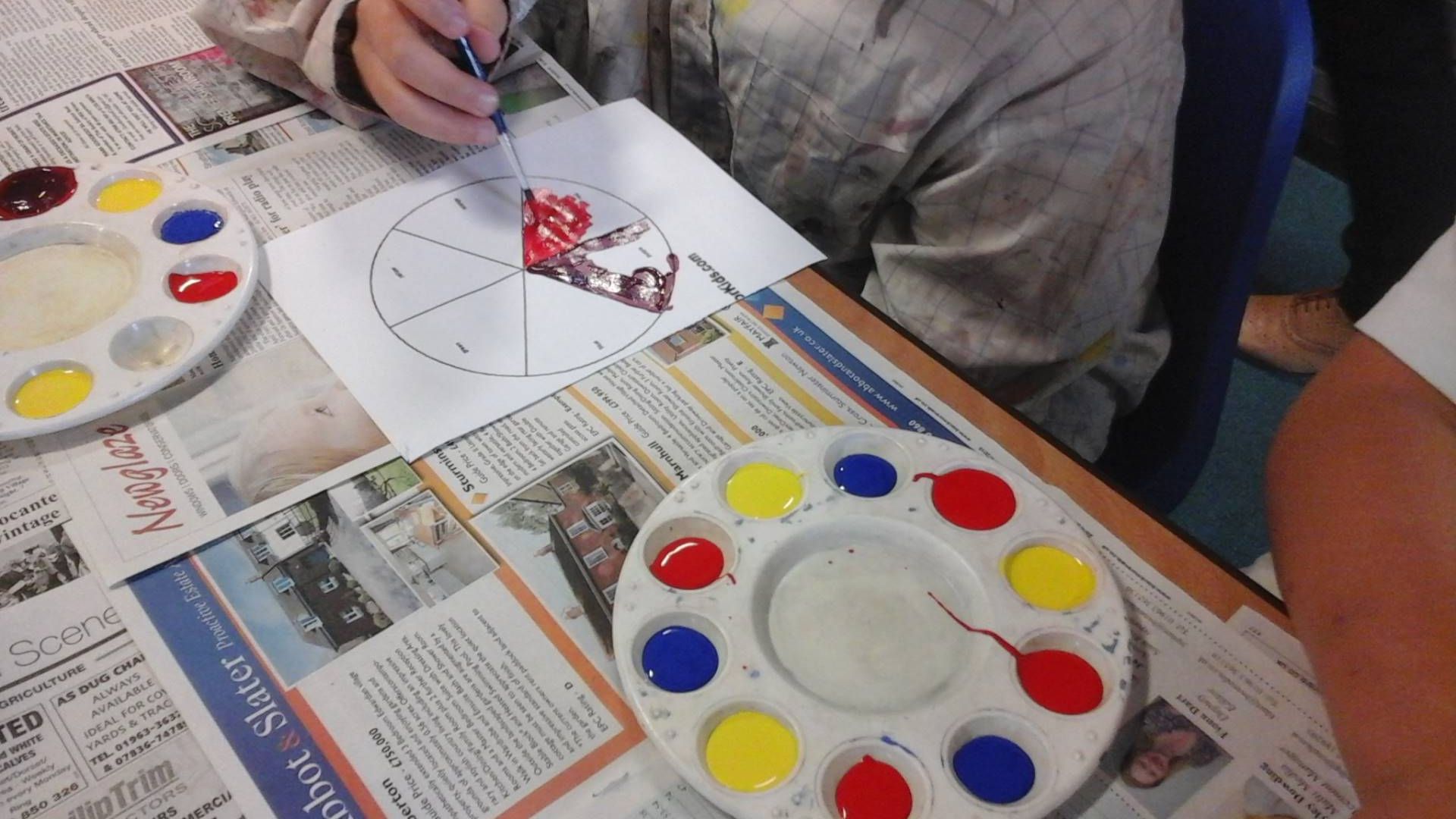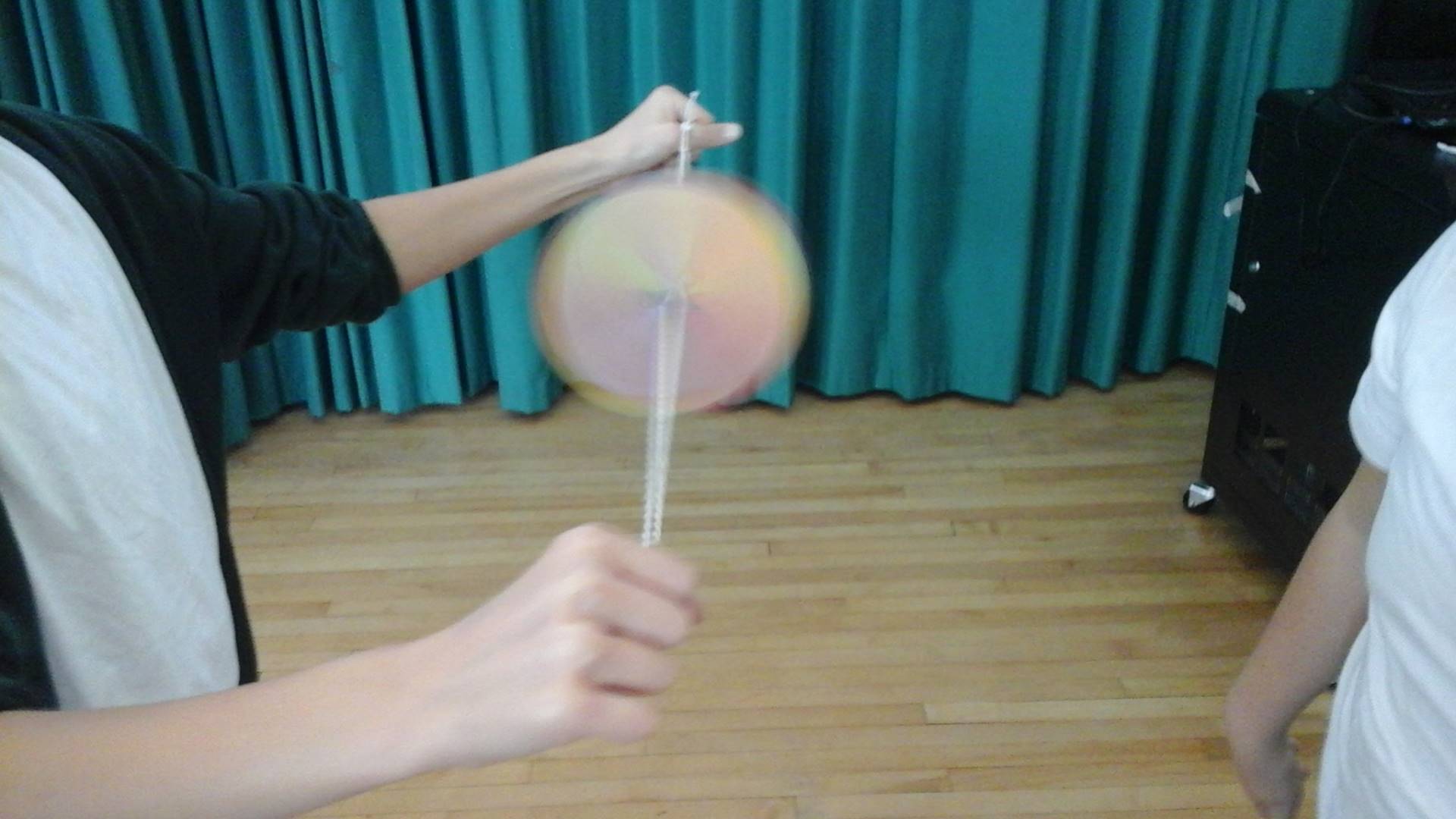 Wednesday 26th September
We have linked our harvest display to our topic 'Gallery Rebels'. Our harvest basket is inspired by the art form Pointillism that was created by Georges Surat in the 1880s. Year 6 spent an afternoon sketching fruits and vegetables, which had come from Mrs Mawer's allotment or Mrs Marney's garden. We used a cotton bud to carefully apply a limited pallet of colours to our drawings. The individual tiny dots blend together from a distance to create an image. We collaborated whilst creating our artwork to ensure that we produced a fantastic finished piece for display.
We hope you like our display and we are happy to tell you more about this art form.
Friday 7th September
This week, we have been discussing the school roles available to the Year 6 children. These jobs include being a sports captain, a house captain, a librarian, a 'buddy' and a PA.
This is a very serious process! The children have to write a letter of application, outlining why they think they should be considered for the role. Then there is an interviewing session, where they are asked further questions about why they think they are a suitable candidate.
The children will find out during Gillingham Growth assembly this afternoon what role they have been assigned to - make sure they tell you!
Thursday 6th September 2018
Well, what a great start we've all made to Year 6! We have already had two busy days settling into the routines and expectations of Year 6.
Today we began exploring our new autumn topic - Gallery Rebels. The children were challenged to work collaboratively to re-create a famous piece of artwork in a fun and engaging activity - ask them to explain the rules as it was not an easy task! Mrs Marney and I were impressed by how well the children worked together, and as a result of their enthusiasm and focus, the work produced was fantastic! Take a look...