Class Blog
Tuesday 16th October
We are getting super fit in Ladybird class! As well as enjoying using the apparatus we have been continuing to run 5 laps of the daily mile each morning (9 laps = 1 mile) and when it rains we are learning some yoga in the hall with Mrs Hogan. Great work Ladybirds!
Friday 12th October
Today the Ladybird class went to the hall for their PE lesson. It was the first time that the children had used the apparatus and they really loved climbing, balancing and jumping. Ladybirds class also took it in turns to visit the ICT suite. They used the CBeebies website to paint a picture of Peter Rabbit. The children are working really hard developing their 'mouse' skills. If you would like to explore the page the children used please use the following link which will take you straight to the activity they were using:
https://www.bbc.co.uk/cbeebies/makes/peter-rabbit-make-a-peter-picture?collection=have-fun-with-peter-rabbit-and-friends
Wednesday 4th October
Ladybird Class are really interested in everything Autumn at the moment. To help them explore this further, we have had lots of Autumnal resources in the creative zone this week. The children have really enjoyed printing with harvest vegetables, using different shaped leaves to make spiky hedgehogs and finger painting trees with different autumn tones. Do come and have a look at their fantastic art work which is currently on display in our big classroom.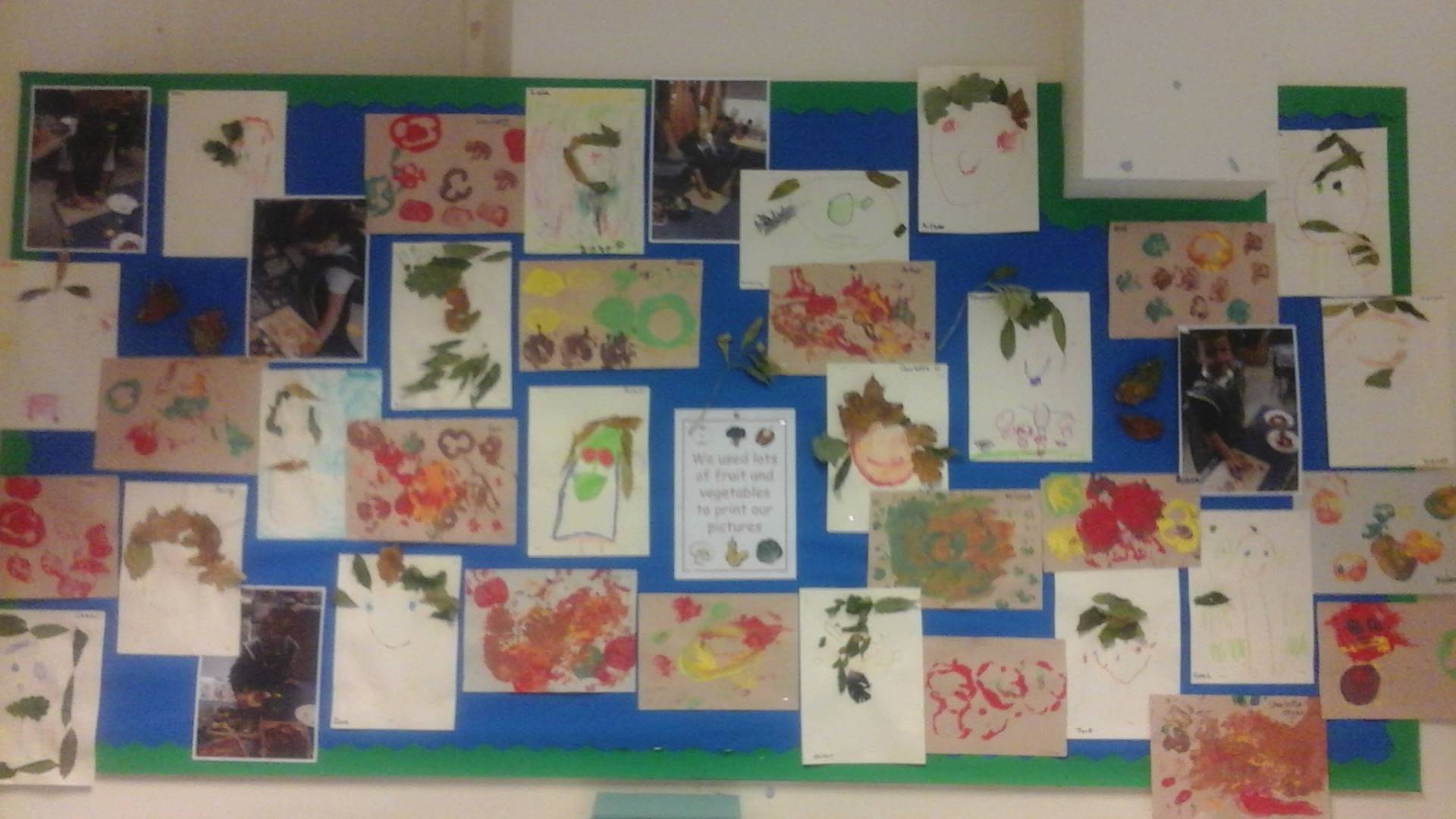 Friday 28th September
The Ladybird class have been enjoying their new mud kitchen this week. They have been using lots of natural materials and have loved mixing them all together. We would like to say a big thank you to the kind parents who have donated pots, pans, tins and utensils to our kitchen. We would be very grateful of any further contributions.
Tuesday 25th September
Wow... what a busy day the Ladybirds have had today!
This morning the children expertly completed their Funky Fingers session then set off to either run half a mile on our big playground mile track or dance and make big movements in our Squiggle While You Wiggle session. Everyone had a lot of fun and we can't wait to swap round and try the other activity tomorrow.
Later we had our very first phonics lesson and all learnt the sound made by the letter 's'. The children loved identifying objects that start with the s sound and listened carefully to decide if they could hear the s sound in different words. I wonder what you can see at home that begins with the new sound?
We even managed to play a fun circle game with Numicon and practise our counting skills and recognising numbers in our small playground and all before lunchtime!
During the afternoon all the children looked carefully at photographs of people who help us in school and tried to match different objects to the different people.
Finally, Ladybirds attended their first whole school singing assembly. Mrs. Mawer said they were super sensible and enjoyed joining in the songs with the older children.
Well done Ladybirds, what a busy day!
Friday 21st September
On Friday all of Ladybird Class went on a wonderful welly walk to explore our school grounds. We talked about the things we could see and the natural objects we found. We collected acorns, seed pods, sticks and many different shaped leaves and have now put them in our mud kitchen.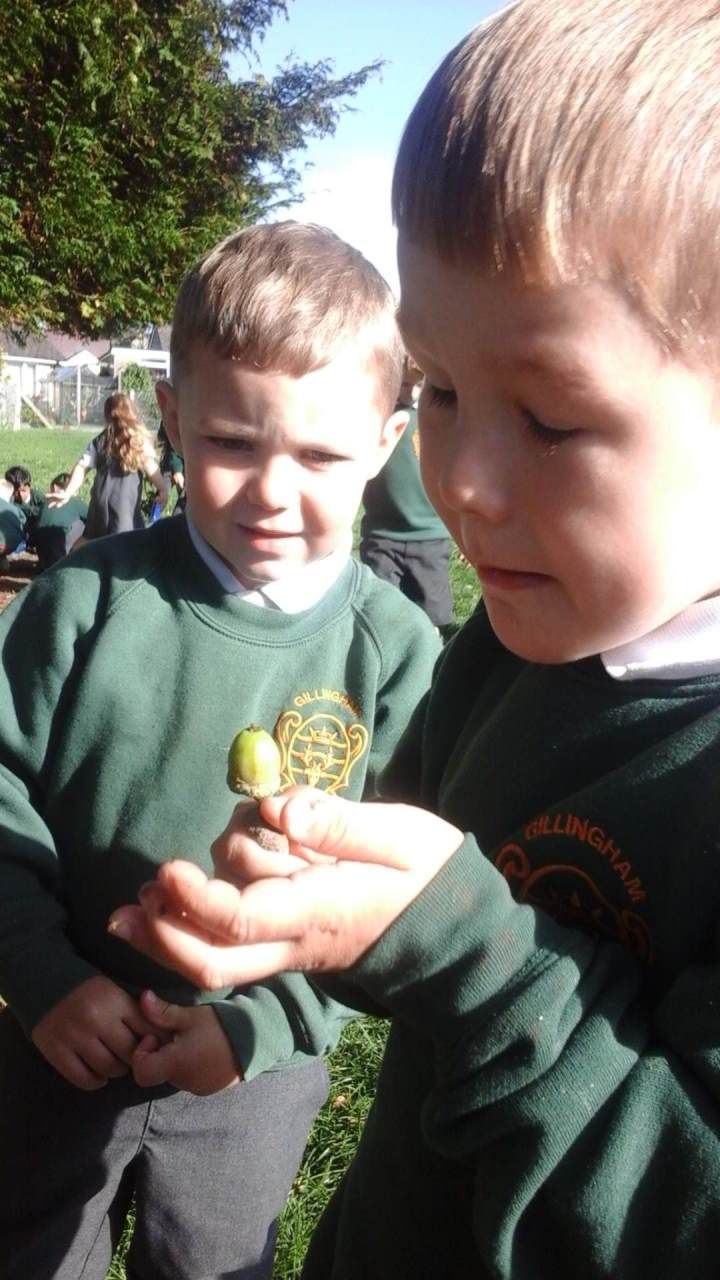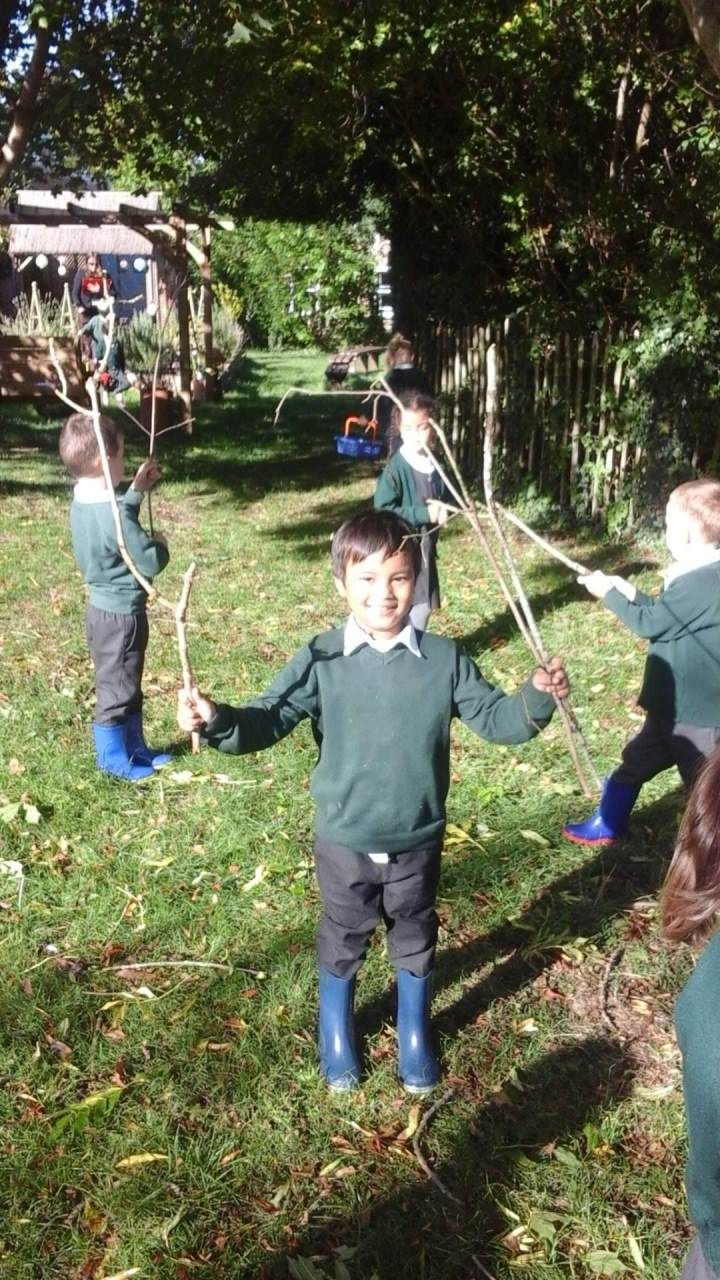 Wednesday 19th September
A fantastic start has been made by all of our new children in Ladybird Class. They have settled in quickly and are fantastic at following all of the school routines. Everyone is enjoying staying for lunch now and today they really loved their first visit to our wonderful school library. Well done Ladybird Class, we are really proud of you!
Monday 17th September
The Ladybird class have made an excellent start to school. We have explored the play trail, the classrooms, the trikes and we are building up to running our 'mile a day'. We have enjoyed spending time with old friends from nursery and making new friends. Our morning begins with our 'funky finger activities'. Here are a few photos showing some of the activities we do.