Tuesday 16th October
On Thursday 11th October, Year 4 went on an exciting trip to the Roman Baths. We really enjoyed the audio tour around the Baths and then we went into the Education room for special activities. We were able to dress up as Romans wearing tunics and togas and we could also create our own Marvellous Mosaics! We also spoke to an expert historian who let us pick up real roman artefacts and answered all of our challenging questions.
Mrs Hayes and Mr Turner were really pleased with the excellent behaviour from all of the children and the staff in the education centre were certainly impressed with the knowledge of the children about their topic 'I am Warrior'.
Friday 5th October
Friday saw the return of Mr Randall for our weekly music lesson. This week we learnt how to play the E note and Mr Randall was VERY complimentary on how we sound as a class! We also had a go at the tissue paper challenge which saw us see how long we could make a piece of tissue paper stick to the wall by blowing on it for as long as we could. Special mention to Fynn from Alligator class who managed to equal the record with 6 seconds! Unfortunately there are no pictures to go along with this post as Mr Turner was too busy getting involved and learning to play his own instrument!
Thursday 4th October- National Poetry Day 2018
Today we celebrate National Poetry Day with a focus on poetry! 4 Alligator class looked at the poem called 'Snow Fox'. We read through the poem together and then explored the words we didn't know such as 'vivid', 'Tundra' and 'permafrost''. We then looked at the word and phrase choices that the poet used and what each meant for the journey of the Arctic Fox through the change in seasons. After this, we then drew a picture of the Arctic Fox and wrote various words and phrases which demonstrated our own understanding of the poem. We described the Arctic Fox in relation to it's looks and characteristics and explained how the Fox would have felt at each point of change in the poem.
Friday 28th September- Alligators.
Today, 4 Alligators celebrated achieving their class reward by earning 400 Dojo points in a week! After all the hard work they have been doing this week it was fully deserved.
They have been working on improving sentences and their vocabulary by using thesauruses to find synonyms in our writing and we took the dive below 0 and investigated negative numbers for the first time in our maths work.
Friday 28th September
In year 4 we have been learning about Mosaics as part of our topic on 'I Warrior'. The Romans used mosaic pictures to decorate their villas and these pictures or patterns were made of small pieces of stone or tiles. We have designed and created our own mosaics. I wonder which one is your favourite?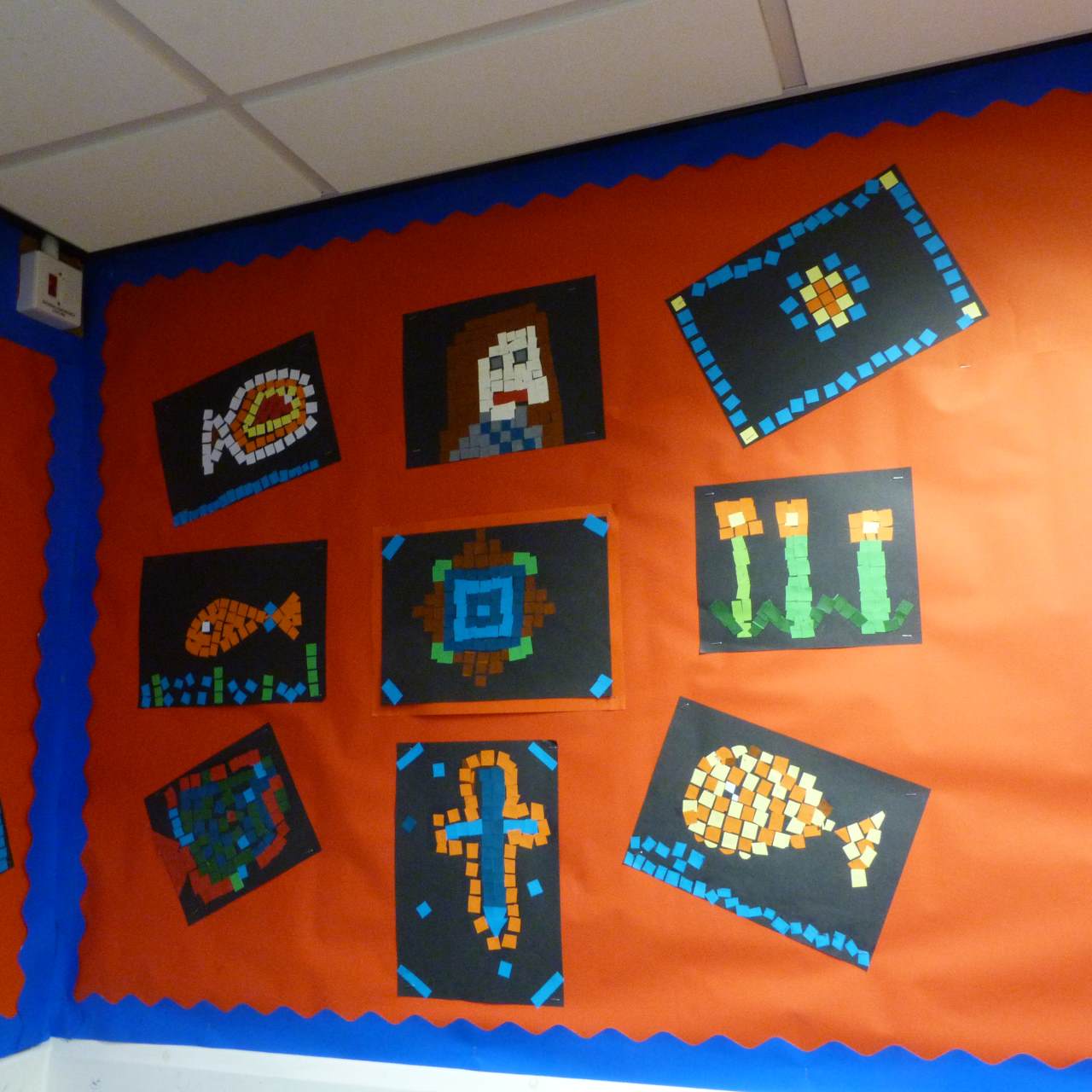 Friday 21st September
Exciting News!
Every Friday afternoon up until Christmas, Year 4 will be learning to play a brass instrument. The children have been given an instrument which they will be playing in class every Friday afternoon with a specialist teacher over a 10 week programme which will end with a performance! The children are allowed to take them home and practice for the 10 weeks and brush up or improve on their skills.