Class Blog
Wednesday 17th July
What a wonderful Strawberry Tea event we had yesterday to celebrate the end of our first year in school!
Thank you so much for joining us.
Reception in Bloom!
We would like to say a really huge thank you to everyone who so kindly donated plants and seeds for our fabulous reception planting project. The children are so excited to be growing lots of things they can eat including, strawberries, tomatoes, cucumbers, beans, courgettes, corn, sprouts and even a pumpkin! We have also created an aromatic herb wall for children to explore and use as part of their mud kitchen recipes! Please check out your child's Tapestry account to see individual photos of them planting.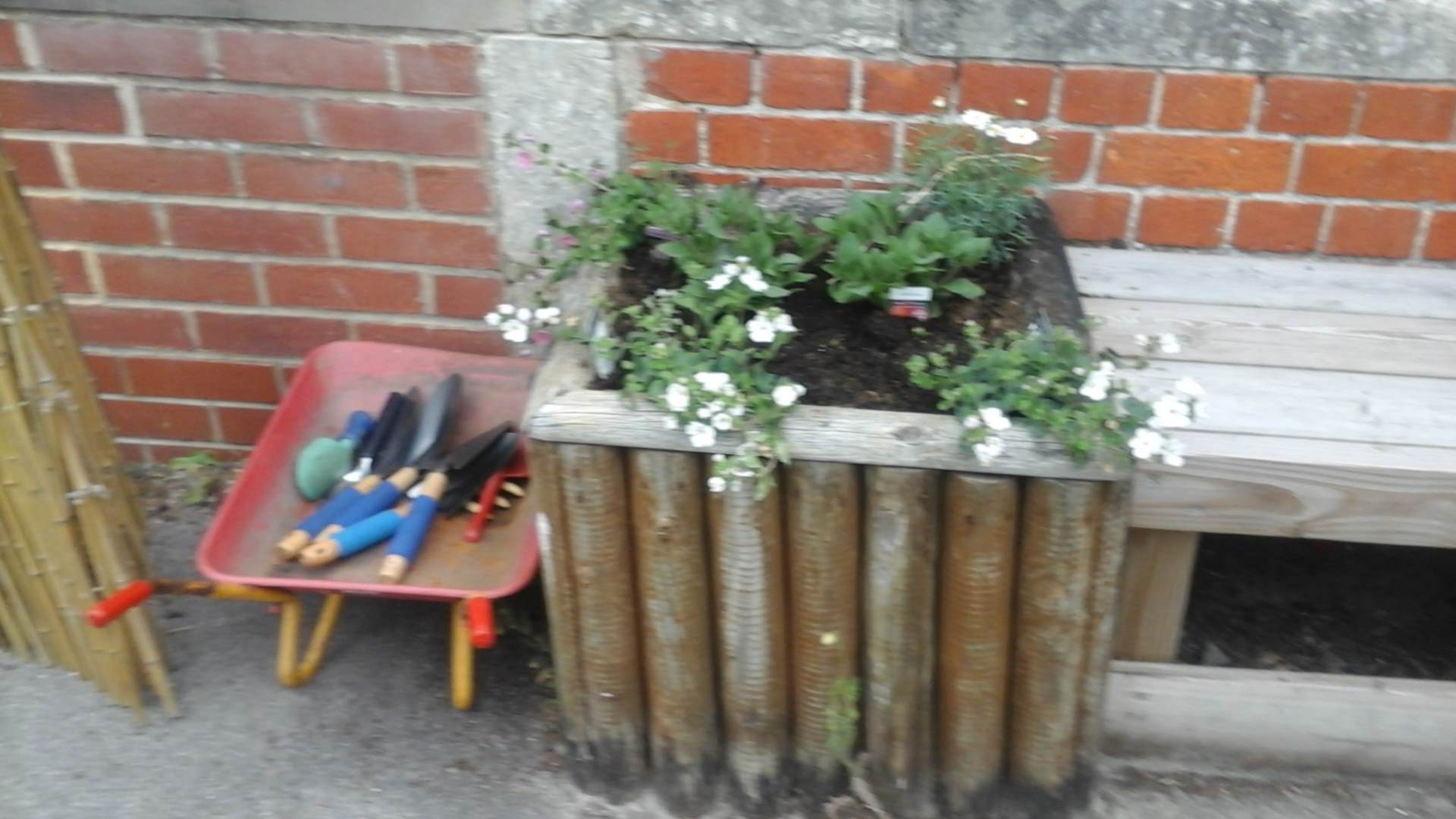 Our conker planting experiment is still going strong and three of the conkers we collected in the autumn have grown roots, shots, stems and leaves. The children have been watching the roots growing in the clear bucket and have noticed some aphids living on the stems. Some of the children have become very focused on finding ladybirds to come and eat the aphids!
Our ten class caterpillars have finally started to grow. Unfortunately, the cold snap last week really slowed down their development and if they don't start making their cocoons very, very soon we will have butterflies emerging in half term! Not quite what we had hoped for! Come on caterpillars, you can do it!
Why Do Ladybirds Have Spots?
The children are completely engrossed in our summer term topic about mini beasts. This week we will venture out on another mini beast safari around our school grounds since the children are very interested in finding out where the different mini beasts choose to live. In an attempt to encourage more creepy crawlies into our small reception playground, the children worked really hard to create a five star bug hotel. Kindly Mrs Carr and her daddy found us lots of resources to furnish the bug hotel with and Mrs Bittles discovered an old wooden pallet that desperately needed a new home.
The children enthusiastically thought up lots of questions around the new topic and used their fantastic phonics skills to record them. We are now using our computer sessions to find out some of the answers as well as reading the answers in our information books. Please help your child to find out more about mini beasts by going on a walk together, visiting Gillingham Library or using a smart phone, tablet or computer to discover new facts. Please remember to send in your Tapestry observations of your child learning at home. We only have one month left before we are required to enter our end of EYFS judgements for every child.
Thursday 4th April
The children have enthusiastically embraced learning a range of lullabies and gentle songs as part of our topic about sleep. To celebrate the end of term, we invited a very important audience of Ladybird baby brothers in to enjoy the children's singing and see if we could sing any of them to sleep! All of the babies seemed to really enjoy the singing and 3 out of 5 babies even went home asleep! Well done Ladybirds, what magical singers you are! A big thank you to all our mummies who kindly brought their beautiful babies in for the session.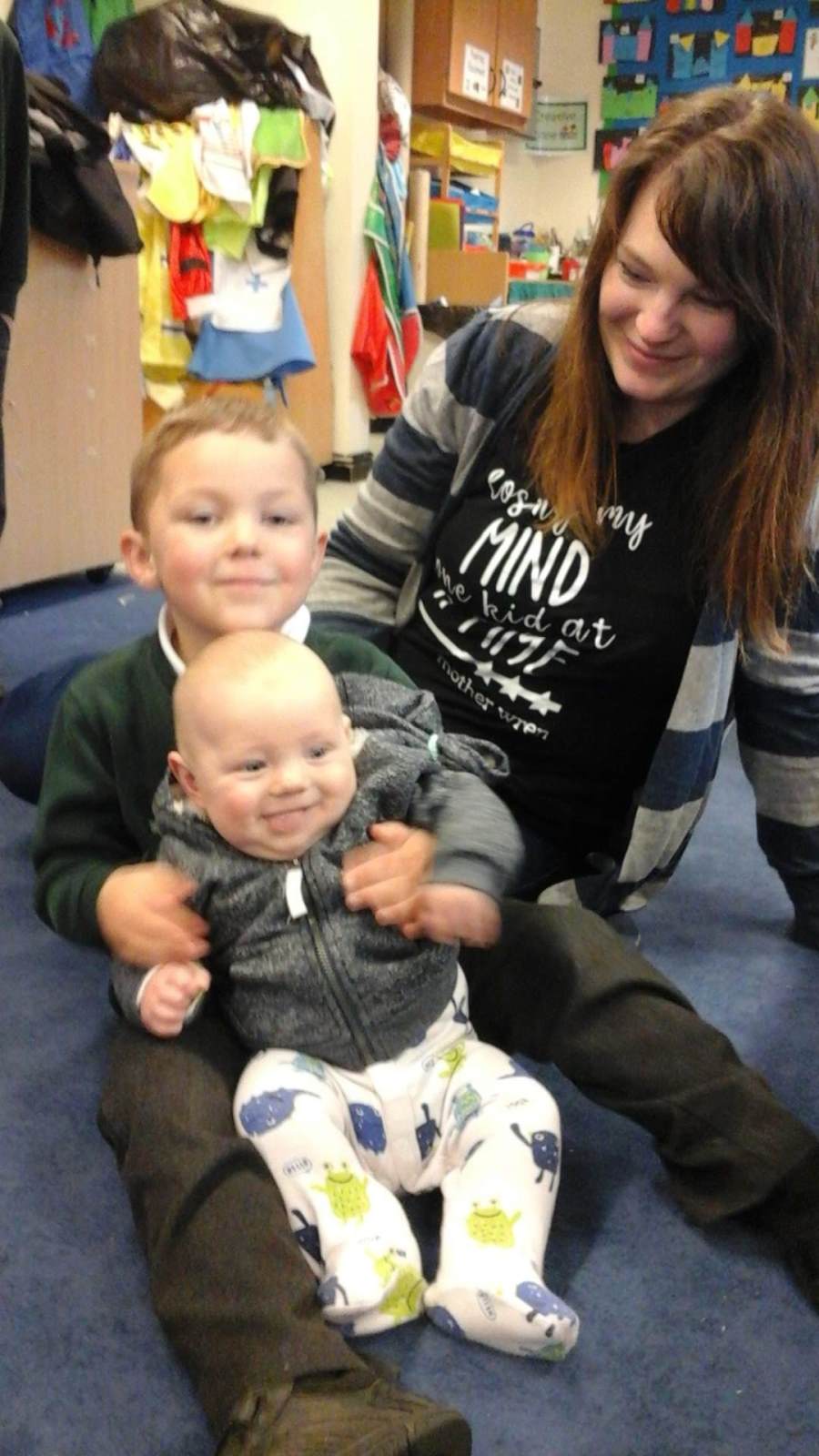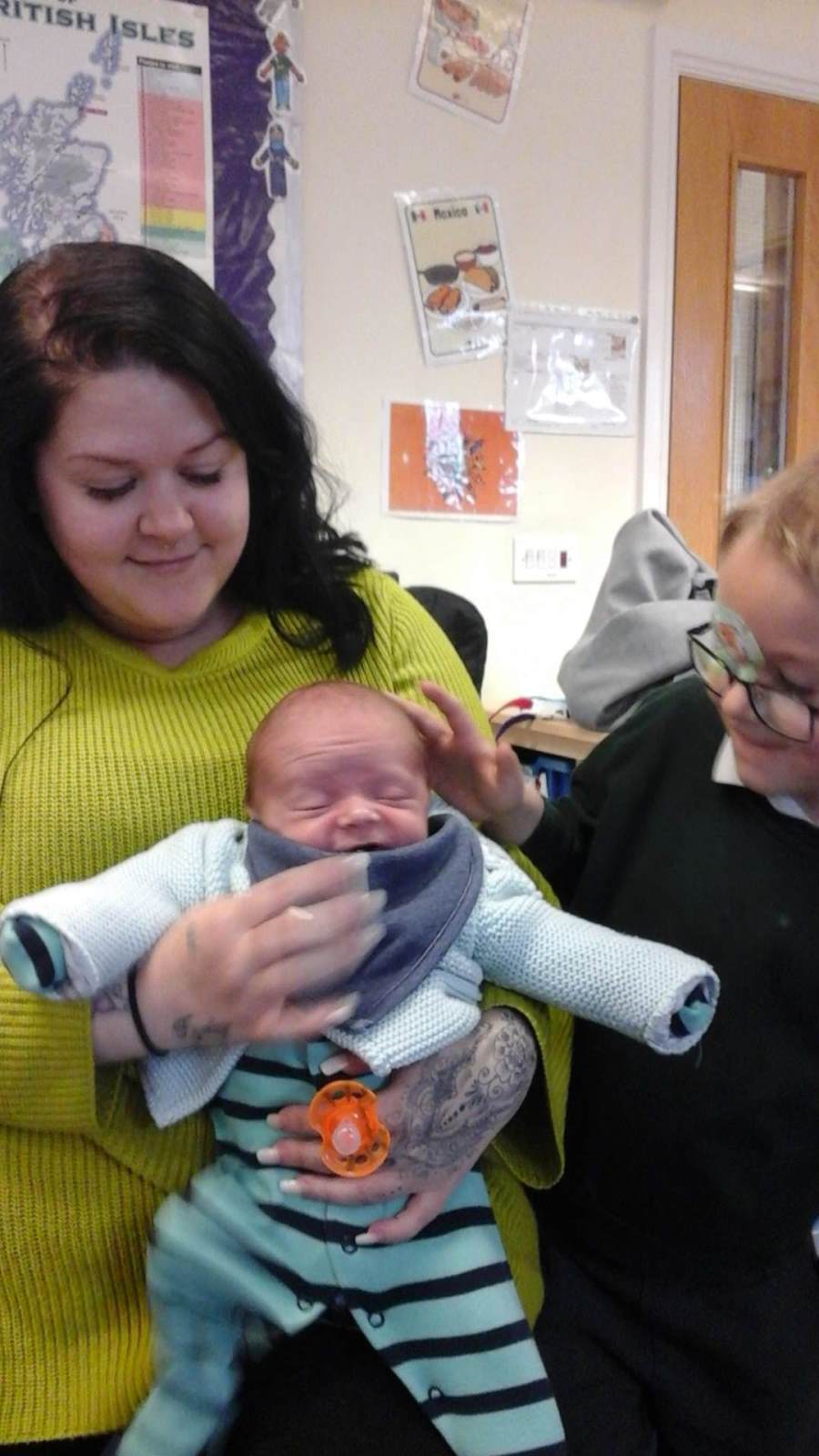 28/03/19
This week the children have been thinking about lots of different people who work at night time and why they need to be awake in the middle of the night. They thought up lots of super questions for our visiting firefighter, Mr Scammell who was able to explain everything the children wanted to know and showed them some great photos too. The children found it especially funny when Mr Scammell invited Mrs Hogan to dress up in his uniform!
We have also been enjoying the lovely sunny weather this week and today we went out to try and spot signs of spring. The children loved being outside and found lots of clues to tell them that spring is here. We are keeping our fingers crossed for a warm and sunny Easter holiday where you can all get out and about enjoying spring time.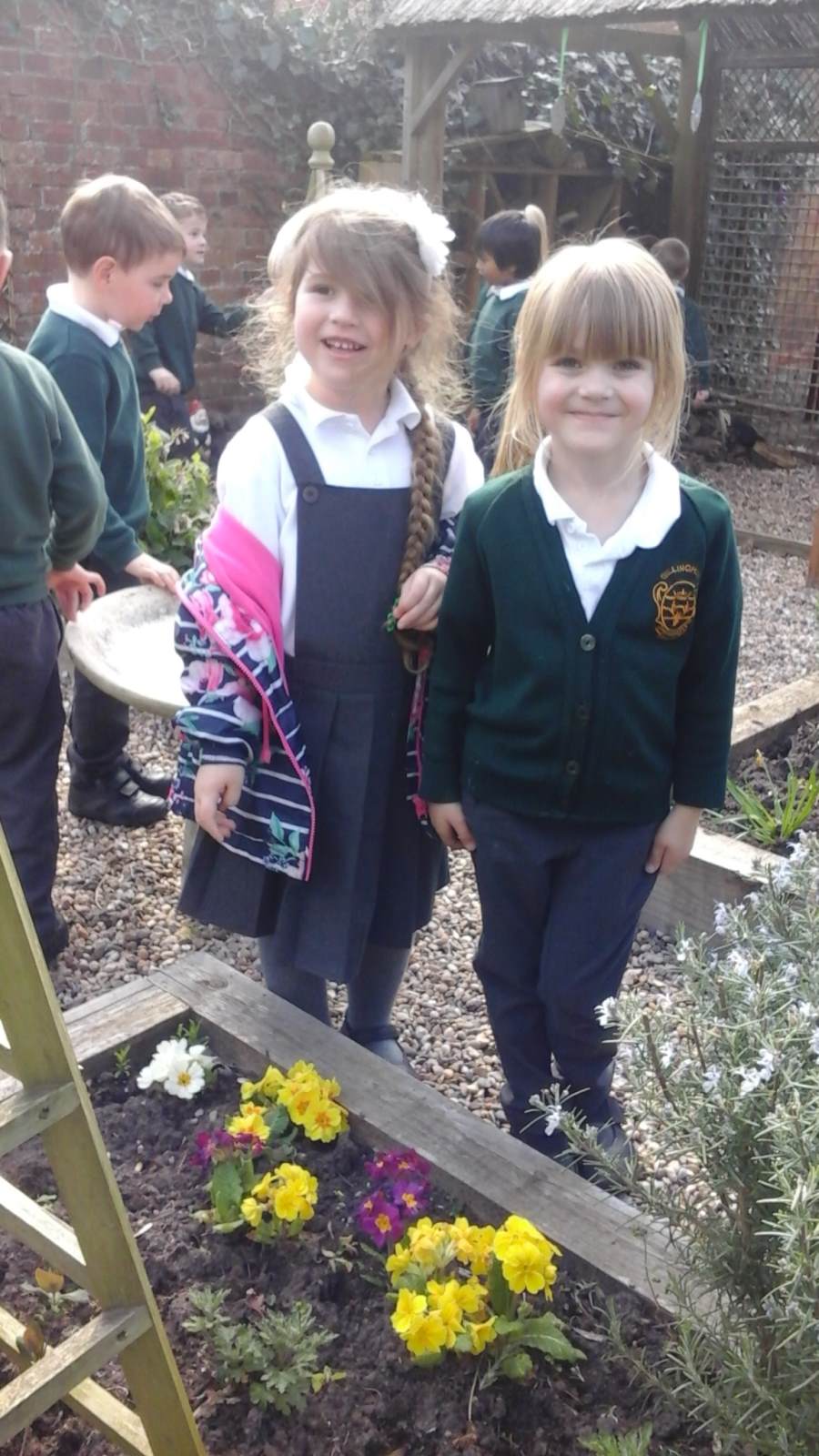 Celebrations
Ladybird Class have been busy learning about different spring time celebrations this week. We have found out about the traditional Hindu festival of Holi, the Persian New Year known as Nowruz and different ways our children celebrate Easter. We would love you to share any of your own family celebrations with us by using your child's tapestry account or by sending in a photo from home.
As we get near to the end of our topic we have planned an exciting week exploring the question, Who works when we are asleep? We are really looking forward to welcoming one of our Ladybird parents into class on Monday who is a firefighter.
In phonics this week we will be learning two new trigraphs. These are 3 letters that make only one sound for example, the 'ear' sound in dear and the 'air' sound in hair. We will be busy making and writing cards for some very important ladies in our lives as well as exploring many different scientific concepts such as floating and sinking, magnets, magnifying glasses and melting ice. As well as reading in our guided reading groups, improving our core strength in PE and constructing emergency vehicles we will also aim to fit in some end of term maths assessments! Go Ladybirds, we think you are fantastic!
Team work and keeping healthy
The children have been trying hard to work together as part of a team this term. This is an important skill for 4 and 5 year olds to master and the more practise they have at it the better they become. The photos below show some fantastic construction work where the children were able to explain their ideas, listen to the opinions of others and persevere together when their first attempt didn't work. Amazing!
This week in maths we will be building on our experiences from our outdoor shop role play to extend the children's knowledge and understanding of money. Please look at real money at home with your children and help them to talk about the different notes and coins. In phonics we will be learning an alternative digraph for the 'ou' sound as well as revisting the 'ar' sound. Children will learn to read and write words containing 'ow' and write sentences and stories about owls, cows, towers, stars and sharks!
Hopefully the children will have been talking to you about our current Jigsaw topic, Healthy Me. We would love to see examples of your children keeping healthy at home. This could include healthy food and drink they enjoy, any form of exercise and good sleeping habits! Post your photos on to your child's Tapestry account or send them in for show and tell. Well done to our Ladybird who has sent in photos of a scooter trip and very brave climbing at the park.
Friday 1st March - What Happens When I Fall Asleep?
Since returning from the half term break, the children have been full of enthusiasm for our new topic - What Happens When I Fall Asleep?
On Tuesday, everyone was super excited to see an enormous planetarium had popped up in the big classroom while they had been off having their lunch. Once we had crawled inside the very, very dark planetarium, we were really impressed with the children's behaviour . It was pitch black with beautiful star constellations on the ceiling and the children sat really sensibly and listened carefully to all the interesting facts Bob shared with us. The children's favourite facts were related to our galaxy, planet Mars and The Milky Way, I wonder why?!
This week we will be finding out about nocturnal animals who are active when we fall asleep. We will learn another way of writing the 'ie' sound - 'igh' so that we can write words like 'night' and 'light'. In maths we will continue to explore numbers beyond ten using base ten resources so 14 = 1 ten and 4 ones. You can help to support your child's maths at home by writing the numbers 1-20 on paper and cutting them up so that your child can put them in the correct order. Ordering should sometimes be done 1-20 but also from 20-1. Remember to post a photo on Tapestry when they have done this.
Thank you to all the fantastic observations some of our families have posted on their child's Tapestry account. We can use these as part of your child's assessments so please keep on posting. If you haven't sent in a photo or observation of your child learning at home yet please come and see us and we will show you how easy it is.
Ladybirds visit Gillingham Library
The children were really excited to take a trip down to Gillingham Library this week and discover all the different books they can borrow. They listened attentively to the librarian who read them a story about a selfish mouse and they were very keen to find out how to scan books they might want to borrow. A big thank you to all our super parent helpers who joined us for the visit. The children really loved having you all there and we hope you liked their thank you cards!
There is an exciting lego morning being held at Gillingham Library on Tuesday the 19th February from 10:00am. Please give the library a call if you are interested in popping in.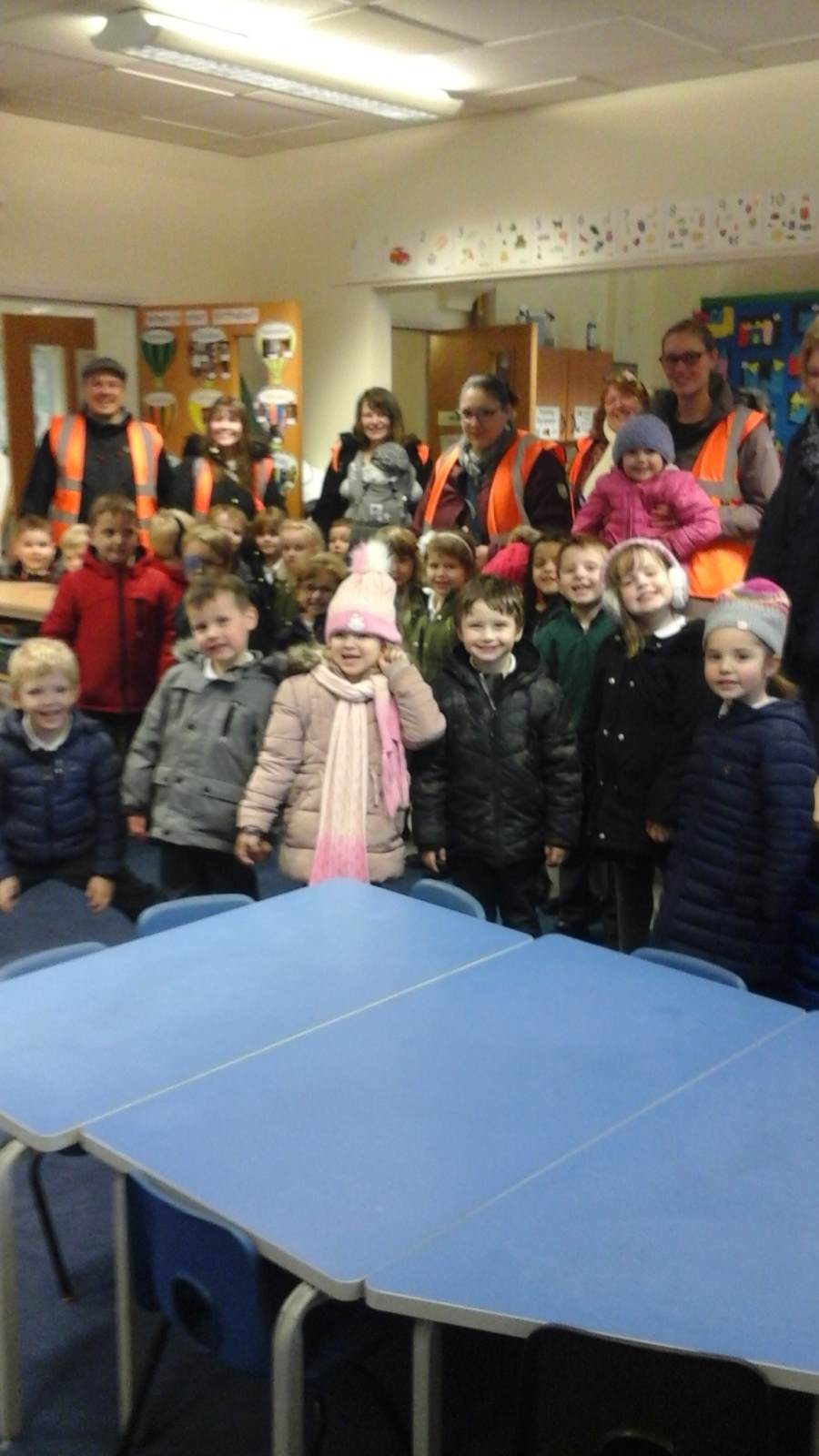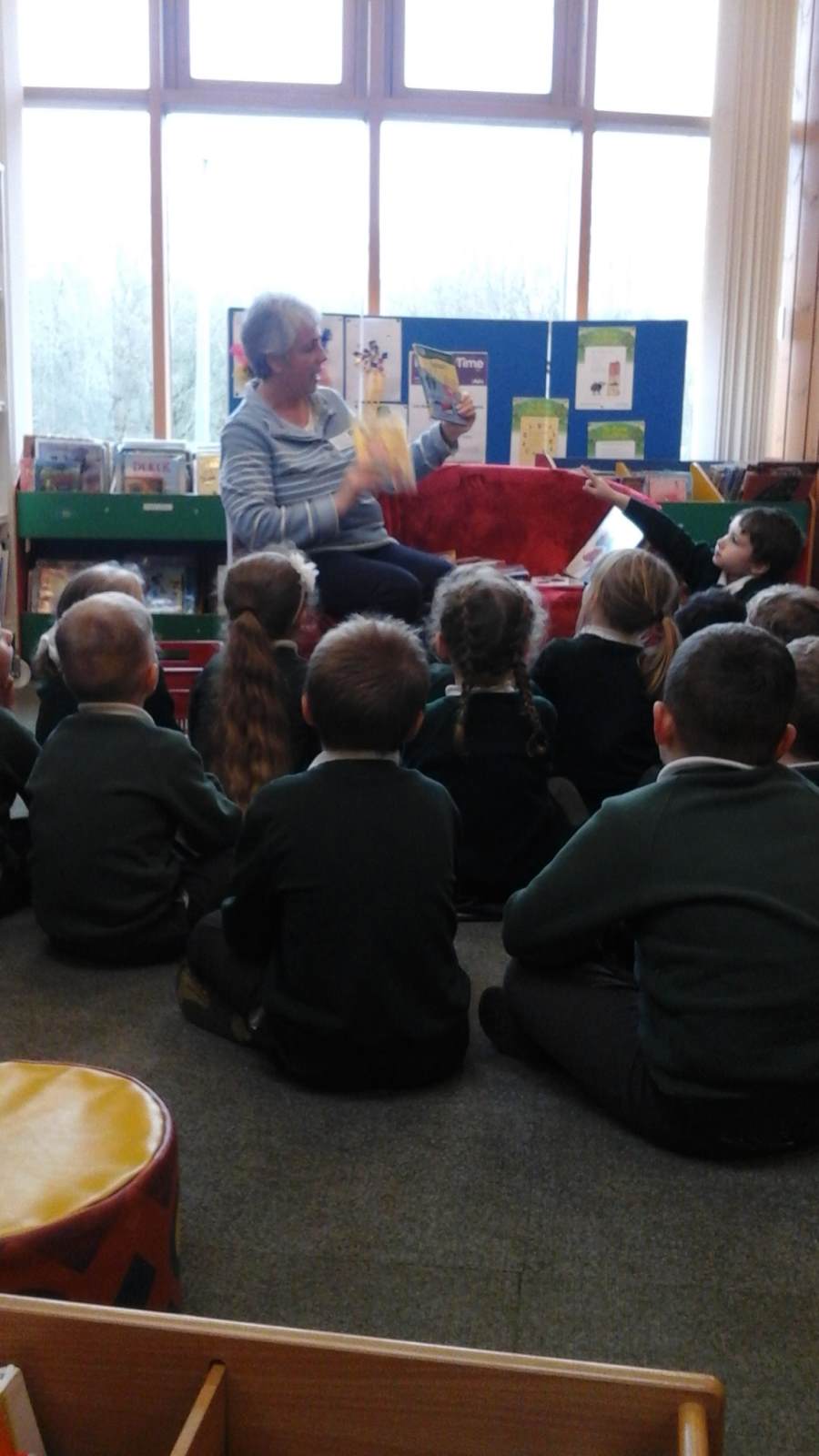 Chinese New Year
Gong hei fat choy or Happy Chinese New Year to you all!
The children have been really interested in finding out about Chinese New Year. They loved listening to the story about the 12 animals racing across the river and you can find a version of this on the CBeebies website to share with your child at home. The children continue to embrace every creative opportunity and enthusiastically set about making dragons, blossom trees and lanterns to celebrate the year of the pig. Some even had a go at writing numbers in Chinese. Great work everyone!
As we begin the last week of our fabulous topic, Will You Read Me A Story? we have some exciting things planned! We have arranged to take Ladybird Class to visit Gillingham Library on Tuesday 12th February where the librarians will share some of the super stories from the excellent children's section of the library. Thank you so much to the parents who have offered to come with us on the trip. If you fancy joining us too, please let a member of the team know by Friday 8th February.
On Wednesday 13th February we are inviting the children to come to school dressed as their favourite story character. Please don't feel you need to purchase an expensive outfit for this and do let us know if you need any easy ideas. A mask is always a quick solution and we have many we can share with you.
Week beginning 4th February 2019
We have been busy linking our maths learning to our topic about stories. The children love imagining themselves as characters in the fairy tales and enjoy considering questions such as, 'Would you eat baby bear's porridge?' or 'Would you climb the beanstalk?' They are learning to record their responses in a class pictogram and compare the results in a tally. The children use language such as 'more votes' and 'fewer votes' to compare the results and can be encouraged to use the language of more and fewer at home too.
This week in maths we will be exploring problems that involve sharing, the very early stages of division. We will link our maths learning to the story of The Gingerbread Man and help the little old lady to share currents between different numbers of gingerbread men.
Week beginning 28th January 2019
This week sees us exploring another traditional tale - The Three Billy Goats Gruff.
The children will be thinking about how the troll could have helped the billy goats and therefore create a new ending for the story. In maths we will continue to develop their understanding of 1 more and 1 less using different objects, including toy goats! We will also revisit our Estimation Station where the children are learning to make increasingly accurate estimations of how many objects are in each container. This is a popular activity with the children which can easily be practised at home. Come and see us if you would like any support with this.
We are racing through learning those awkward tricky words that cannot be blended and this week we will learn to recognise and read no, go and so in sentences as well as practising the 20 other tricky words already learnt. Tricky word lists are included in your child's reading diary on coloured strips of paper but please do let us know if you require any further copies.
Please continue to hear your child read every day for ten minutes and record this in their reading diary. This really does have a huge impact on their confidence and progress as a reader. Don't forget to keep us up to date with their fantastic home learning via Tapestry and have a great week!
Will You Read Me A Story?
Our latest topic is proving to be a great hit with both the children and the adults! The children have enjoyed a whole range of experiences linked to traditional tales including The Three Little Pigs, Jack and the Beanstalk and Goldilocks and the Three Bears. They have been really busy building houses from straw, sticks and bricks, ordering the height of up to nine different beanstalks and this week they have even been making and tasting porridge! The topic has provided lots of lovely speaking activities and today we have all had a go at being a 'Ruler for a Day' and making up our own funny rules! A particular favourite was "Now I am queen for a day, everyone must eat chocolate for breakfast!" All of our display boards are full of the children's creative work linked to stories so come in and take a closer look - we are sure you will be amazed!
Friday 7th December
The children have been working really hard to learn all the songs, actions, dances and lines for their Christmas Nativity, Whoops-a-Daisiy Angel. It was lovely to see so many of you in the audience today and we were so proud of the performance your wonderful children gave.
Next week we turn our attention to everything Aladdin to ensure the children have a good understanding of the story before our exciting trip to the pantomime on Tuesday 18th December. If you have any questions regarding the trip please do not hesitate to ask one of the Ladybird Team.
Friday 23rd November
Our PSHE Jigsaw topic is currently all about Celebrating Differences. This week the children looked at lots of different types of houses that people live in around the world. Then they worked together in small teams to build houses for some of our autumn toys. This was quite a tricky task, as the children are more used to using the construction toys on their own rather than listening to the ideas of others! However, with practise they managed to build some fantastic animal homes and the children discovered that they all looked different. Our last activity involved small groups taking turns to describe their own bedrooms. The children really enjoyed finding out about each other's bedrooms and soon realised that all our homes are unique and that it is fine to be different.
Thursday 15th November
We were lucky to welcome Gareth the firefighter to Ladybird Class on Thursday. The children were very interested in fire safety and listened extra carefully to Gareth. They loved trying on the mini firefighter uniforms and responded to Gareth's visit by playing their own fire fighting role play games both inside and outside and even writing down some of the safety rules. The fire service provided the children with stickers, colouring sheets and all the fire safety tips to keep everyone safe.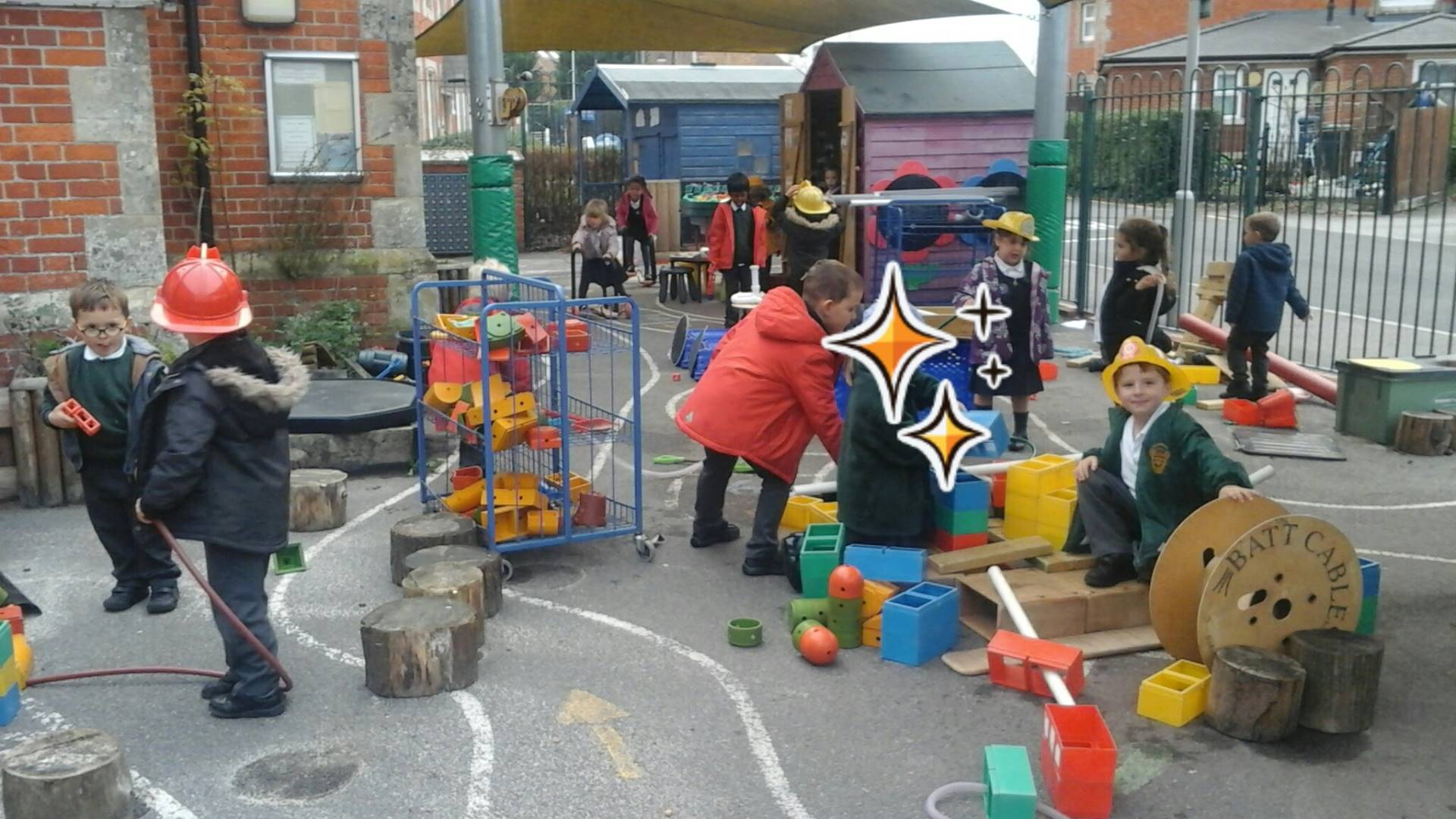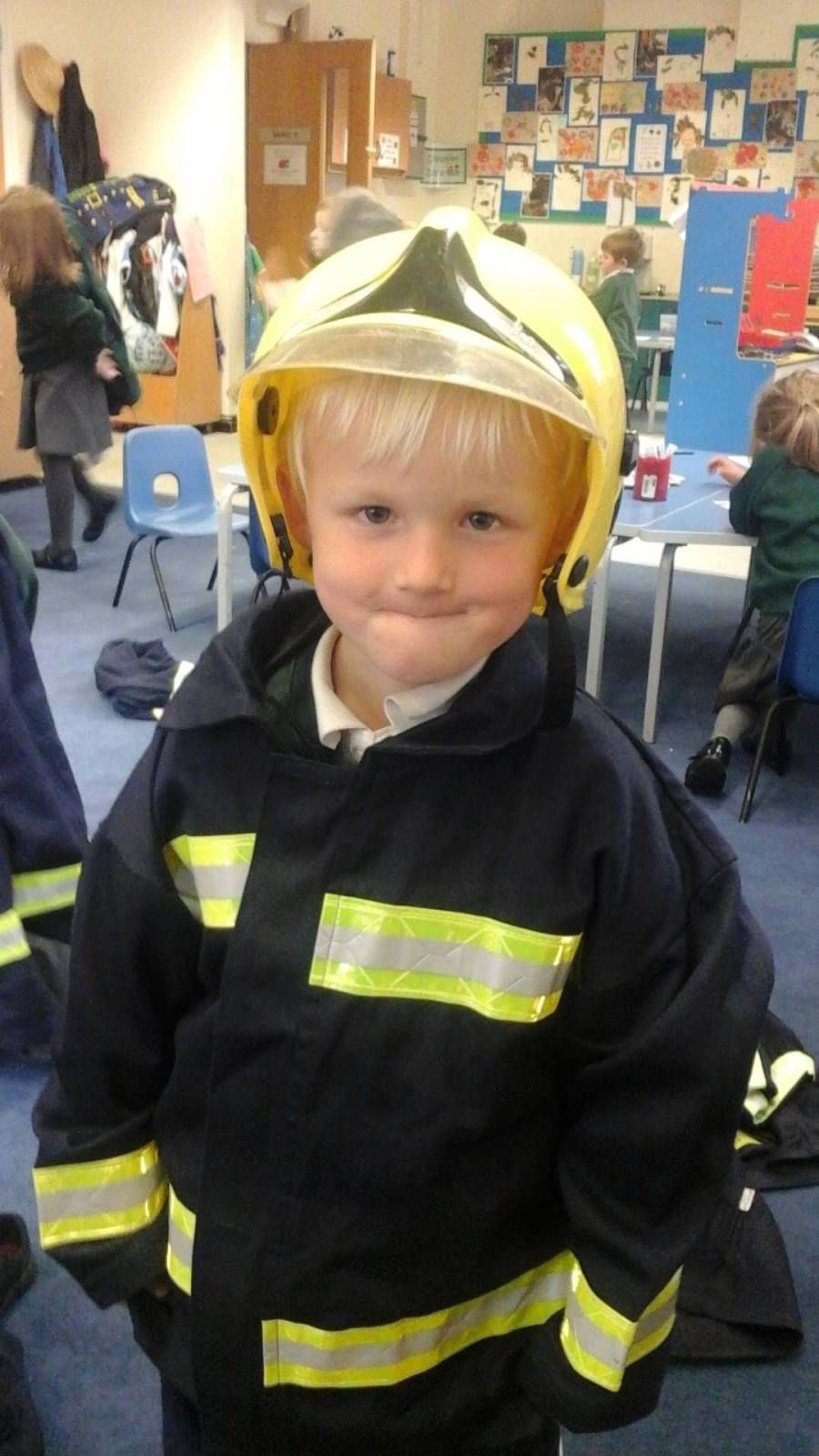 Wednesday 7th November
The children continue to work really hard every day to learn new letter sounds. They are now eagerly applying their new phonic knowledge to help them read words and books. They love building words with magnetic letters and writing at our label table, making labels, captions and cards. Please continue to support your child with this essential learning at home by spending 5 minutes a day looking at their blue phonics book together. If you would like any help to support your child at home please come and see a member of the Ladybird Team and we will be delighted to help.
Tuesday 6th November
In Ladybird class we have been learning about Remembrance Day in preparation for our school assembly on Friday. The children have loved showing us their poppies, badges, hair clips and slap bands that they are currently wearing to mark Remembrance Day on Sunday. Today the children have found lots of different creative ways to make poppies for our whole school display. We think they have done a fantastic job!
Tuesday 16th October
We are getting super fit in Ladybird class! As well as enjoying using the apparatus we have been continuing to run 5 laps of the daily mile each morning (9 laps = 1 mile) and when it rains we are learning some yoga in the hall with Mrs Hogan. Great work Ladybirds!
Friday 12th October
Today the Ladybird class went to the hall for their PE lesson. It was the first time that the children had used the apparatus and they really loved climbing, balancing and jumping. Ladybirds class also took it in turns to visit the ICT suite. They used the CBeebies website to paint a picture of Peter Rabbit. The children are working really hard developing their 'mouse' skills. If you would like to explore the page the children used please use the following link which will take you straight to the activity they were using:
https://www.bbc.co.uk/cbeebies/makes/peter-rabbit-make-a-peter-picture?collection=have-fun-with-peter-rabbit-and-friends
Wednesday 4th October
Ladybird Class are really interested in everything Autumn at the moment. To help them explore this further, we have had lots of Autumnal resources in the creative zone this week. The children have really enjoyed printing with harvest vegetables, using different shaped leaves to make spiky hedgehogs and finger painting trees with different autumn tones. Do come and have a look at their fantastic art work which is currently on display in our big classroom.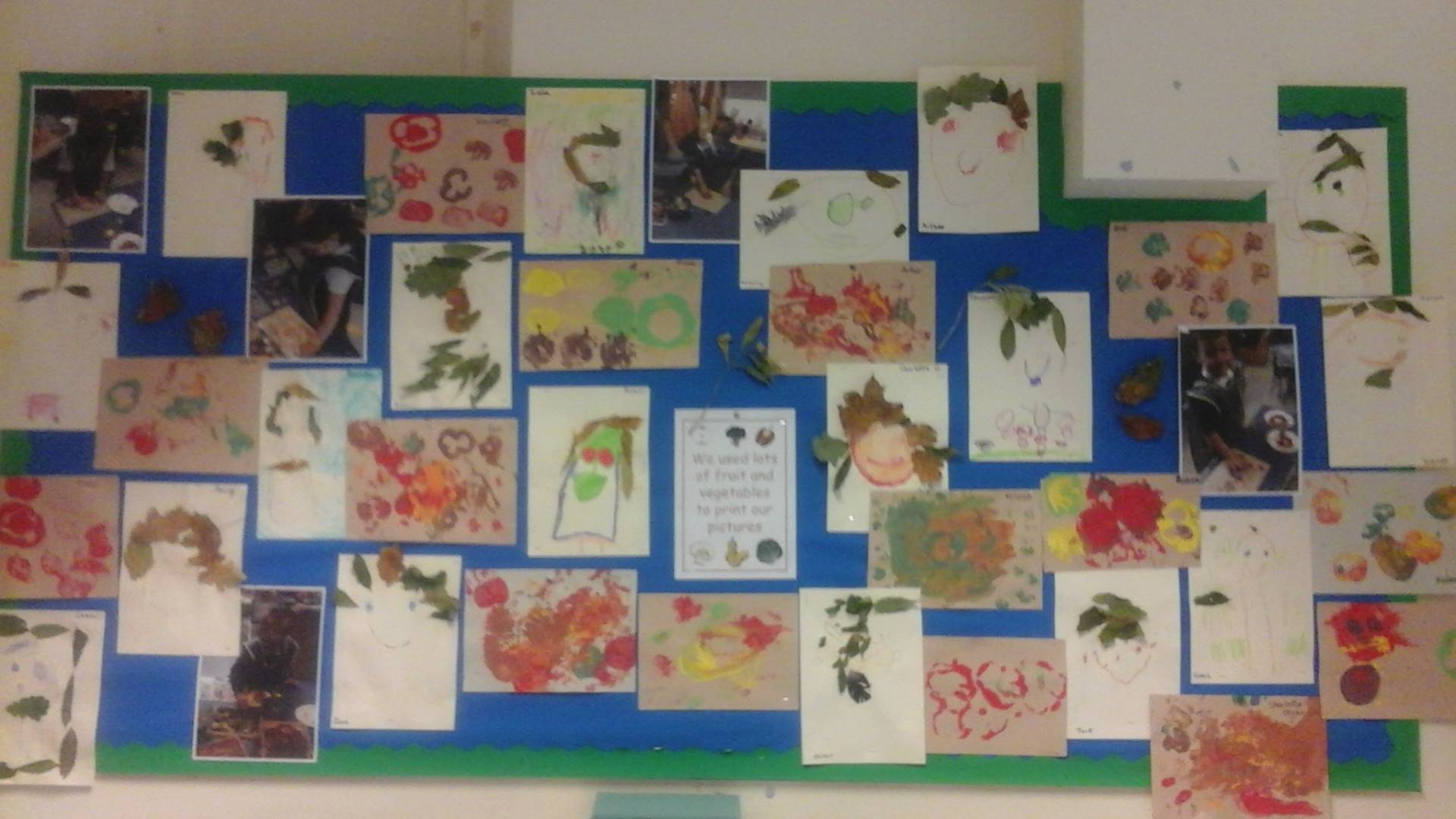 Friday 28th September
The Ladybird class have been enjoying their new mud kitchen this week. They have been using lots of natural materials and have loved mixing them all together. We would like to say a big thank you to the kind parents who have donated pots, pans, tins and utensils to our kitchen. We would be very grateful of any further contributions.
Tuesday 25th September
Wow... what a busy day the Ladybirds have had today!
This morning the children expertly completed their Funky Fingers session then set off to either run half a mile on our big playground mile track or dance and make big movements in our Squiggle While You Wiggle session. Everyone had a lot of fun and we can't wait to swap round and try the other activity tomorrow.
Later we had our very first phonics lesson and all learnt the sound made by the letter 's'. The children loved identifying objects that start with the s sound and listened carefully to decide if they could hear the s sound in different words. I wonder what you can see at home that begins with the new sound?
We even managed to play a fun circle game with Numicon and practise our counting skills and recognising numbers in our small playground and all before lunchtime!
During the afternoon all the children looked carefully at photographs of people who help us in school and tried to match different objects to the different people.
Finally, Ladybirds attended their first whole school singing assembly. Mrs. Mawer said they were super sensible and enjoyed joining in the songs with the older children.
Well done Ladybirds, what a busy day!
Friday 21st September
On Friday all of Ladybird Class went on a wonderful welly walk to explore our school grounds. We talked about the things we could see and the natural objects we found. We collected acorns, seed pods, sticks and many different shaped leaves and have now put them in our mud kitchen.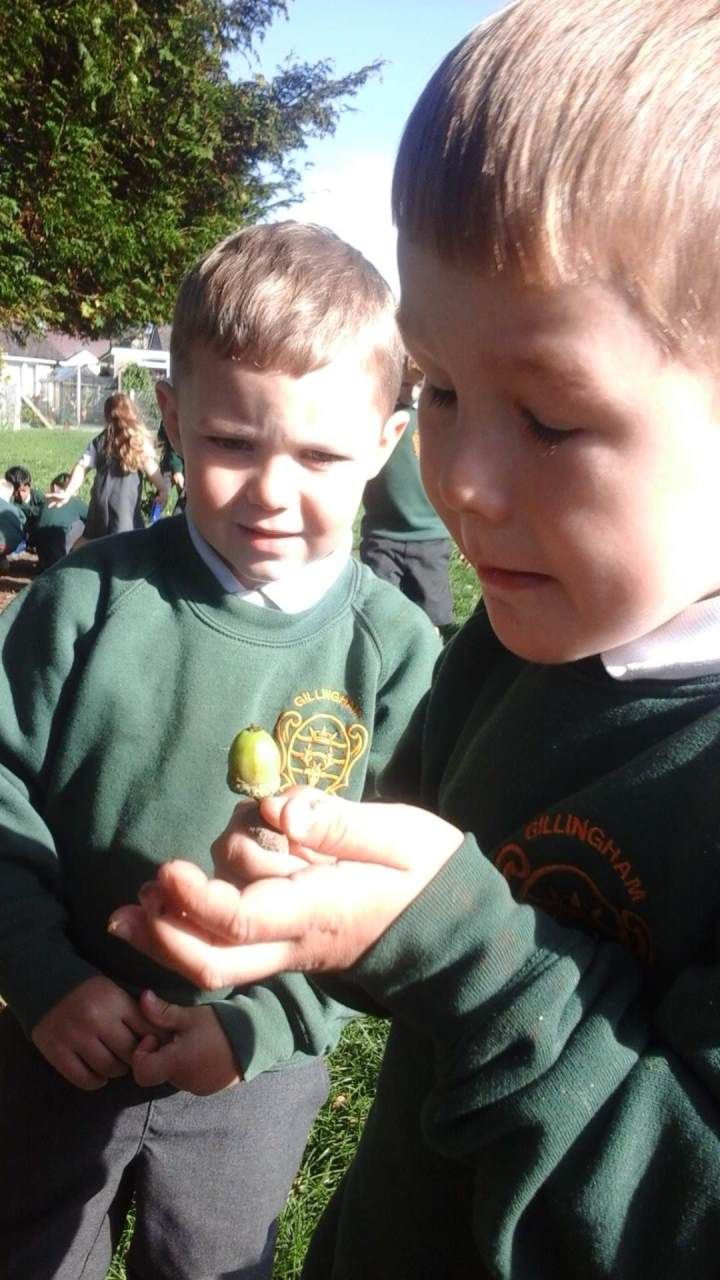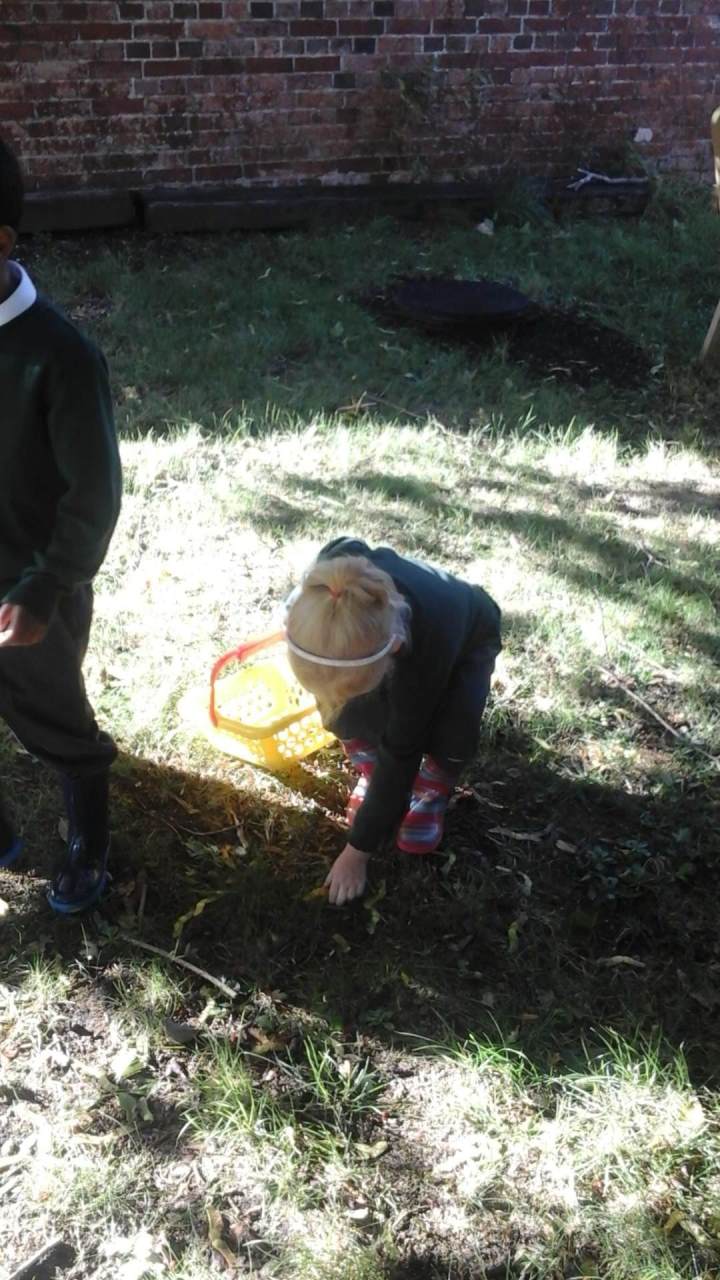 Wednesday 19th September
A fantastic start has been made by all of our new children in Ladybird Class. They have settled in quickly and are fantastic at following all of the school routines. Everyone is enjoying staying for lunch now and today they really loved their first visit to our wonderful school library. Well done Ladybird Class, we are really proud of you!
Monday 17th September
The Ladybird class have made an excellent start to school. We have explored the play trail, the classrooms, the trikes and we are building up to running our 'mile a day'. We have enjoyed spending time with old friends from nursery and making new friends. Our morning begins with our 'funky finger activities'. Here are a few photos showing some of the activities we do.