Monday 16th September 2019
Wow! What an exciting start to our first term in Year 1. We have already searched for some escaped Superheroes, read comic strips and made our own superhero masks. In maths this week, we are investigating different ways to represent numbers and the children have been amazing at using objects from around the room to achieve this.
------------------------------------- end of 2018-19 ------------------------------------------------
Thursday 18th July 2019
We had a fantastic time during our trip to Pogle Wood!
Friday 14th June 2019
Some super writing in English this week about woodland animals. The children have discussed, researched and written about animals who live in our woodland. We have discovered some interesting facts along the way. Here is an example of some great Year 1 writing.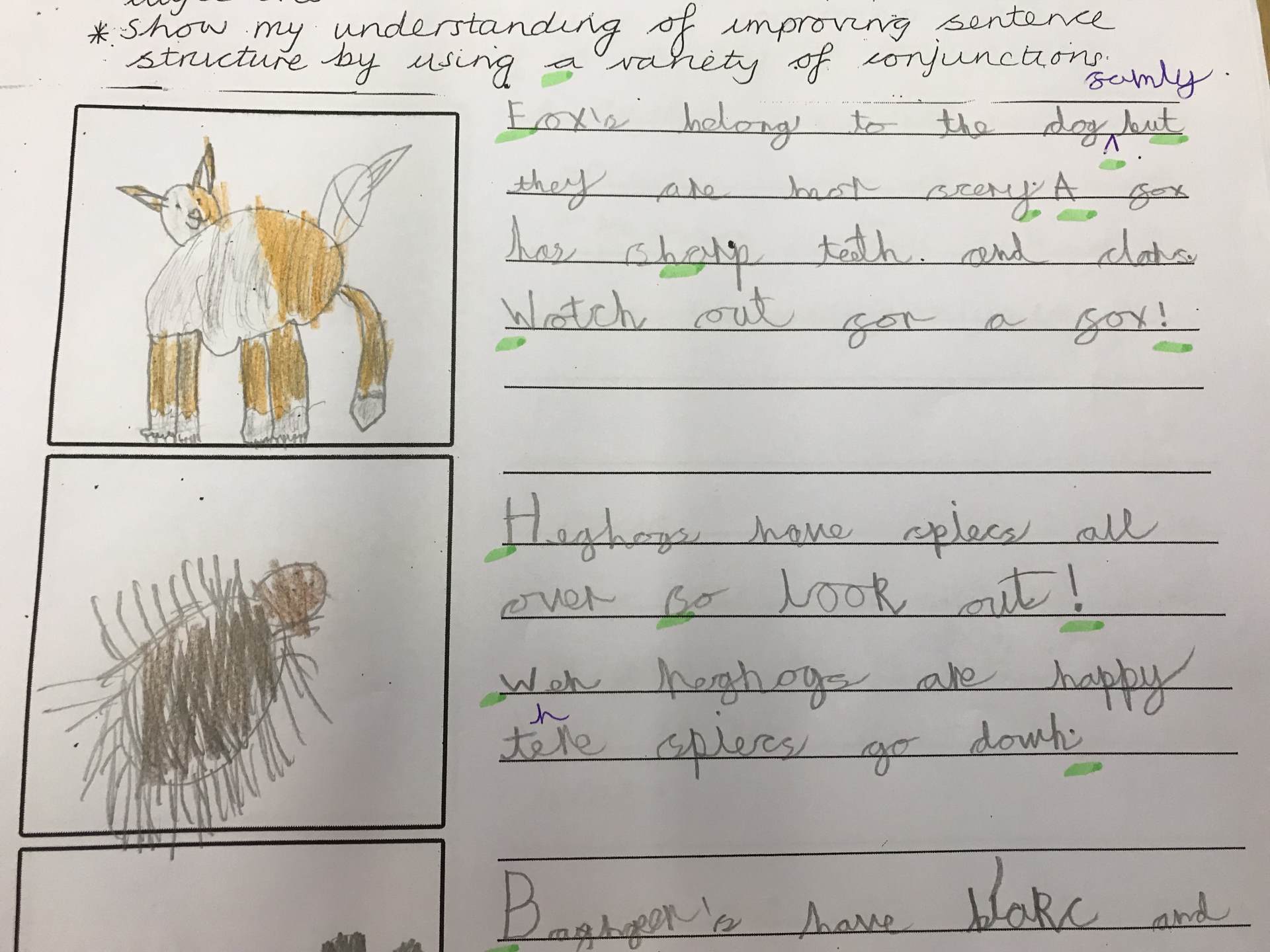 Wednesday 12th June 2019
It's all about position in Maths this week and describing the position of ourselves and objects. We have been using words/phrases like - above, below, in between, behind, in front, to the left of, to the right of. The children really enjoyed looking at objects in grids and describing their position. Here's an idea you could easily do at home or outside somewhere. Draw a 3 by 3 grid out of chalk or masking tape and place four or five different objects (e.g a paintbrush, a banana, a teddy, a sock) in the grid. Explain that you are thinking of an object and that it is to the right of the banana and above the teddy. What is it? Can they guess? Then they can describe the position of a different object and you have to guess. Send us photos to the school office email address and the lovely Mrs Logan will forward them to us!
In Science and Literacy we are exploring woodland animals. Mr Badger and Mr Fox have visited us this week and set us a challenge to find out about different woodland animals. We have used our super reading skills to glean more information and on Friday we are writing letters to Mr Fox and Mr Badger to explain what we have found out.
The competition is hotting up on Spelling Shed with the leaderboards changing all the time. We are loving seeing children change their avatars using their honey pot earnings. Please let us know if you are having difficulties accessing Spelling Shed and we can find time for the children to use the spare laptops to have a go.
The children have had their Phonics Screening this week and we are so very proud of each and every one of them for trying their best. They have become confident to have a go and this has been so evident this week. We do not yet know what the pass rate is and won't for a few weeks but you will find out the results when you receive your child's report. What matters though, is not the score, but the fact that they had a go to read every single word. This is the result that matters and these children have all, without doubt, given it their best shot!
Maths update June 2019
The children have been exploring fractions. They used paper shapes to find half and a quarter and then used this knowledge to find half of a number. It has been very hands on using cubes and counters and the children have been talking about what they notice. Lots of good language was used like whole, parts, equal and no equal.
This week we have moved on to position and direction. We spent time in the playground making whole turns, half turns, quarter turns and even three quarter turns! Their prior learning of fractions really helped them to understand this. We also introduced left and right with mixed results. These are certainly ideas that you can reinforce at home.
In Geography we looked at compass points which also linked wonderfully to their maths. It's these links that really deepen and strengthen their knowledge and learning.
Tuesday 3rd June 2019
Today we went wild! We have signed up to The Wildlife Trust's 30 days wild because it links beautifully with our new theme, The Enchanted Woodland. Over the next thirty school days there are 30 random acts of wildness to try and achieve. Today we had to feel the wild between our toes so removed socks and shoes to feel the grass tickle.
We created some beautiful artwork using the nature all around us and had fun identifying trees in the school grounds. The leaf and flower pounding was a huge success and very effective!
There are more photos to be added from today but here's a few to show our woodland fun.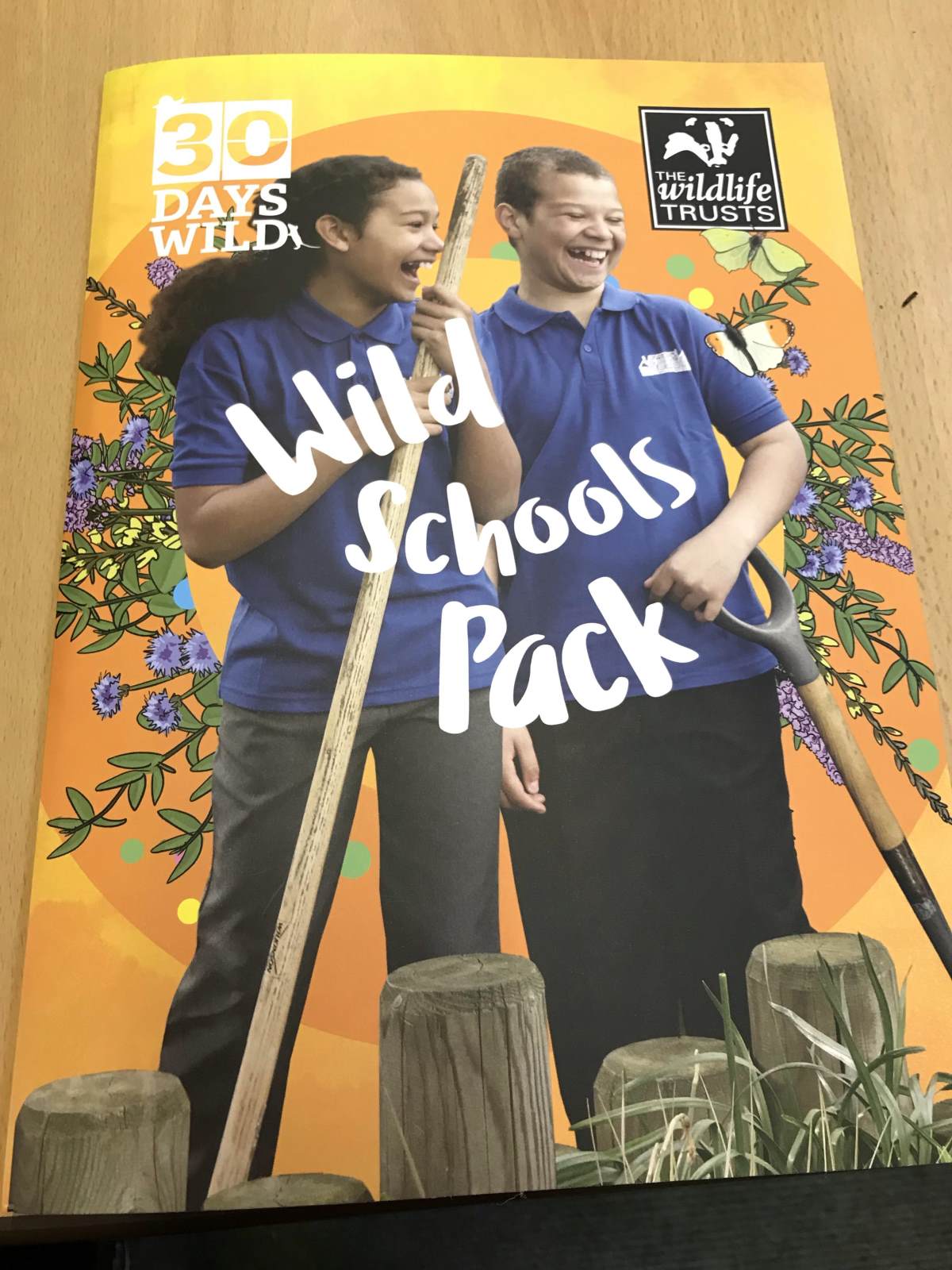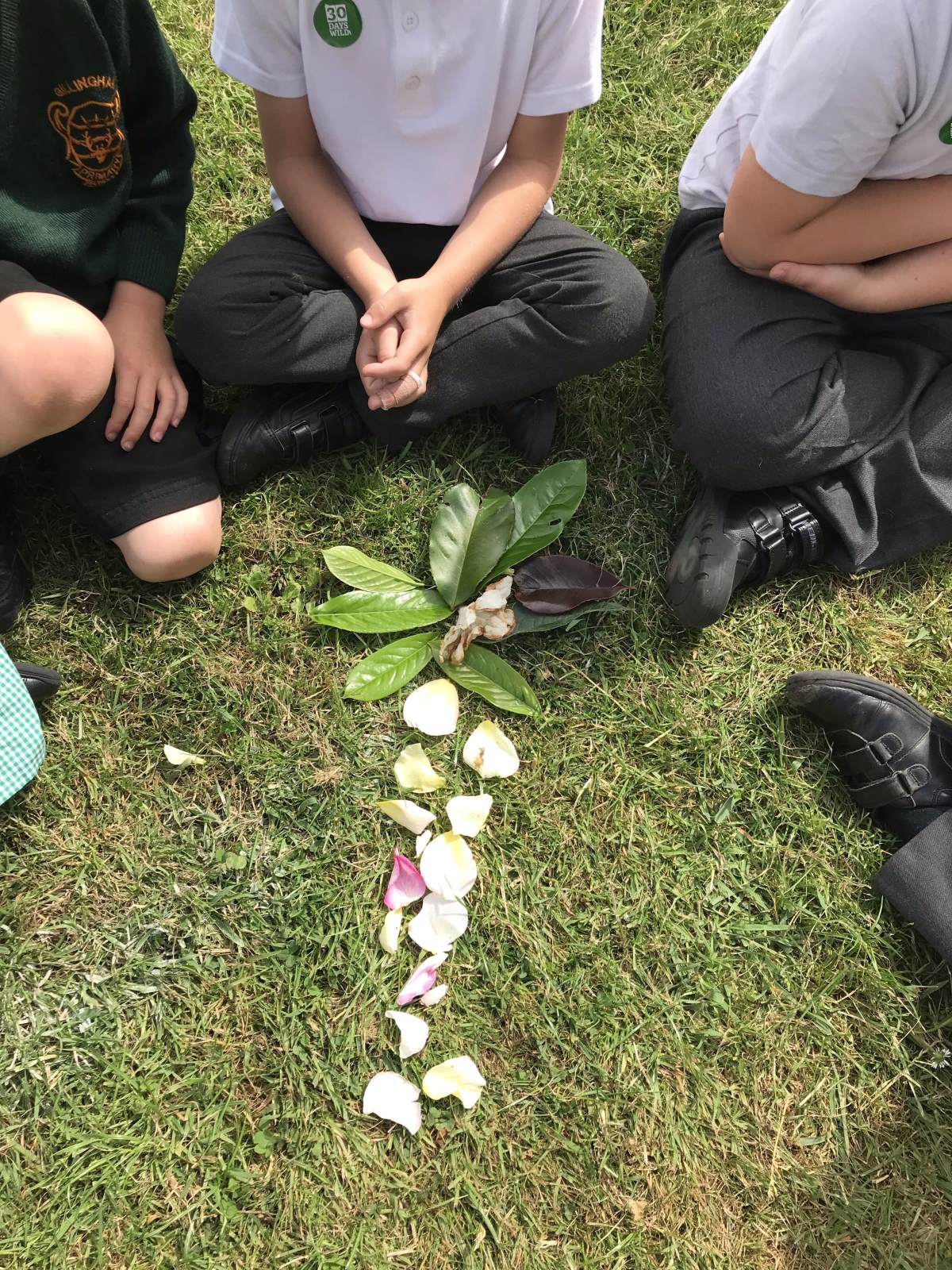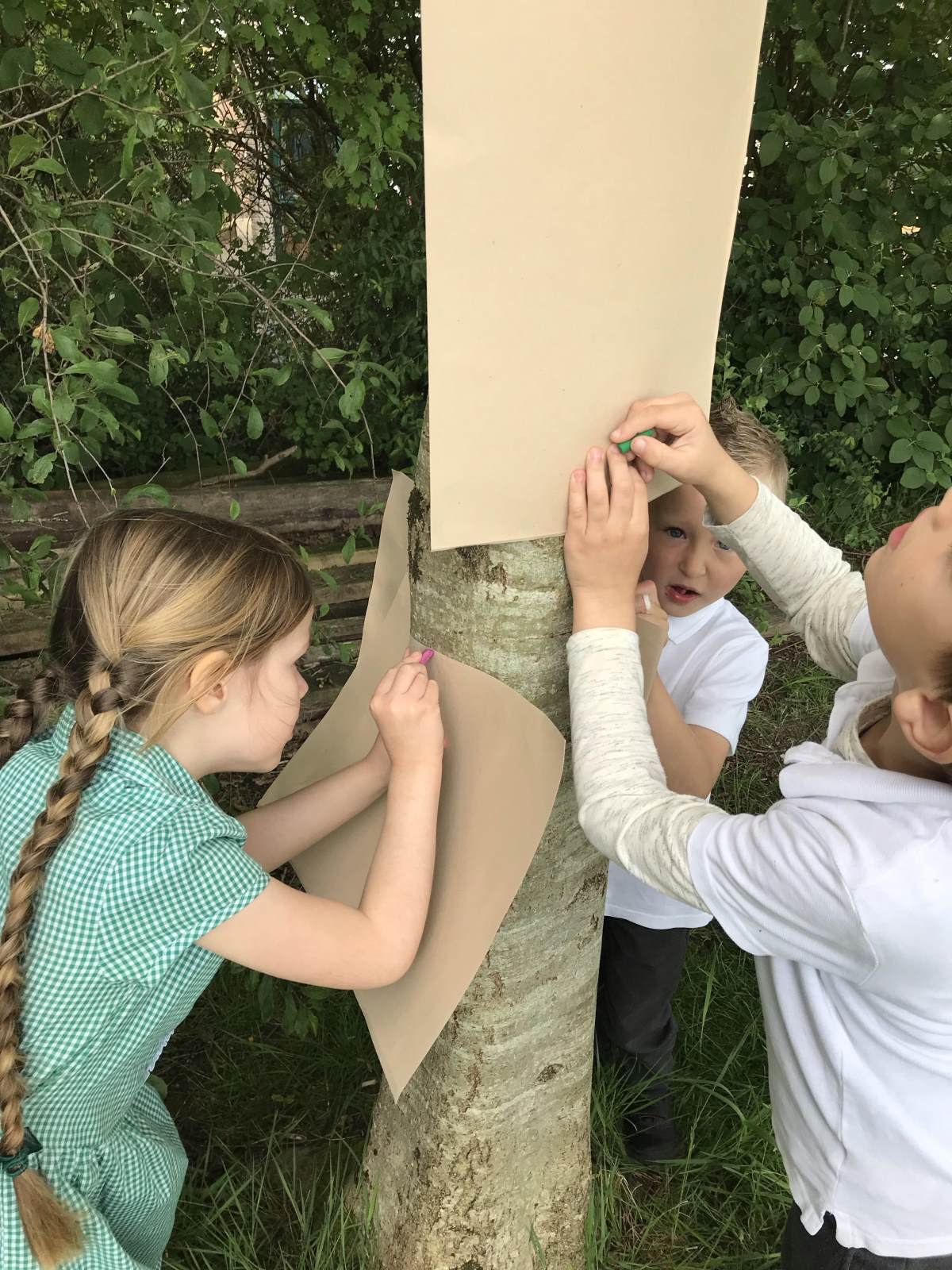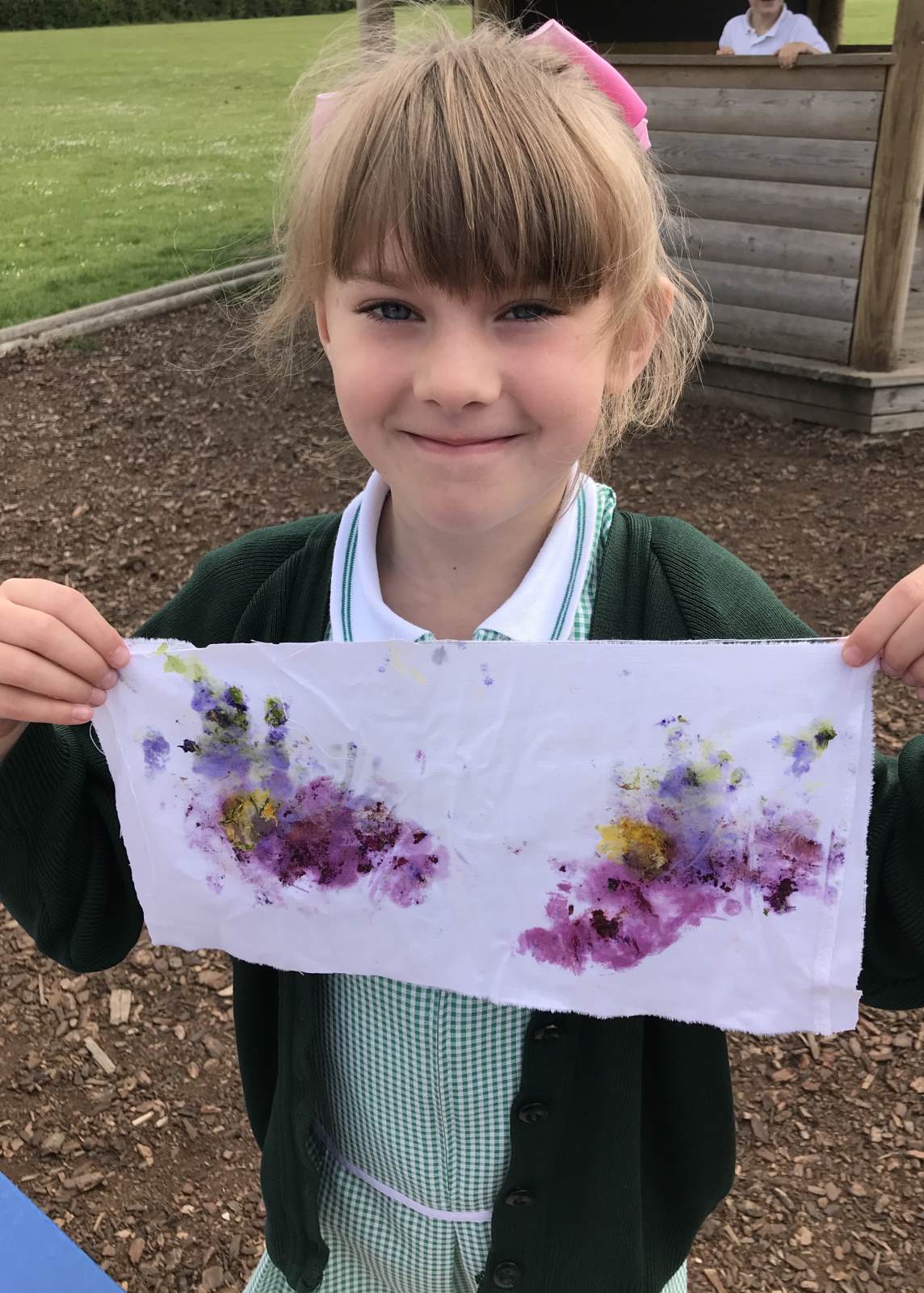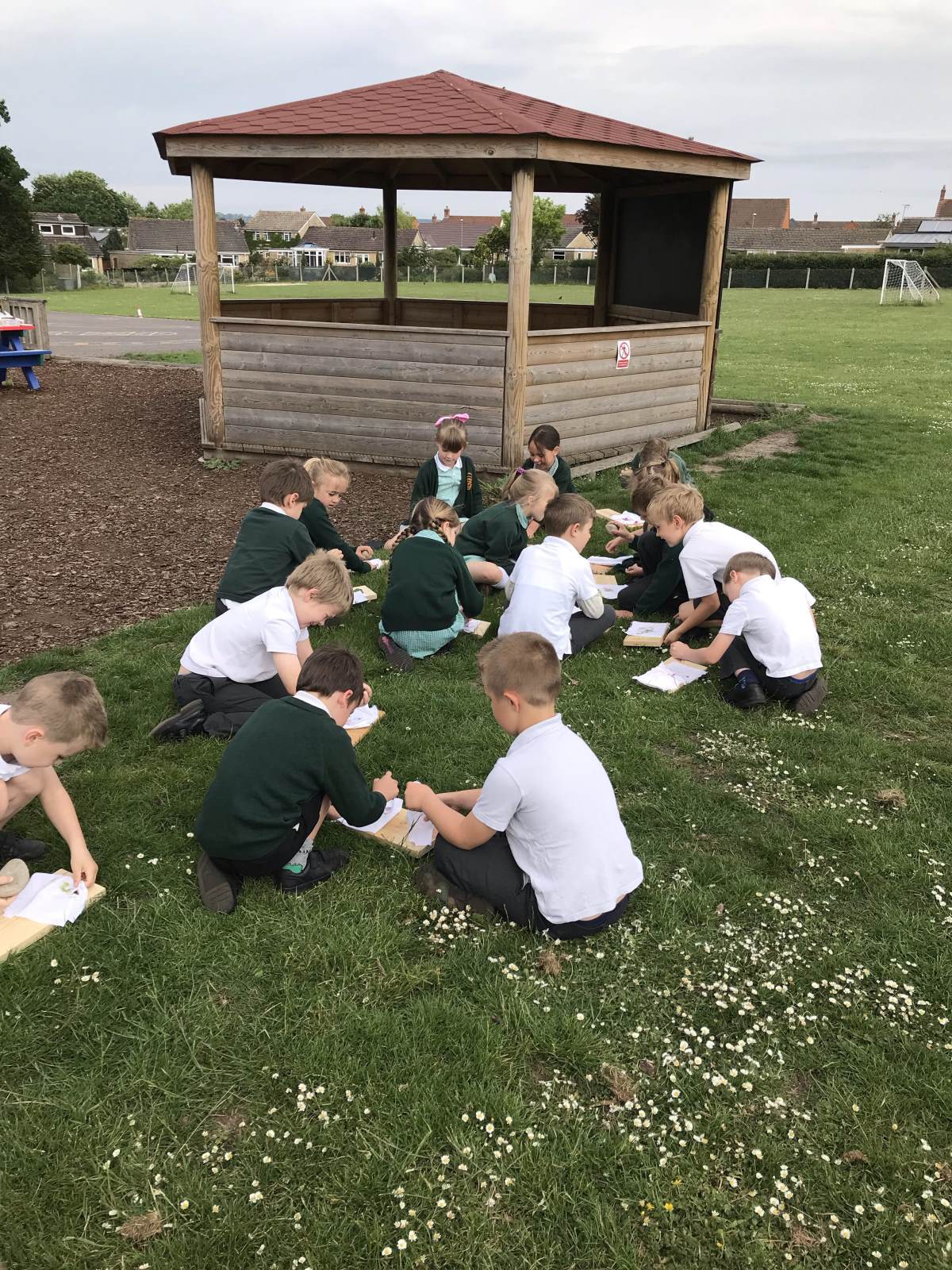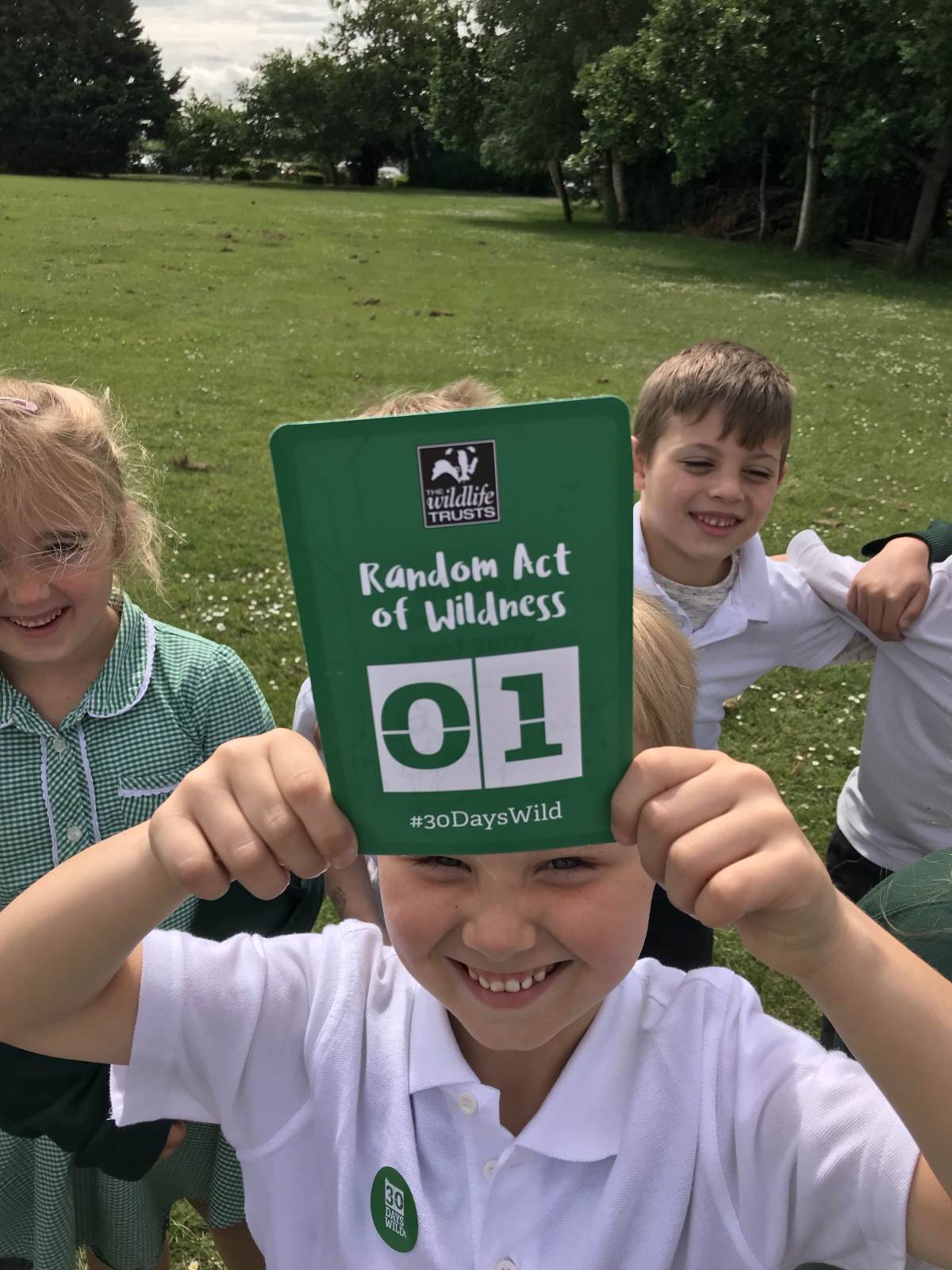 Wednesday 15th May 2019
This week in maths we have been exploring doubles of numbers. We noticed that the answers are always 2s numbers and therefore even numbers. Some of us discovered that when you double an odd number it always ends up as an even number.
Today we moved on to finding half of a shape. We had great fun cutting and folding shapes in half. We are beginning to explore the idea that a half is one of two equal parts - see if you can make halves at home too and use the language of equal parts. Feel free to email photos to the school office of what you get up to.
Hopefully, your children will have been talking to you about rhyming words and poems. We loved todays' poem by Robert Hull about not feeding bananas to piranhas or a cheetah to your teacher! The children are going to be writing their own animal poem at the end of the week. Maybe you can find an animal poem at home......................
Friday 10th May 2019
We are totally engrossed in our Paws, Claws and whiskers learning at the moment. It all began with visits from real pets and a real vet. These experiences really engaged the children and it made their learning more fun and enjoyable. The vet, Helen, brought some super things in to share with us and has even helped remove a tooth from a lion!
We have enjoyed animal stories and poems but at the moment we are quite captivated by non fiction texts and facts about animals. Learning about what a zoo keeper does has been interesting and our favourite photo has been of elephant poo!!!
This week we have written instructions on how to be a zoo keeper and compiled a list of the common features of instructions. Please ask your child about what is useful to include when writing instructions. Hopefully they will mention a title, list of equipment using bullet points, numbered instructions, photos or pictures and finally, bossy verbs (imperative verbs).
In maths we have looked at equal and unequal groups whilst counting in 2s, 5s and 10s. This week we have been making, talking and explaining about arrays. We have introduced the language of rows, columns and repeated addition. If you see any arrays out and about, please take a photo and email it to us, Below are some photos of arrays that the children have made.
Next week we will be learning about doubling and halving.............
Thursday 7th March 2019
This week so far...................................... we are still learning to count in 2s, 5s and 10s.
We have also been looking at comic strips and filling in our own.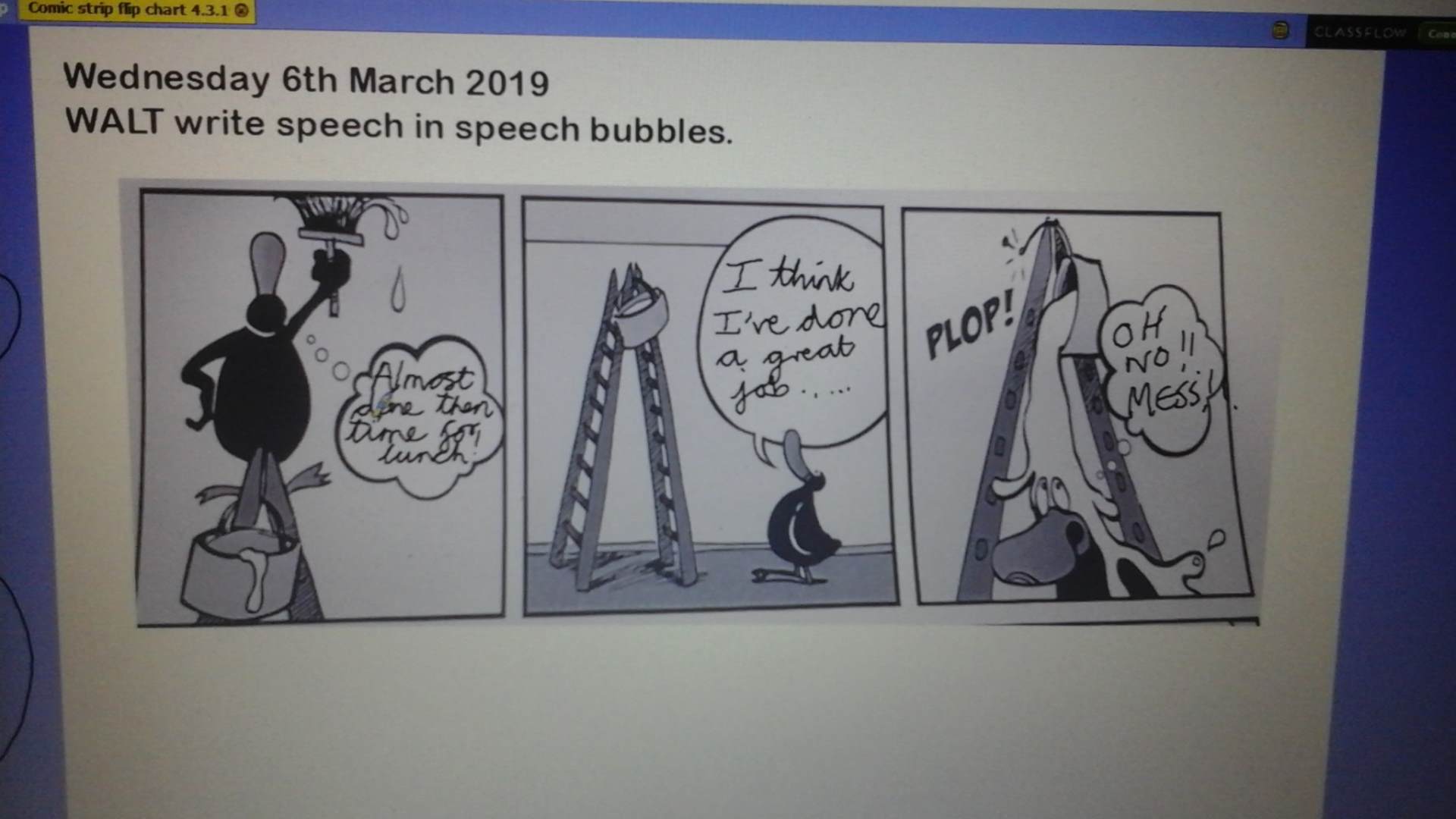 Today, as you know is World Book Day and we have drawn our book characters and given them their own speech bubble. This afternoon we have also designed our very own Superhero masks that we plan on making soon.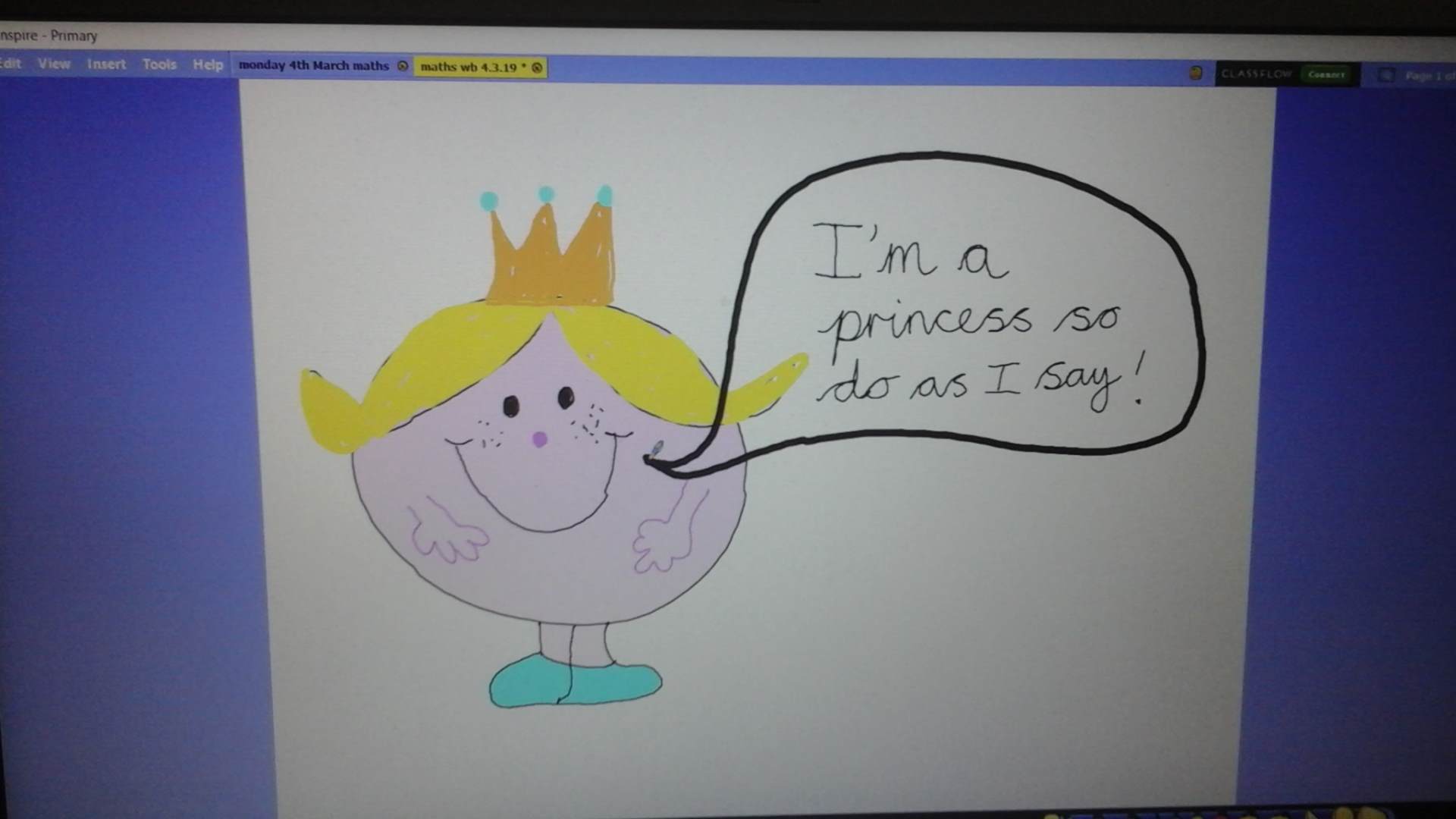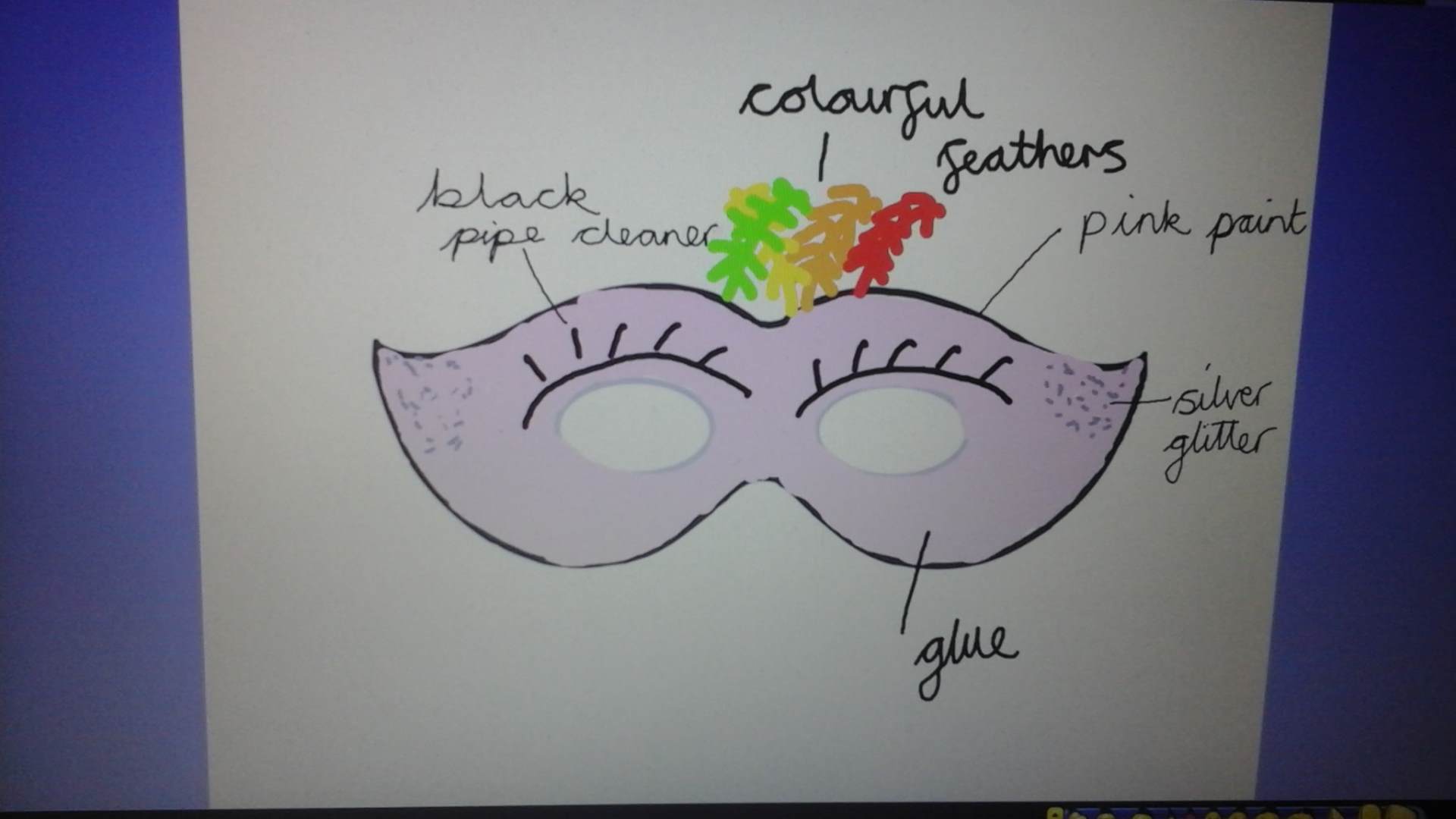 Please look out for log ins to a spelling site called Spelling Shed and an electronic letter explaining all about it. This is going to be weekly homework from now on so it's important that you read all the information about it. We will be sticking the log ins in the children's reading diaries. They will get some spellings on a Friday and then the idea is that they play games on the Spelling Shed app that help learn the spellings and then we will test them the following Friday. We will start easy to begin with to help them get used to it.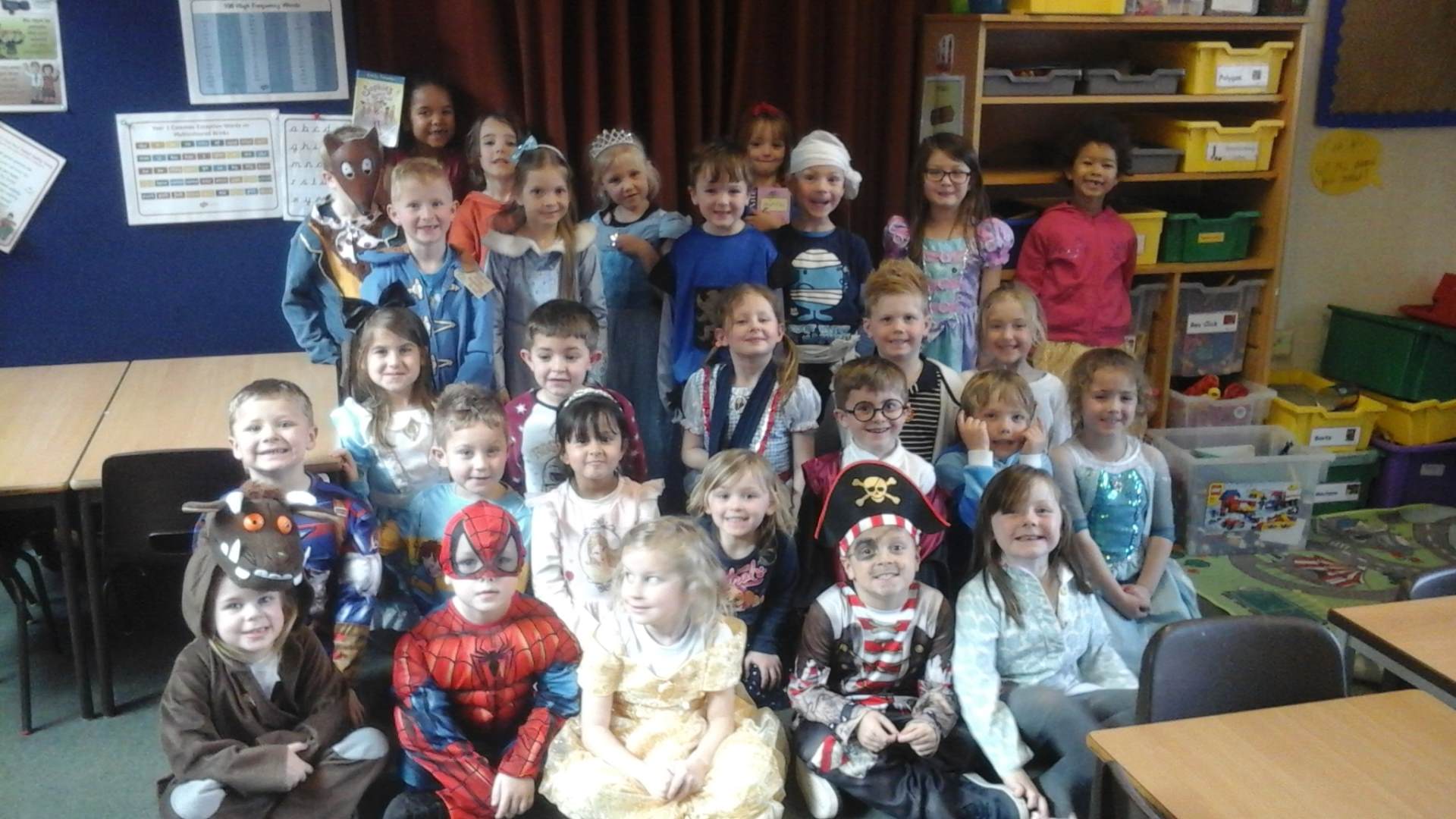 Monday 4th March 2019
This week in Maths we are learning to count in 2s, 5s and 10s. This is a great skill to practice at home and we would love to see what you do. You could count coins to find a total or count piles of objects by grouping them into 2s, 5s and 10s.
The children noticed that when we count in 2s, we miss out every other number. What else do you notice?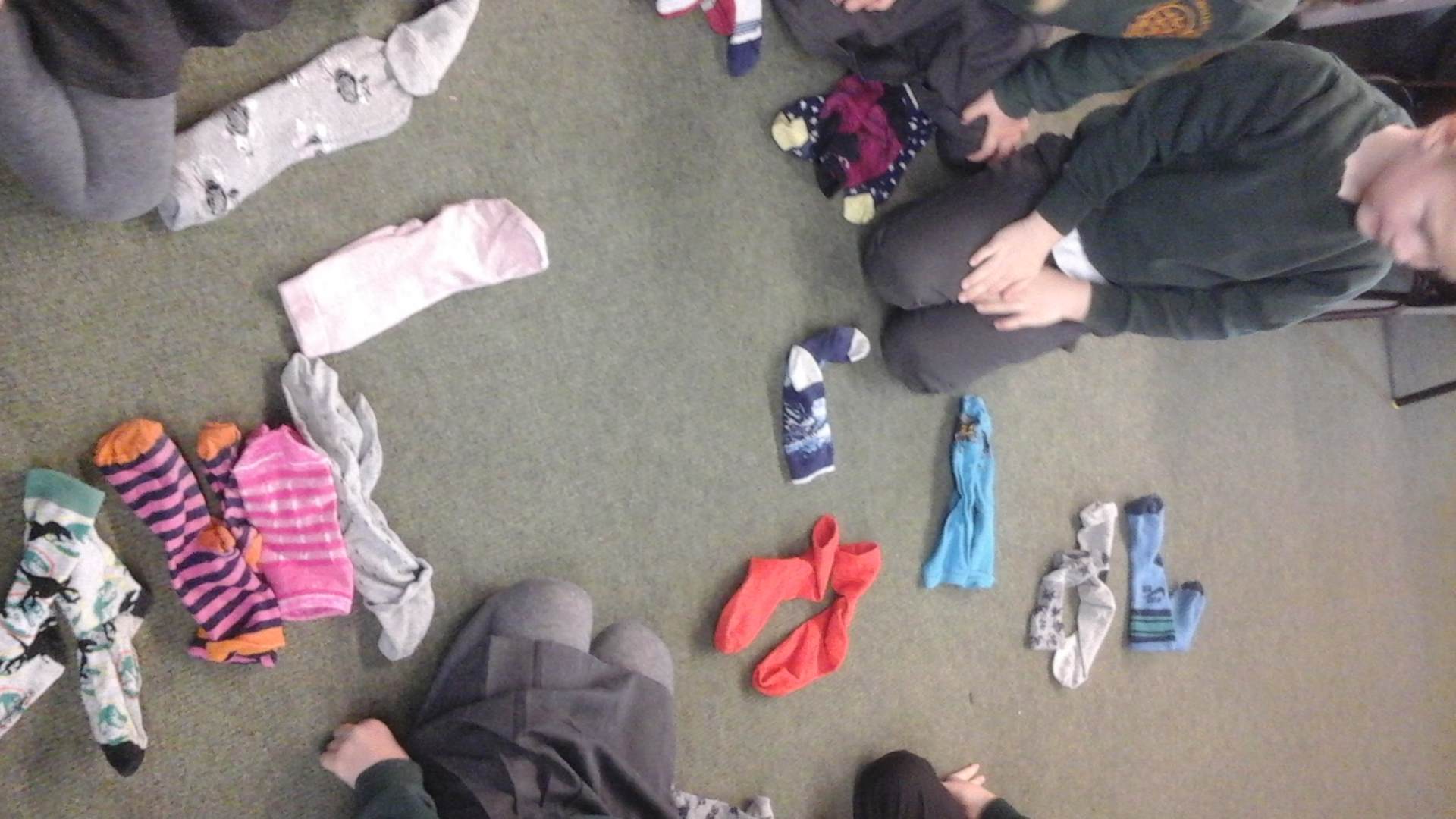 We sorted socks into pairs and counted them. We made wax rubbings of 2p coins and had a challenge of seeing how far we could get writing out the multiples of 2 until the timer ran out.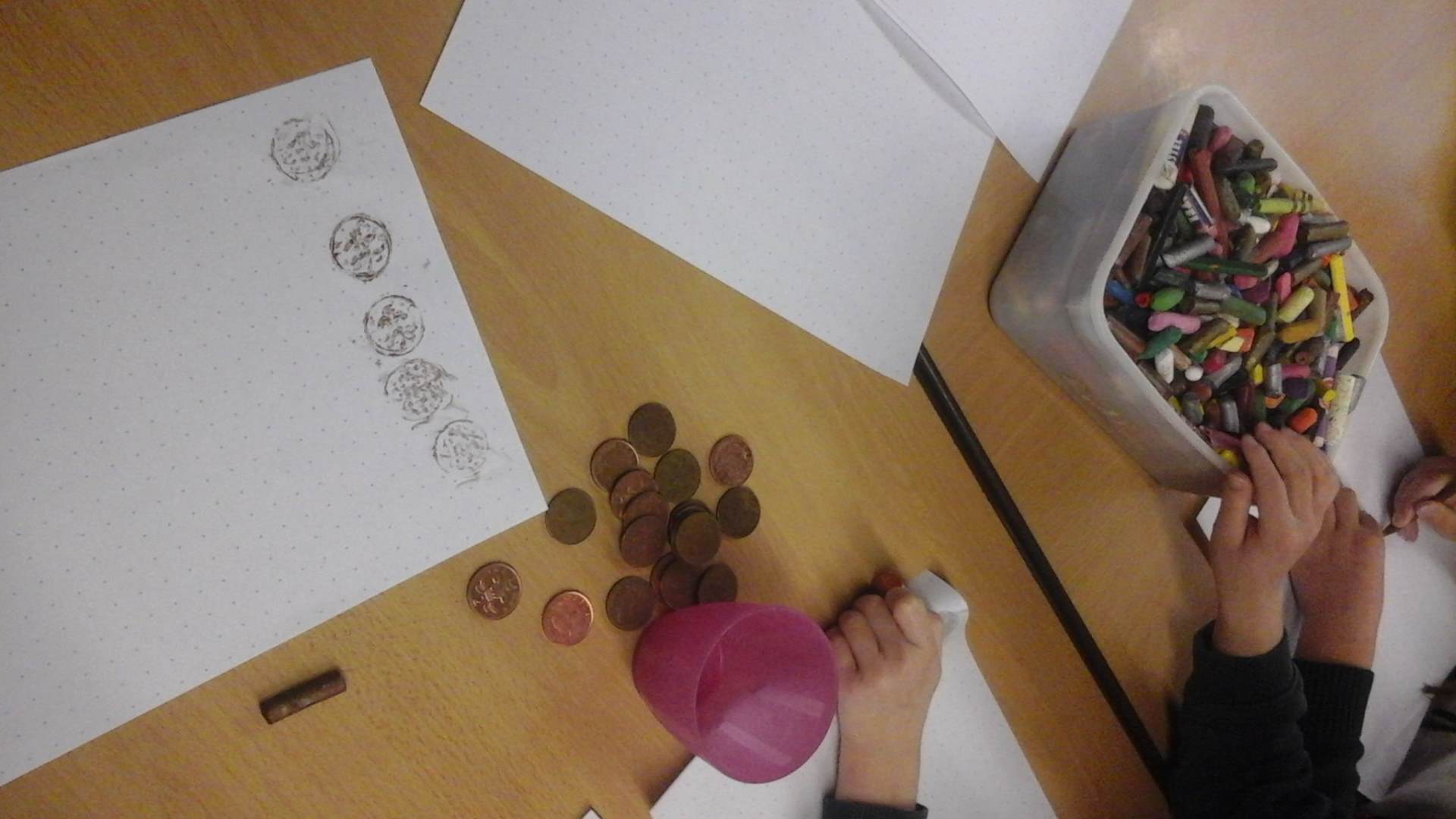 In English, we are looking at comic strips in readiness for us writing our own Superhero comic strips. We are looking out for books containing comic strips so if you have anything we could borrow we would be very grateful.
Some exciting news to follow later this week about spelling.......................................................
Friday 1st March 2019
This week we have been inspired by real life superheroes and fictional characters. So much so, that we have made some out of clay! Thank you to the parents that gave up their time to help; we couldn't have done it without you and the children had a wonderful time!! We also looked at using different materials to design superheroes with. These included lego, drawing with pencils and coloured wax crayons. We hope you like our fantastic superheroes as much as we enjoyed designing them!
Tuesday 26th February 2019
More photos as promised...............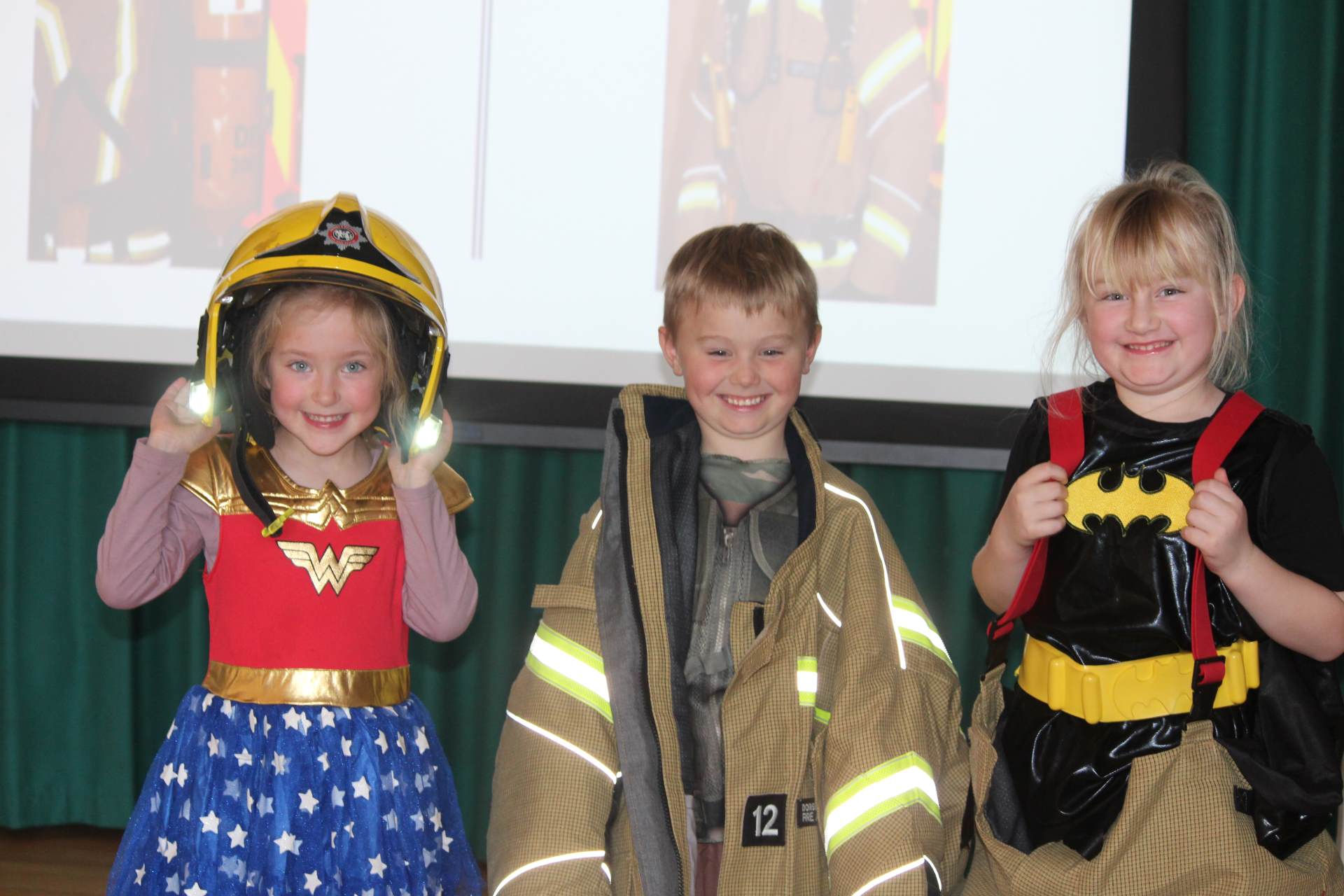 Tuesday 26th February 2019
Well, we have had a supertastic superhero day today. Thank you for all your contributions.
We began with a mission to rescue hundreds of superheroes who had been trapped in the school grounds by the League of Baddies. Working in teams we had to release the superheroes from the superfreeze and we were amazing at doing this.
After that we met some real life superheroes! Jane from the South West Ambulance Service and Rich from the Dorset and Wiltshire Fire Service. We asked them questions and they gave us lots of information about being real life superheroes. We didn't realise that Rich and Jane are even still superheroes when we are asleep at night!
We really have had the best day to hook us into our learning and these are just a few of the photos we took today. More to follow....................................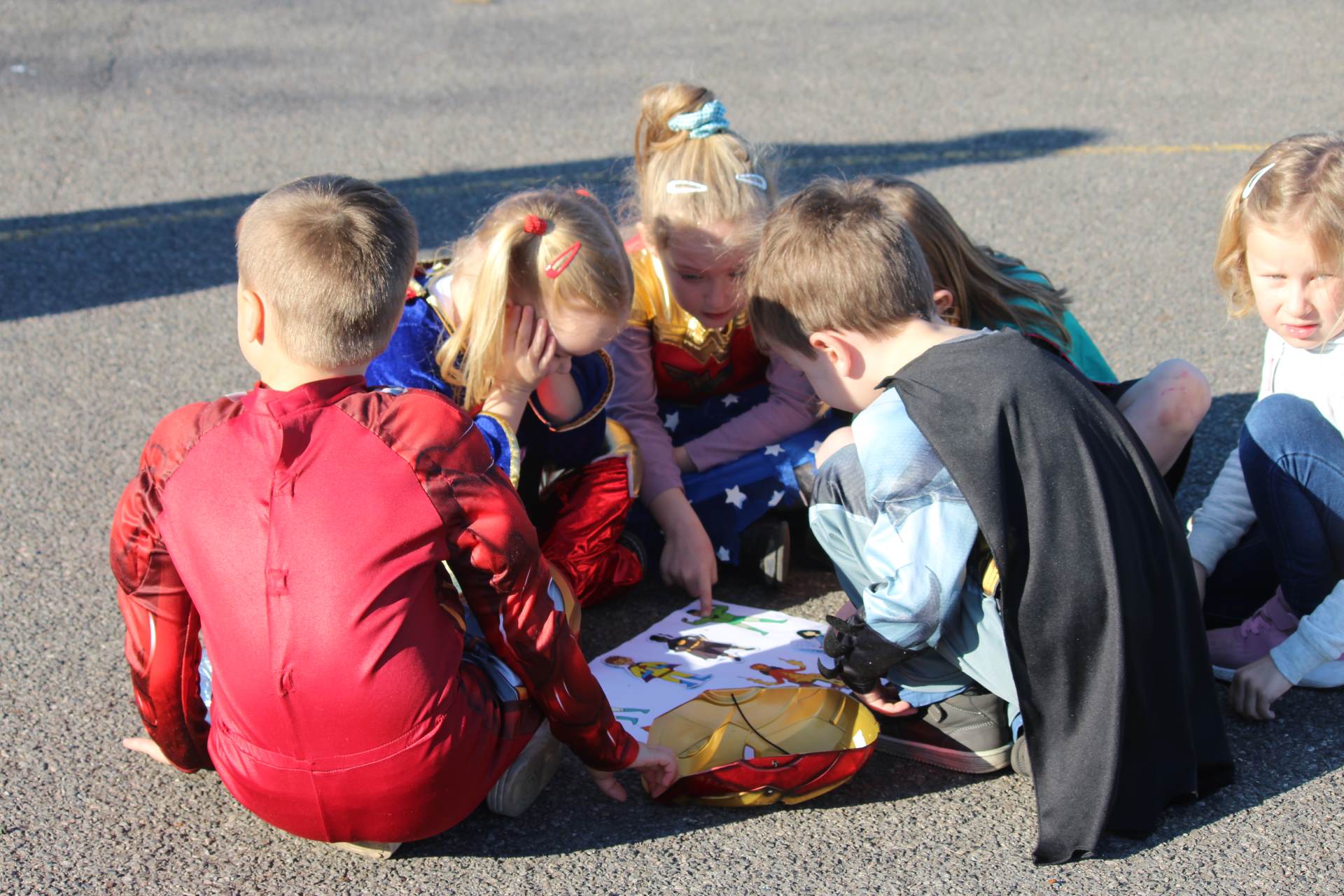 Thursday 14th February 2019
This week we have been exploring fact families in Maths. Have a look at what we did today.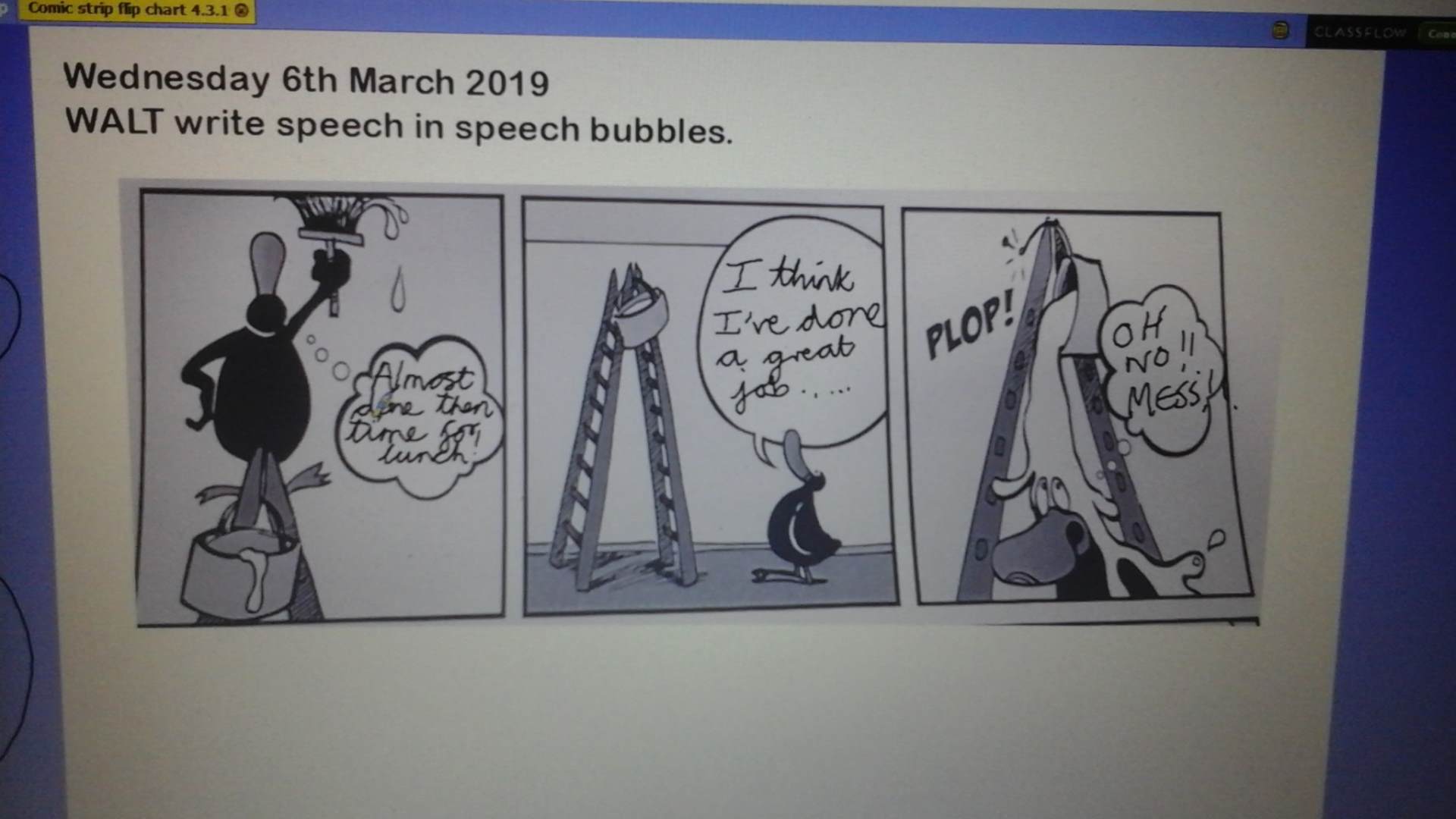 We have collected in the school reading books today for a stock take so please read home books and library books over the holidays and write in the reading diary as normal.
Over the holidays, it would be good if the children could be introduced to coins and notes of different values so they can see what money is, and why not bake some cakes or biscuits to have a go at weighing and measuring...................................
Tuesday 12th February
We have been subtraction superheroes in maths recently. We have been learning to subtract on a numberline by hopping backwards and using tens frames to subtract with coloured counters.
Today we have even learned a new word - 'inverse'.
Have a look at our learning.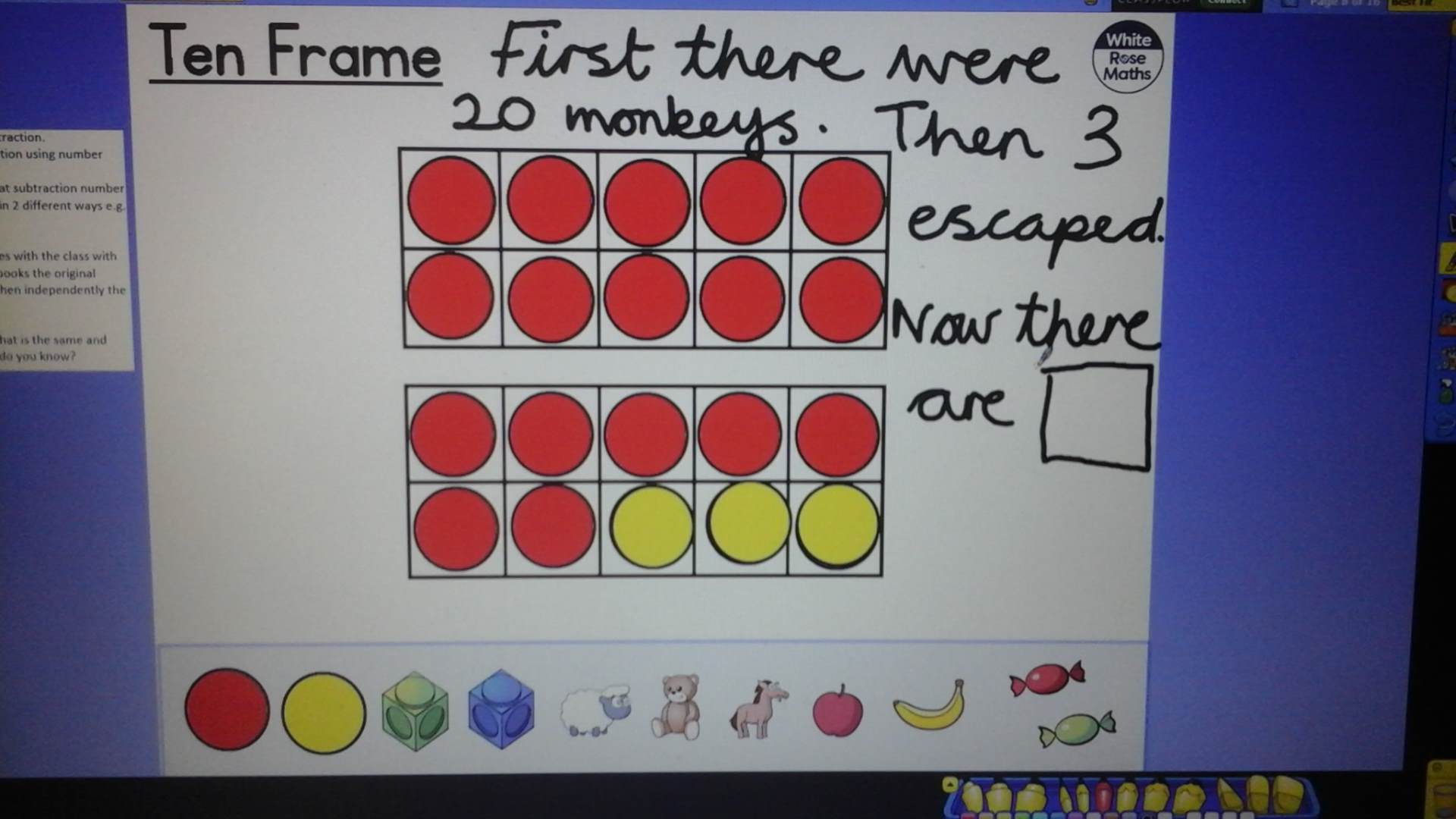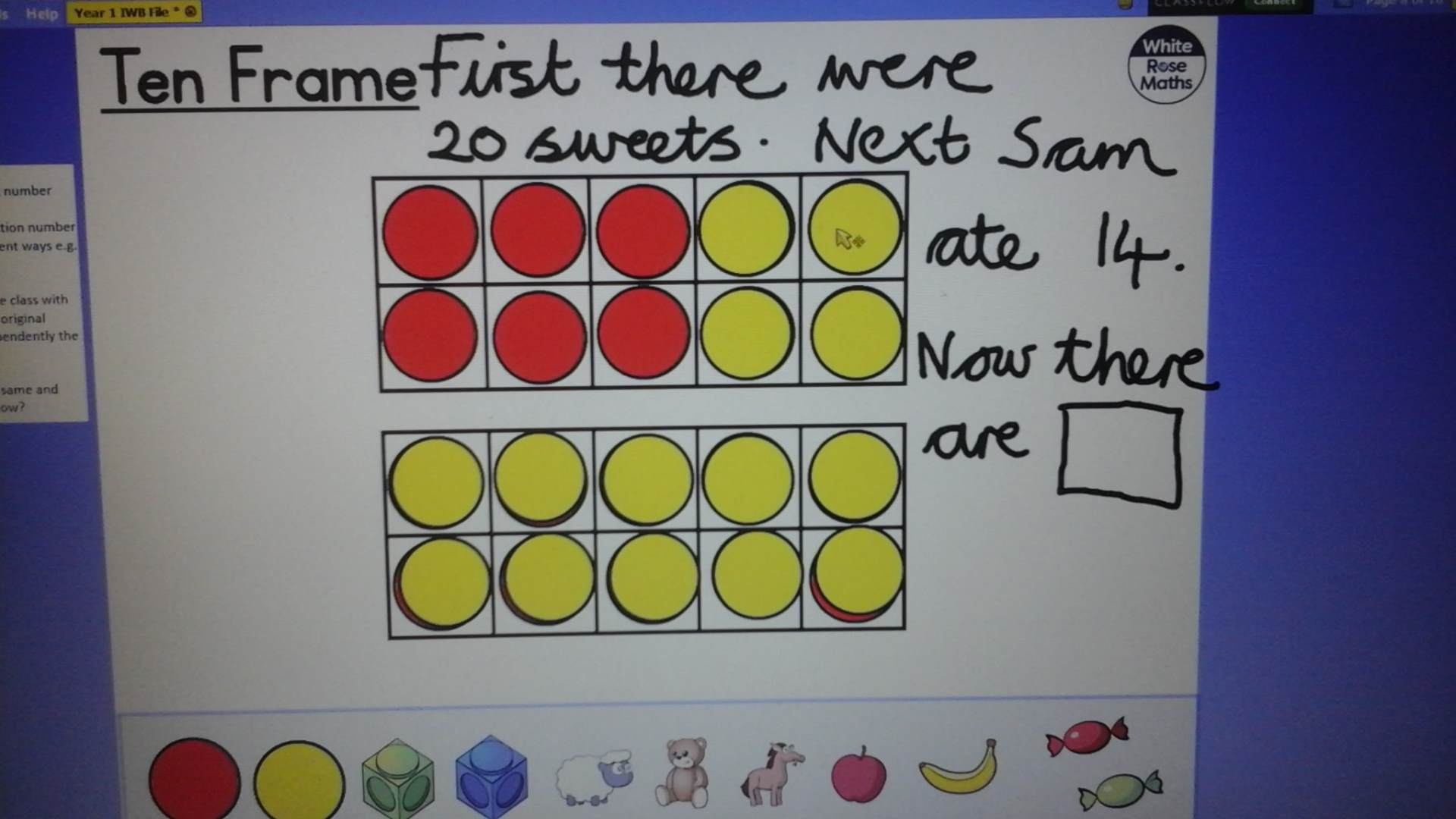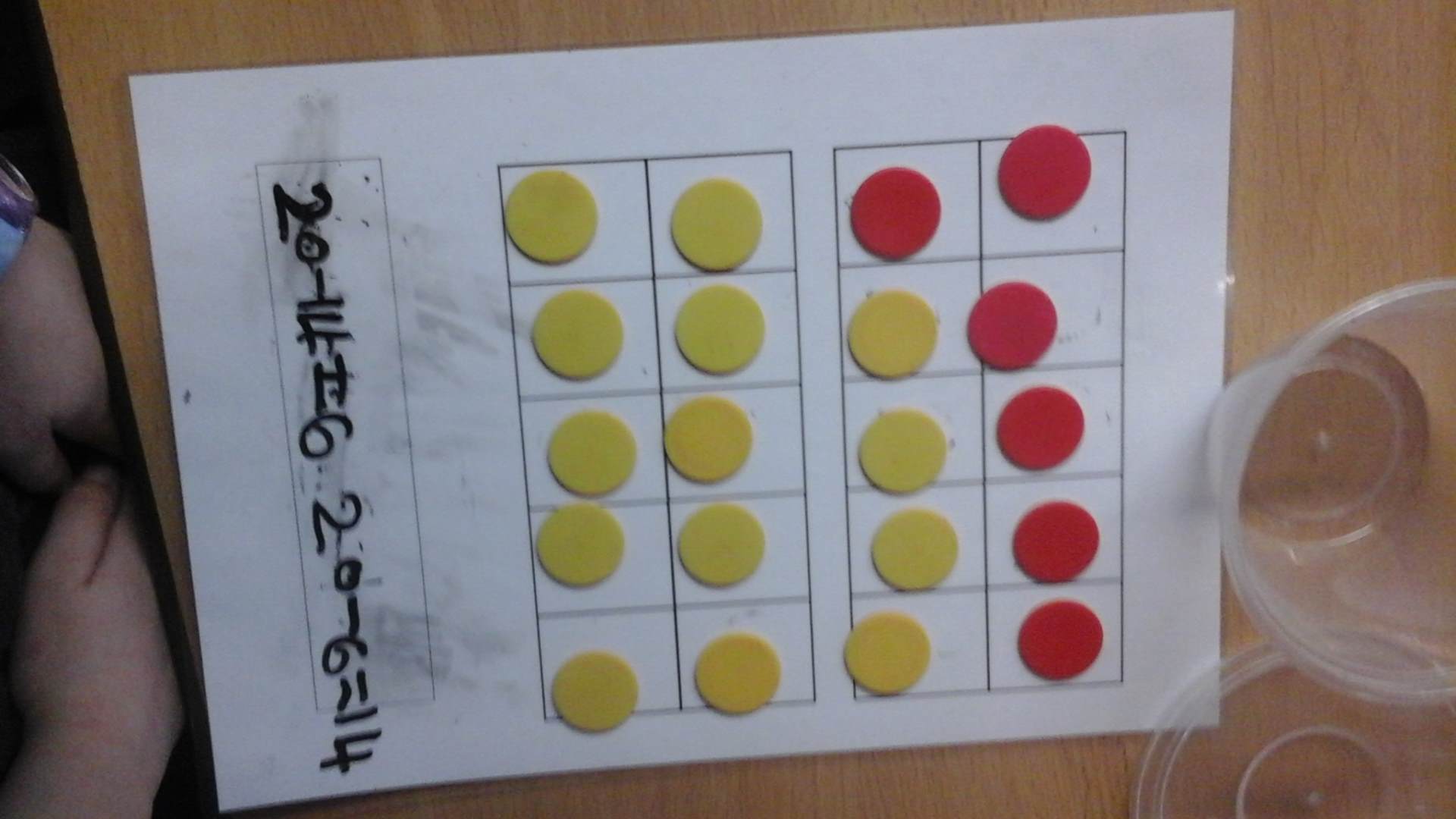 Try and subtract at home too.
Don't forget our Superhero dress up day on Tuesday 26th February 2019 and we are in need of superhero comics, dressing up and figures if you are able to donate any.
Also, we are looking for parents to come and help us with clay modelling from 1.30pm until 3pm on Friday 1st March.
How are you all getting on with practising those phonics words after our information evening? Let us know ........
Wednesday 30th January 2019
Today we found out about why the fire spread so quickly. The houses were made of wood and tightly packed together, they had no real fire service back then and the wind was so strong that it fanned the flames. This afternoon we have made jam jar candle holders representing the Great Fire of London. The children listened well and followed instructions to make their own decorated jars. They are very proud of their efforts.
We have suggested that you might like to put a battery LED tealight in their jar and see the full effect. PLEASE DON'T PUT ANY NAKED FLAMES IN THERE or we will be re-enacting the Great Fire of London!!!!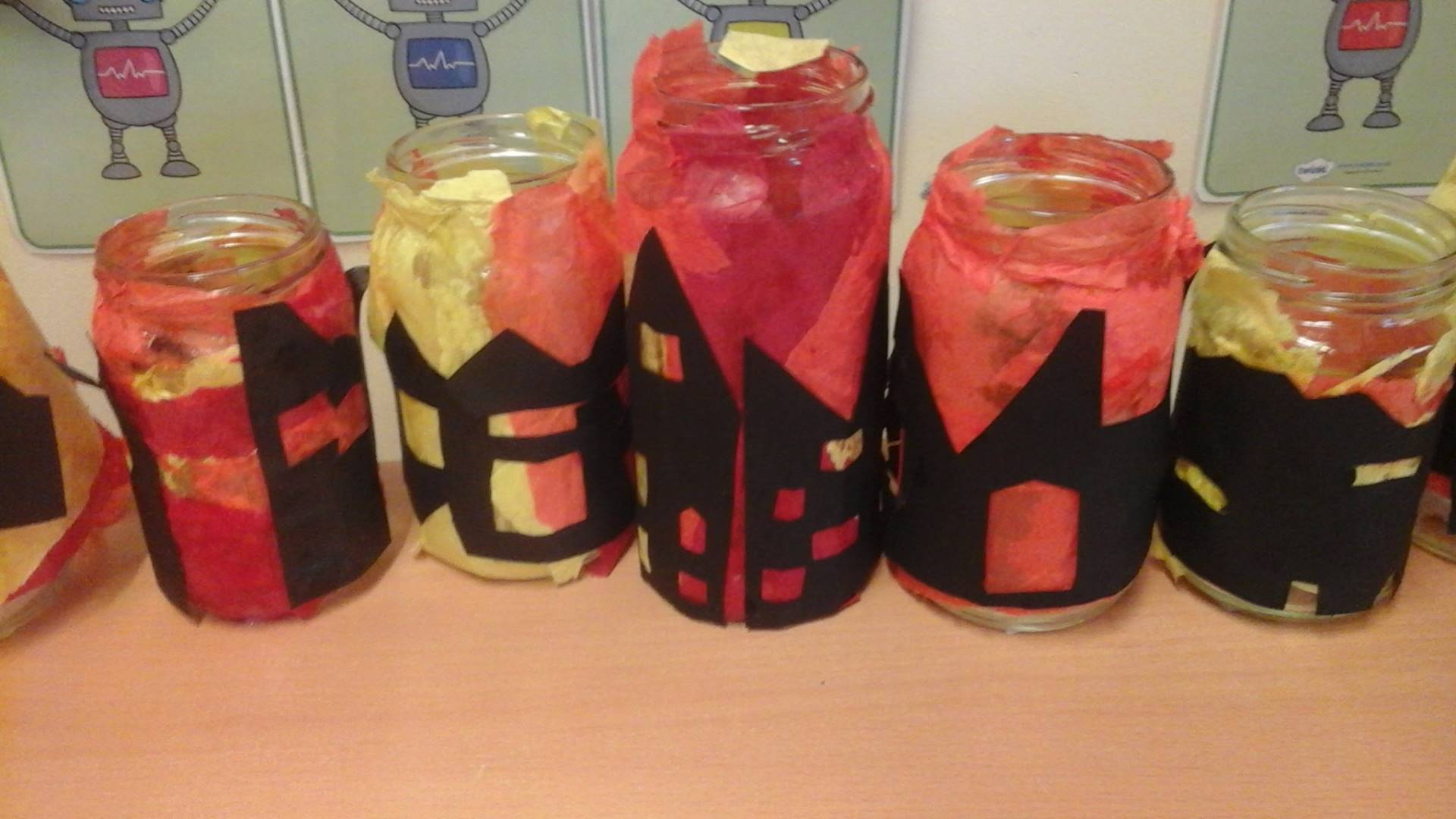 Tuesday 29th January 2019
By now, we're sure that your children will have mentioned The Great Fire of London to you. We have used the story called Sammy the Street Dog to introduce the great fire to the children. It has certainly captured their interest. There are some super words in the story that we have added to our Vocabulary Vicky board like: spreading, raging, curious, eventually and terrified as well as discussing why they couldn't control the fire.
You should be very proud of their enthusiasm.
In Maths this week we are looking at addition and you will see from the photos below that we use stories to support this. We are using the language of first, then and now.
We have noticed that the children need more practice hopping along a numberline so we will be having plenty of practice! This is something you can do at home too.
Friday 25th January 2019
We have had a super week learning more about London, about writing a character description with adjectives and ordering numbers from smallest to greatest and greatest to smallest.
Here are some games that we have been playing at school that reinforce our learning.
Firstly is a maths ordering game:
https://www.topmarks.co.uk/ordering-and-sequencing/chinese-dragon-ordering
Secondly, a phonics and reading game where the children can try and beat their previous score. It's called Help A Hedgehog. Click on the box that says Enter or choose your words, then click on Phase 3 - mixed vowel phonemes.
https://www.ictgames.com/helpAHedgehog/index.html
Maths from today
Today in Maths we have been making three teen numbers from dienes and then ordering them from smallest to greatest and greatest to smallest. The children had to explain how they knew they were right, e.g 17 has more ones than 16 and 15 so it is the greatest number.
Try and order numbers at home. You could write three different numbers on post it notes and ask your child to order them.
We have also been practising our number bonds to 10 using the game Hit the Button. Here is a link for you to try it at home.
https://www.topmarks.co.uk/maths-games/hit-the-button
Tuesday 22nd January 2019
Yesterday we mentioned that the children have been using dienes (base 10) to make and talk about the place value of 2 digit numbers. You may well have wondered what we meant so here are some photos to show you.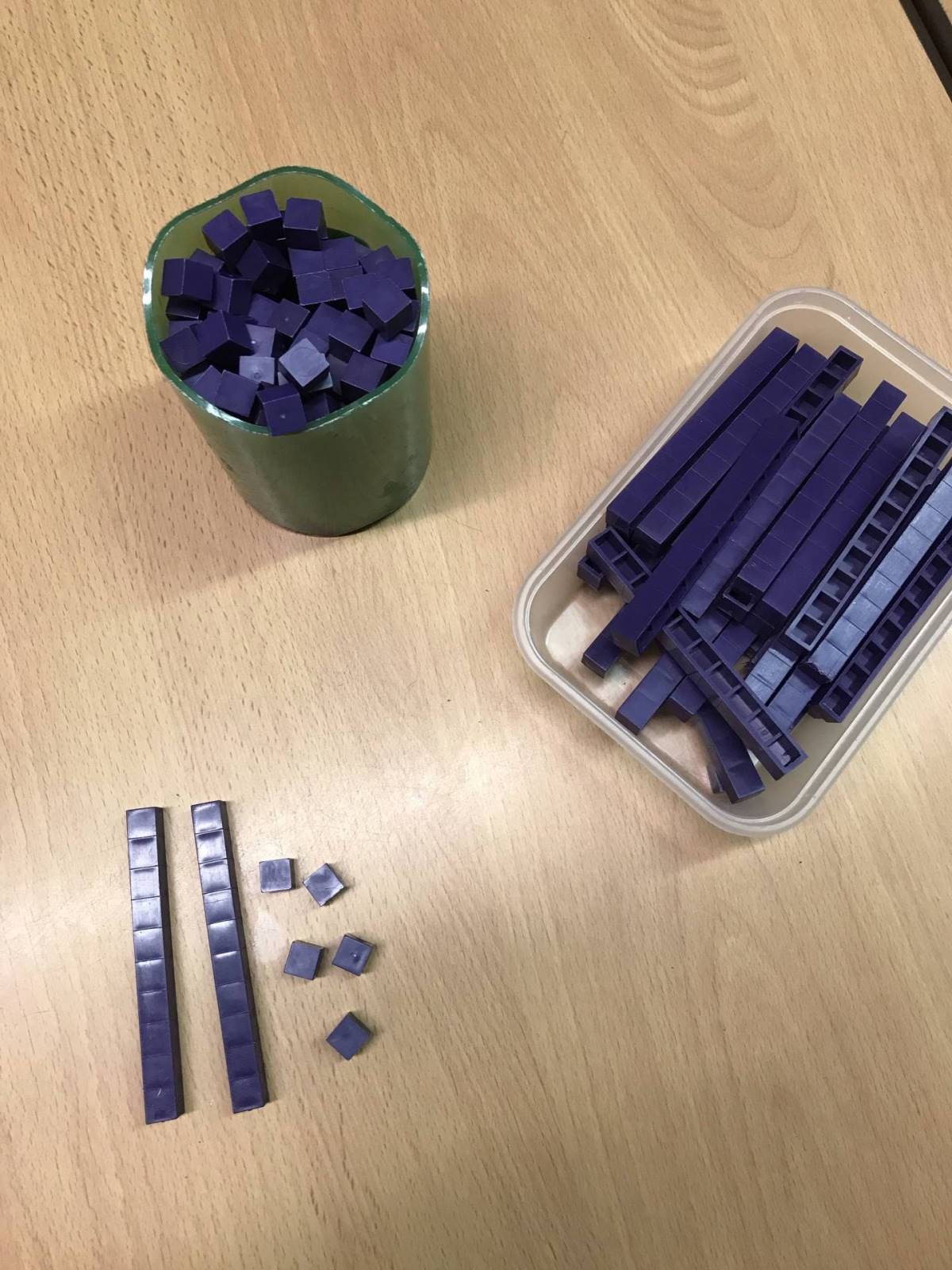 Monday 21st January 2019
Welcome to our first blog of the new year. Let's begin by bringing you up to speed with what has been happening so far.
Our new learning theme is titled Bright Lights Big City and we had a fantastic trip to London as well as a visit from the Queen. The children are thoroughly enjoying finding out about London landmarks and using Google earth to investigate the United Kingdom. Show and tell remains on a Thursday afternoon and we welcome any bits and bobs to do with the countries and capital cities of the UK.
In Maths we have been exploring 2 digit numbers. This has involved 'making' them out of dienes and other equipment, showing how many tens and how many ones in each number. We continue to encourage the children to use the language of greater than, less than and equal to, when comparing numbers. At home, we would ask you to keep exploring counting forwards to and backwards from, 100 as well as rehearsing the number bonds to 10. Lots of children are still a little muddled when writing numbers too, so you can practice writing them correctly. Maybe you can identify numbers on houses/buildings as you walk home from school and ask your child to identify the amount of tens and ones in that number.
In English, we have been looking at non fiction (information) books and identifying labels and captions. The children wrote about our trip to London and have labelled London landmarks.
Thank you for your continued support in hearing your children read. As we have said before, the more they read at home, the more impact it has on their learning at school and we are really beginning to see that with our regular readers.
How are you all getting on with learning to read and spell the Year 1 common exception words? We would love to see what you are doing at home to practice these so please send any home learning in to share with us.
Friday 21st D

ecember 2018
Year 1 received a very special message from Laura Tobin, the weather presenter from Good Morning Britain, to let them know she has heard they have been learning about 'weather' and to let them know the chances of seeing a white Christmas!
Friday 14th December 2018
This week has been a busy one with 2 performances of our KS1 Christmas play, Wriggly Nativity. Thank you to the parents who came and watched! The children were fantastic and thanks again to the adults at home for providing the costumes.

This week we have also been investigating 3D shapes. We have been using the terms faces, edges and vertices to describe and guess the shapes. Squirrel and Hedgehog classes also had a fun morning making 3D shapes with marshmellows and cocktail sticks.
In maths we introduced the symbols < > = which help us to compare numbers. We have been using the phrases "greater than" " less than" and "equal to" to compare 2 numbers. You can easily do this at home too.
We had a great walk around the school grounds this week looking at the environment and realising how lucky we are to have such beautiful things around us. We are certain we heard minibeats scurrying around in the logpile. After the walk we made some great maps of the school grounds and added in all the features.
Have the children told you about the pirate ship games in our PE lessons? They are getting good at scrubbing the deck and earning pirate booty!
Again, let us know on Tapestry all you are doing at home, we love to see what the children have been doing. Don't forget show and tell on a Thursday and remember to book your parents evening appointment.
Friday 28th September
Today we have been exploring our senses with the help of lemons! We have been thinking about how the lemons smell, feel, and if they make a sound. Sadly, we were unable to taste them but we could imagine what they would taste like! We also drew pictures to show what a lemon looks like whole and cut up.
Tuesday 25th September
This week we are looking at the sound /oa/ spelt with the vowel digraphs 'oa', 'ow' and 'oe'. We will also be thinking about where these sounds come in a word: beginning, middle, or end? Can you think of any words with these sounds in? We'd love to hear some of the words you can think of!
Monday 24th September
Today, Hedgehogs and Squirrels have been counting forwards and backwards on numberlines. We even made a numberline outside made of conkers. Numberlines help us lots in our learning because we can see patterns in numbers and use the numbers to add and subtract. Counting forwards helps us to see the numbers getting bigger and counting backwards helps us see that the numbers are getting smaller.
Why not see if you can create your own numberline to 20 at home...... send us your photos, we'd love to see them.
Year 1 have also been talking and learning about weddings as part of our memory box theme. We loved throwing confetti and learning that red is often worn at weddings for good luck. Again, we would love to see photos/items from weddings that the children can remember attending.
Wednesday 19th September
The children have been remembering what it was like to be a baby and a toddler. They each took it in turns to share their memories with the class and answered questions.
Monday 17th September
Today the children in Hedgehogs class and squirrel class have been exploring birthdays. They began with some clues in a mystery bag and guessed that all the clues were about birthdays. They have wrapped presents, held a party for the babies, played pass the parcel and written invitations. The children have had lots of fun helping the babies to unwrap their presents and reading them their birthday cards. Lots of learning and lots of fun had by all.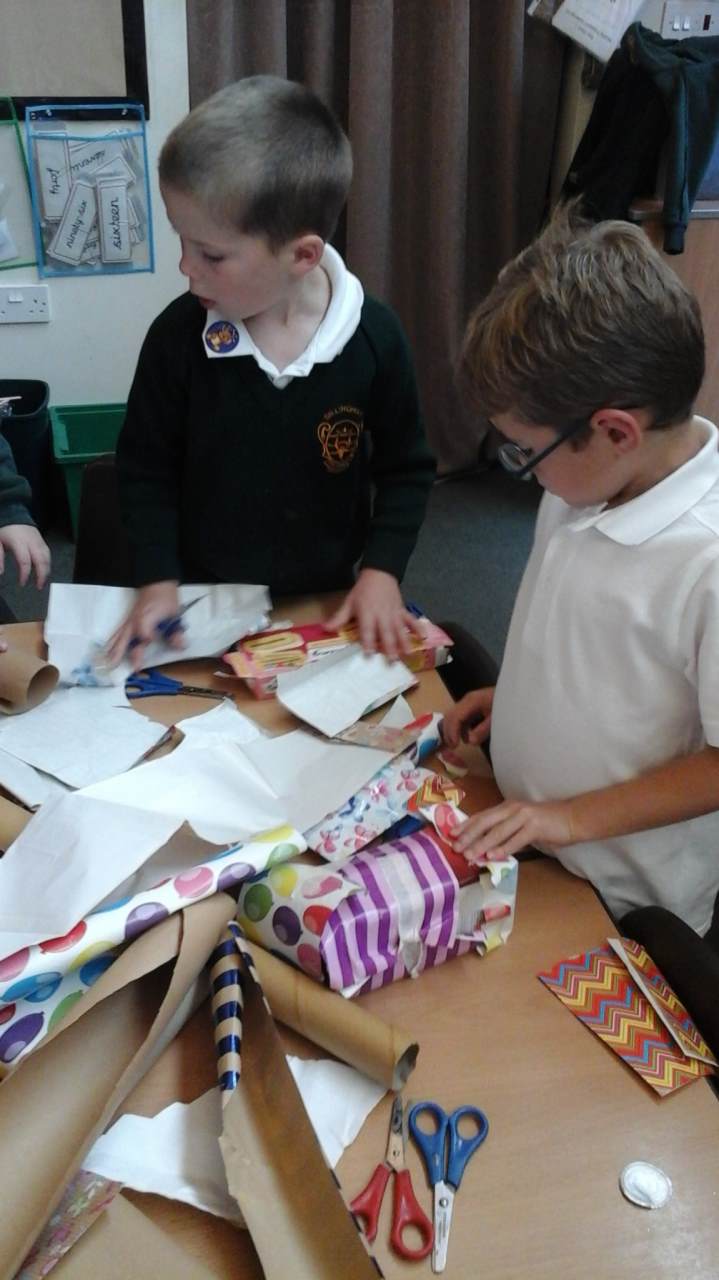 Wednesday 12th September 2018
Hedgehogs and Squirrels had a wonderful skipping session today with Emily from Dan the skipping man. She said how impressed she was and we loved it! The adults joined in too.
This week in phonics we are learning the ai and oi sounds which usually appear in the middle of a word.
Thank you also for attending the parents meeting on Monday.
Miss Cross and Mrs Scammell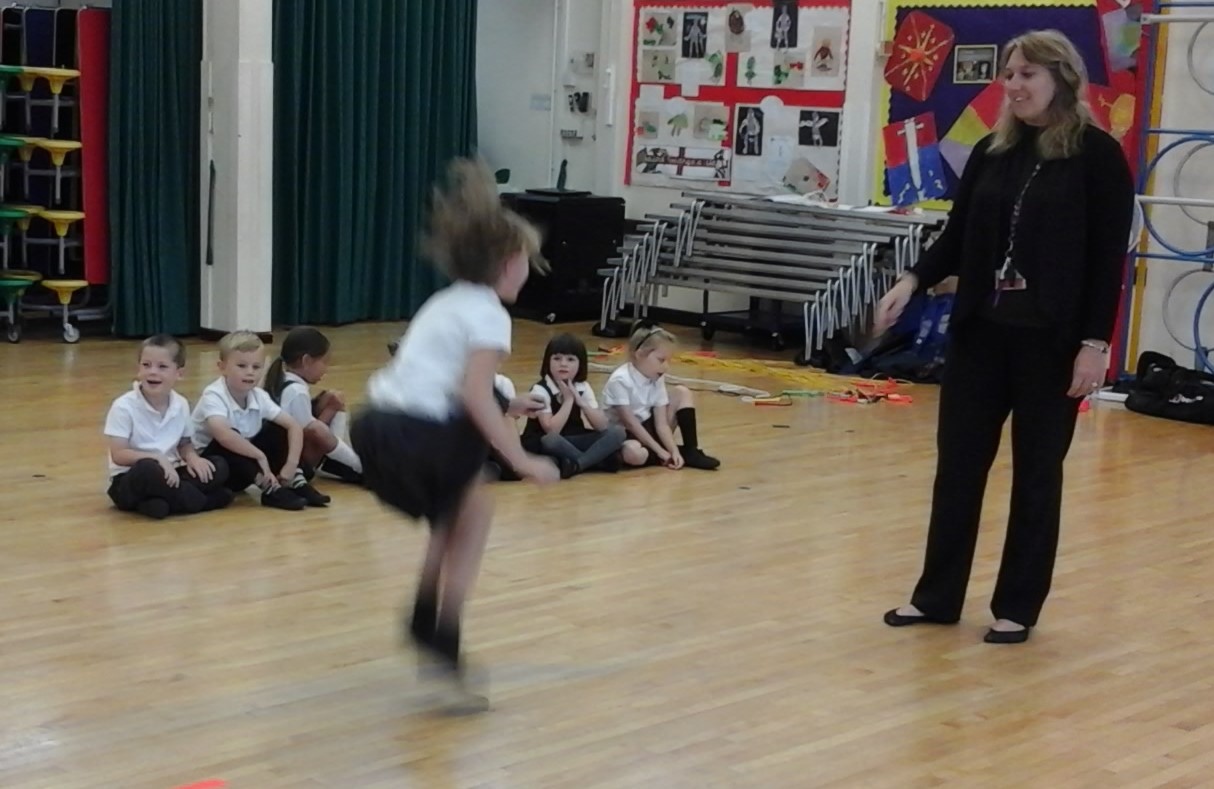 Thursday 6th September 2018
Hedgehogs and Squirrels have settled very quickly into Year 1 and we would like to say thank you to all the parents and carers for their support so far. This week, we are exploring the classrooms and learning routines. They have really enjoyed our baby clinic roleplay and the shape shop!
We look forward to seeing you all after school on Monday for the parents meeting - a creche for your children will be held in Year 2 with Mrs Walker.
Miss Cross and Mrs Scammell