Class Blog
Wednesday 02nd February
The trip to the park was brilliant for Camel class and Zebra class built a ramp in the playground that proved just as popular. The children analysed the results from the testing of their carts and used the experience to write an evaluation of their builds. This is in their writing books - look out for it in the next 'book look' session!
This week our focus has been back on what is happening with that Iron Giant, after he escapes from the pit and whether he is continuing to cause chaos across the countryside. The children have been predicting what they think will happen next and it has been very interesting to hear what they have had to say. The children have been creating embossed art - keeping that metallic feel. They have been learning how to create different textures using unusual media.
Next week is our innovate week - this means we will be leading our learning and completing tasks that we will be given by ourselves! We know that this will involve cardboard boxes nuts and bolts (desperately love any spare ones you have) and recycled materials. Please can you send in as much as you can - different sizes and shapes all welcome - it could be plastics, metal, fabric etc...
Friday 25th January
Wow, we have been busy with our topic on Mighty Metals - We have experimented with forces using levers to move heavy loads and friction as a counter force. Please support your children by looking out for these things in everyday use. You can talk through what is happening by asking them questions and supporting them in their explaining - hopefully great fun!
We have also been learning to write non-chronological reports about our experiments and are learning that technical vocabulary is really important when we are trying to explain what happens. We have continued with the story of the Iron Man, which is gripping at the moment - ask your children to explain what is going on but don't give away what happens next! Hopefully the new reading books are going well - In class we are reading Mr Stink and the children are thoroughly enjoying each chapter as it unfolds. If your children bring home a homeless person or start hiding sausages to offer homeless people you will know where it came from!
In maths, we have been tackling the thorny subject of division and what happens when you can not equally divide a number into equal groups. The children have enjoyed drawing groups on tables with a whiteboard pen to support their understanding of this difficult concept. You could reinforce it at home with grouping sweets into days of the week (quota for the day) or pasta, people or toys. The more practice the children have using this concept the easier it is for them to understand what is happening as the numbers get bigger.
Thursday 17th January 2019
Happy New Year to all our Parents!
In year 3 we have been very busy with our new topic: Mighty Metals! Hopefully you have all see the home learning sheets and have discussed what your project might be. We are very excited to see what everybody chooses to do.
In school we are busily learning about forces and thinking about construction. Mr Calloway is very excited about his plans to make levers and parachutes! We are reading a brilliant enthralling story in class as part of our guided reading called the Iron Man by Ted Hughes. We are using the same text to stimulate our writing as well. The children have been busily writing letters to fellow farmers to convince them to help us trap the Iron Man in a large pit.
Swimming was a great hit with the children, we were so proud of them, hardly anyone lost any of their clothes and all of them managed to get changed quickly and independently - thanks for doing such a great job with them at home - we were impressed. The swimming teachers were also pleased with the way the children listened and with how positive they were about trying new things especially those who had not been swimming before.
The children have been thinking about types of forces and how we use force to make things happen. We visited the local park to investigate the way that playground equipment moves and why it stops when we no longer exert force. We would love you to ask your children about this at home; when they sit on a chair or get up from a table - when they go to bed or when they are in the bath or playing on toys like bikes. Just being aware of what is happening and what they do with their bodies to cause movement will help them understand forces more fully.
In mathematics we have been exploring the depths of multiplication and have just begun the opposite journey of division - many of the children are doing really well learning their number bonds, times tables and related facts - please do keep practicing with them as these skills are essential if they are going to do well in all aspects of life!
Please could we ask that you support your children in collecting metal items that they could bring into school as we are going to have a go at making metal musical instruments and will need some variety to get different pitches.
Wednesday 10th October
Today the children have been creating a poster to advertise their smoothie - they have had the challenge of including persuasive vocabulary / slogans and exploring ways to make their advert stand out from the rest of the others. We are hoping for the children to be able to make their smoothie before the end of the week. They have decided what fruit they would like to put into it and used the internet to research prices of their ingredients.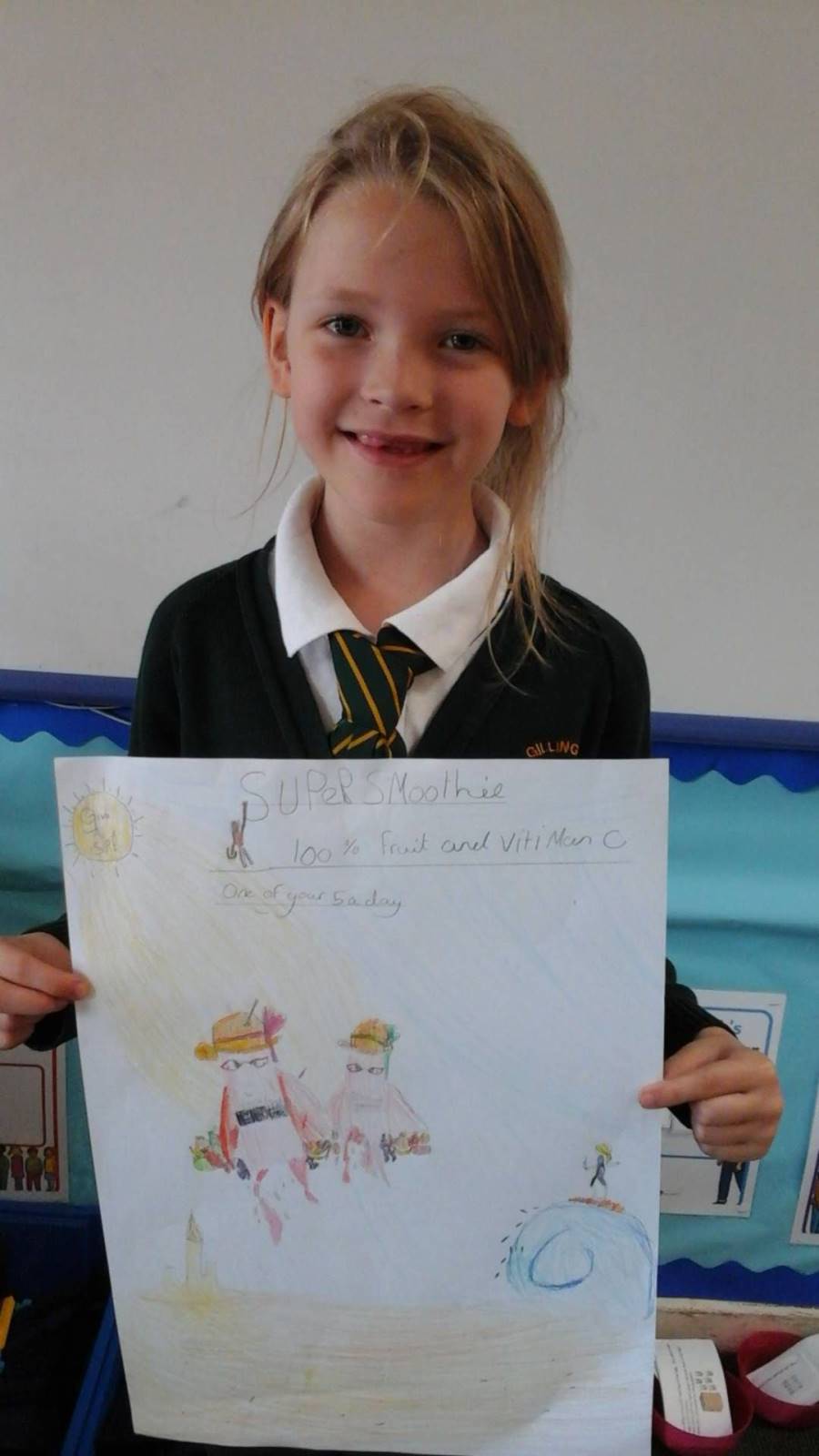 Tuesday 2nd October
Last week in year 3, the children have been exploring and reciting 'nonsense' poems and then writing their own. They based their learning around the poem 'Ning Nong Nang' by Spike Milligan. They really enjoyed performing their poetry to each other and being recorded on video.
Here are a a couple of children performing their version of 'Ning, Nang, Nong'.
Monday 25th September
Year 3 have had a busy start to the year! We are enjoying our new topic 'Scrumdiddlyumptious'. We have been tasting, evaluating and baking our own bread.
Currently, in DT we are in the process of designing our own packaging for a scrumptious food that we have chosen.
To go alongside this DT learning, we have been writing instructions for making bread as well as for our own imaginative creations.
In Maths we have been busy learning about place value and using our skills to solve lots of problems!