Class Blog
Wednesday 25th June 2019
On Monday, we found it rather interesting researching how tools, settlements, monuments and art evolved throughout the Stone Age, Bronze Age and Iron Age.
As a school we discourage the use of insulting language, however … in Year 3 this week, insults have been freely flying around(all age appropriate of course!) as we are in the process of taking on the role of a bard and writing Celtic Insults Poems (celebrating our Chief and mocking our enemies!). The children are coming up with some fantastic similes and metaphors. We are very much looking forward to them performing their poetry to the rest of the class.
Friday 21st June 2019
The children have been working hard this week, applying their skills and knowledge in various ways: 'Stone Age' baskets using a rather tricky weaving technique were created, posters for staying safe whilst playing online computer games were designed and algorithms were used to create art work during Computing.
We have also been reflecting on our time in Year 3, thinking about the progress we have made and what we have enjoyed learning about (surprisingly no one mentioned 'prepositions' or 'subordinate clauses').
Have a good weekend!
Friday 14th June 2019
This week, we have been learning about geographical features in our local area and the difference between human and physical geography. We discussed what type of area we would choose to live in and why. We then compared this to the requirements of someone who lived 2000 years ago.
We also discovered how metal tools and weapons were made during the Bronze and Iron Age and how to use a tree trunk to help create 71 pints of ale (lots of notes were made by the teachers!).
There are a number of hill forts in Dorset if you would like to visit one:
https://www.visit-dorset.com/things-to-do/attractions/castles-and-forts
Well done to Camel Class - you have now won KS2's Attendance Award 2 weeks in a row!
Wednesday 5th June 2019
The week started off with us discovering a rather unusual and unexpected stone pattern in the middle of the school field. How did it get there? Where did it come from? What did it represent? Lots of animated discussions and theories were shared, although it remains a mystery!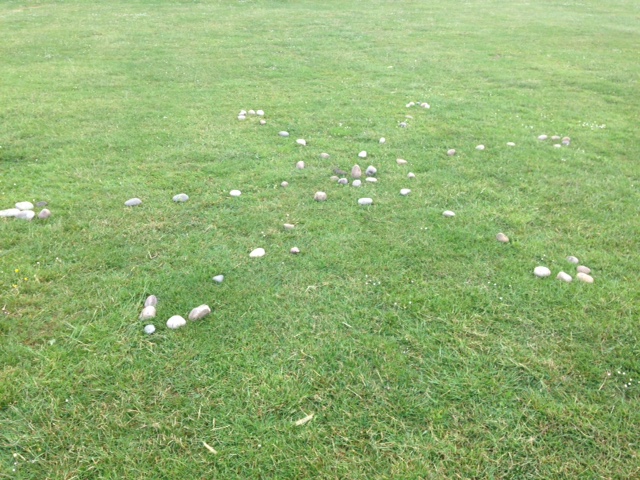 This trail of thought led us on to thinking about Stonehenge - we explored the many theories about it and we are currently researching this ancient monument in more detail.
If you do get the chance to take your child there on a visit, I'm sure they would be able to give you a running commentary as you tour the site.
https://www.english-heritage.org.uk/visit/places/stonehenge/
We were inspired to create our own models of Stonehenge using clay. It had to be as accurate as possible, which meant we had to closely study the shape and size of each stone, the layout of the monument and ensure that we had the correct number of 'stones' (which was a surprisingly large number!).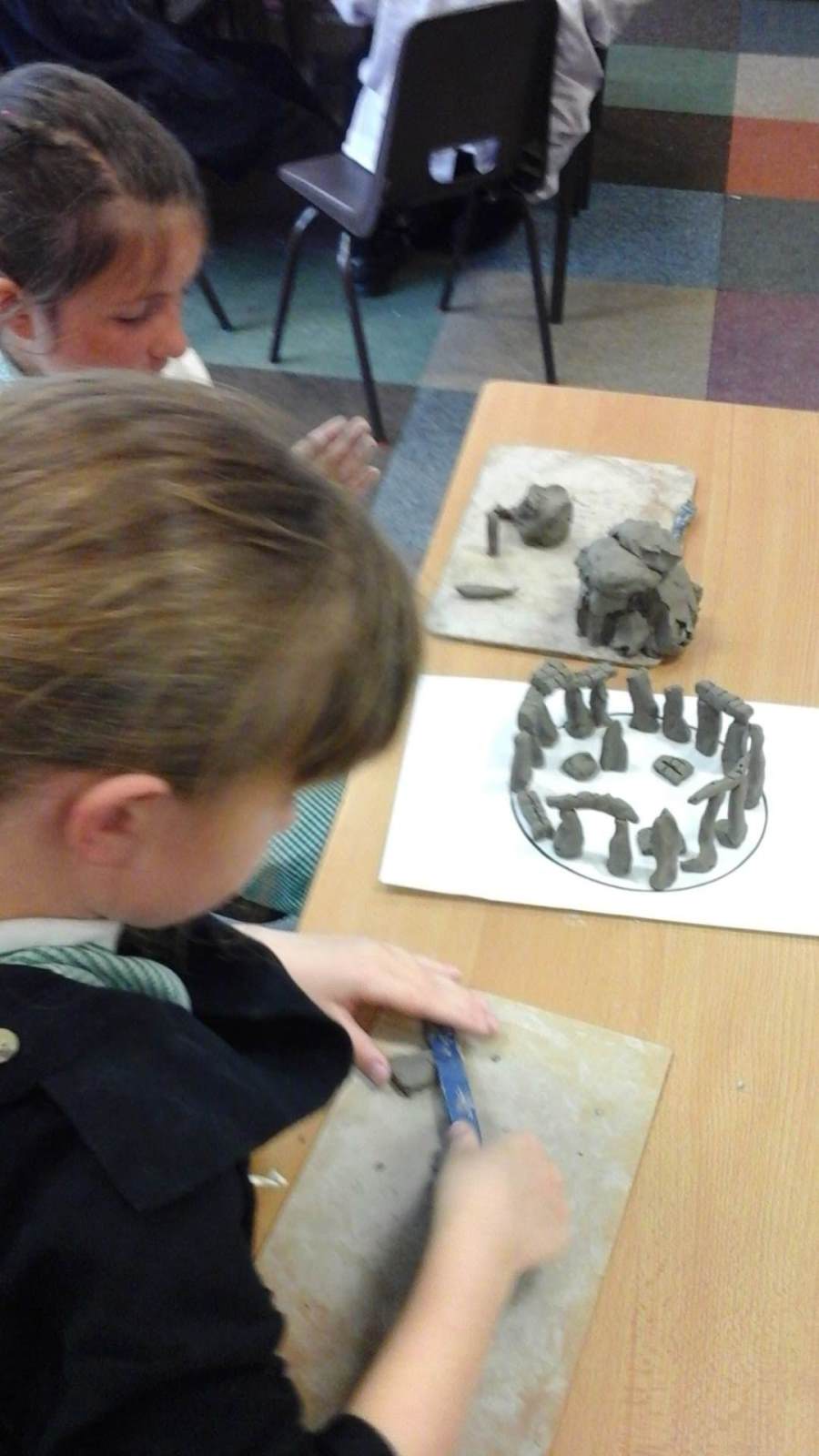 Wednesday 22nd May 2019
We are coming to the end of a short but packed half term and would like to wish you all an enjoyable break.
Times tables
We will not be setting homework, however, we would like the children to challenge themselves to become even more confident with their times tables (particularly x3, x4 and x8 tables). Some children may still need to consolidate their rapid recall of the x2, x5 and x10 times tables. As always, the more you practise, the quicker and more accurate you will become! If you really know your tables, you should be able to recall the answers within 5 seconds.
Spelling Shed
There are lots of word lists on Spellingshed.com for you to continue practising over the holiday (including the Year 2 Common Exception words and Year 3 and 4 High Frequency words).
Reading at home
Reading at home with your child is incredibly important and has a very real, positive impact on their learning across the curriculum. There is lots of research on the internet to support this, with many great ideas for how to best support your child.
http://www.bbc.co.uk/guides/zyvhpv4
https://www.bbc.co.uk/news/education-15639642
https://www.pearson.com/content/dam/one-dot-com/one-dot-com/uk/documents/Learner/Primary/Primary%20parents/Pearson_EnjoyReading_03.pdf
Friday 17th May 2019
Reminder - as we have now reached the last week of term , please can all those children who have yet to bring in their project work do so by Thursday. This will mean that they will then get a chance to share what they have learnt with the rest of their class.
A big 'well done!' to all those who have already brought their projects in - we have seen some absolutely fantastic pieces of work! The children's enthusiasm and interest for each topic is always great to see. Thank you parents for supporting your child with their work at home - it makes a huge difference.
Wednesday 15th May 2019
This week, the children have been learning to tell the time using the language of 'past' and 'to'. 'Time' can be tricky (even for adults) so the more you can practise at home and bring into every day conversations, the more confident your child will become. For example: What time does school start? How long will the programme last for if it starts at... and finishes at...? What will the hands on the clock look like when it is ...? If playtime starts at 10.35 and lasts for 20 minutes, what time will it end?
I'm sure you can think of many more!
A few of our volcanoes managed to erupt this week but many remain dormant - it appears that our 'explosive' mixture needs a bit of a rethink!
"Only those who dare to fail greatly can ever achieve greatly."
― Robert F. Kennedy
Wednesday 8th May 2019
What a difference modern technology makes to our lives! This week we have been comparing the eruption of Mount Vesuvius in 79AD with the Japanese Tsunami in 2011 and thinking about how and why we know far more about one than the other.
Update: Our model volcanoes have now been rather spectacularly painted and within the next week or two they will (hopefully) erupt - photos/videos to follow.
Some general reminders:
Spelling Shed can be used to help your child practise their spelling homework - the words they need to learn each week are, as always, in their normal spelling book AND on Spelling Shed.
Your child can create their own spelling lists on Spelling Shed if there are particular words which they are getting stuck with.
Children must have complete PE kits in school every day.
Please ensure that all uniform is named.
Wednesday 1st May 2019
Year 3 has turned into a disaster zone (nothing unusual there I hear you say)! Our new topic 'Tremors' has generated much enthusiasm - we have learnt about Pompeii and Mount Vesuvius, started to create our own mini volcanoes (which will 'erupt' at some point in the coming weeks) and the work/research which children have been bringing in from home has been fantastic.
Over the next few weeks, the children will be practising telling the time using analogue clocks (including Roman numerals) and digital clocks. We will then move onto using 24 hour clocks and solving word problems. From year 2, most children should be able to read times showing 'o'clock', 'half past' 'quarter past' and 'quarter to'. Many should also be able to tell the time to the nearest 5 minutes (e.g. 20 minutes to 5, 10 past minutes 7). The more practise you can do at home, the better!
Wednesday 3rd April 2019
Year 3 enjoyed a fantastic visit to Longleat on Monday. It was great weather and a perfect way to finish off our 'Predator' topic. The children got the opportunity to learn about (and in some cases stroke) many different creatures including Royal Pythons, ferrets, cockroaches and tarantulas! We also explored the different animal enclosures and even got to see the new koalas. A lovely picnic lunch was enjoyed by all before we all clambered back on the coach for the safari tour. The behaviour of all the children was excellent and all the adults were very proud of them.
Next term our new topic will be 'Tremors' - what can you find out about volcanoes and earthquakes? We are not setting any homework for this holiday but please continue to practise number bonds to 100 and multiplication/division facts. Also read as much as you can!
Have a good Easter break!
Friday March 22nd 2019
We have been reading and writing our own Haiku poems in English this week - it was important that we knew how many syllables were in each of the 3 lines (see if your child can remember!).
In Maths, we have been adding, subtracting and comparing fractions. If you want to practise fractions at home it could be an excellent excuse to eat lots of cake, chocolate and pizza (although, of course, a balanced diet is very important!).
Spelling Shed (www.spellingshed.com) is a great resource and links to words we are learning in class. Your child has their own login details so they are able to play at home. If you do not have any internet access, please see your child's class teacher as we may be able to provide time during the week.
Friday 15th March 2019
A special visitor came to Year 3 today to help us with our 'Predator' topic - a corn snake!
The children were fascinated, with many never having seen a snake up so close before. Lots of interesting questions were asked, many facts were learnt and none of the children were eaten, so it can go down as a very successful morning!
Many thanks to Imogen and her family for providing us with this great learning experience.
Wednesday 13th March 2019
Year 3 have been doing a lot of measuring this week including adding and subtracting lengths and measuring perimeters. It can be very tricky converting between different units of measurements but it is an important life skill. Would you rather the height of your garden fence is 2m, 2cm or 2mm? (Depending on your neighbours, you may wish your fence to be 2km tall!)
Well done to the Year 3 children who represented our school in a football tournament today - I've been told that all the matches were very exciting to watch and Mr Watts was very proud of you all. Good luck to those children who are taking part in next week's tournament.
Wednesday 6th March 2019
Thank you for helping your children with their research on predators at home - this has really helped to support their writing this week. Mr Dennehy and Mr Calloway have learnt many new and interesting facts!
In Maths, we have been exploring measures, particularly measuring length and converting between mm, cm and m. For some children this can be quite a difficult concept so any practical measuring you can do at home with them would be much appreciated.
We are all looking forward to World Book Day tomorrow - who (or what!) will you dress up as?
N.B. Your child should have brought home a letter about Year 3's trip to Longleat on the 1st of April. If they haven't, please ask Mrs Logan for a new letter.
Wednesday 27th February 2019
This week we had a fantastic start to our Predators topic with a visit from Mere Down Falconry. The children were able to learn lots of facts about owls and have been using this information to write non-chronological reports. We are already seeing some amazing writing from the children which they will complete throughout the week.
Next week, we will be applying the writing skills they have learnt this week to write about a predator of their choice. Please could you help your children complete their research by Monday 4th March as this will help support their writing. Please come in on our next 'book look' day to see your child's fantastic writing.
Wednesday 2nd February
The trip to the park was brilliant for Camel class and Zebra class built a ramp in the playground that proved just as popular. The children analysed the results from the testing of their carts and used the experience to write an evaluation of their builds. This is in their writing books - look out for it in the next 'book look' session!
This week our focus has been back on what is happening with that Iron Giant, after he escapes from the pit and whether he is continuing to cause chaos across the countryside. The children have been predicting what they think will happen next and it has been very interesting to hear what they have had to say. The children have been creating embossed art - keeping that metallic feel. They have been learning how to create different textures using unusual media.
Next week is our innovate week - this means we will be leading our learning and completing tasks that we will be given by ourselves! We know that this will involve cardboard boxes nuts and bolts (desperately love any spare ones you have) and recycled materials. Please can you send in as much as you can - different sizes and shapes all welcome - it could be plastics, metal, fabric etc...
Friday 25th January
Wow, we have been busy with our topic on Mighty Metals - We have experimented with forces using levers to move heavy loads and friction as a counter force. Please support your children by looking out for these things in everyday use. You can talk through what is happening by asking them questions and supporting them in their explaining - hopefully great fun!
We have also been learning to write non-chronological reports about our experiments and are learning that technical vocabulary is really important when we are trying to explain what happens. We have continued with the story of the Iron Man, which is gripping at the moment - ask your children to explain what is going on but don't give away what happens next! Hopefully the new reading books are going well - In class we are reading Mr Stink and the children are thoroughly enjoying each chapter as it unfolds. If your children bring home a homeless person or start hiding sausages to offer homeless people you will know where it came from!
In maths, we have been tackling the thorny subject of division and what happens when you can not equally divide a number into equal groups. The children have enjoyed drawing groups on tables with a whiteboard pen to support their understanding of this difficult concept. You could reinforce it at home with grouping sweets into days of the week (quota for the day) or pasta, people or toys. The more practice the children have using this concept the easier it is for them to understand what is happening as the numbers get bigger.
Thursday 17th January 2019
Happy New Year to all our Parents!
In year 3 we have been very busy with our new topic: Mighty Metals! Hopefully you have all see the home learning sheets and have discussed what your project might be. We are very excited to see what everybody chooses to do.
In school we are busily learning about forces and thinking about construction. Mr Calloway is very excited about his plans to make levers and parachutes! We are reading a brilliant enthralling story in class as part of our guided reading called the Iron Man by Ted Hughes. We are using the same text to stimulate our writing as well. The children have been busily writing letters to fellow farmers to convince them to help us trap the Iron Man in a large pit.
Swimming was a great hit with the children, we were so proud of them, hardly anyone lost any of their clothes and all of them managed to get changed quickly and independently - thanks for doing such a great job with them at home - we were impressed. The swimming teachers were also pleased with the way the children listened and with how positive they were about trying new things especially those who had not been swimming before.
The children have been thinking about types of forces and how we use force to make things happen. We visited the local park to investigate the way that playground equipment moves and why it stops when we no longer exert force. We would love you to ask your children about this at home; when they sit on a chair or get up from a table - when they go to bed or when they are in the bath or playing on toys like bikes. Just being aware of what is happening and what they do with their bodies to cause movement will help them understand forces more fully.
In mathematics we have been exploring the depths of multiplication and have just begun the opposite journey of division - many of the children are doing really well learning their number bonds, times tables and related facts - please do keep practicing with them as these skills are essential if they are going to do well in all aspects of life!
Please could we ask that you support your children in collecting metal items that they could bring into school as we are going to have a go at making metal musical instruments and will need some variety to get different pitches.
Wednesday 10th October
Today the children have been creating a poster to advertise their smoothie - they have had the challenge of including persuasive vocabulary / slogans and exploring ways to make their advert stand out from the rest of the others. We are hoping for the children to be able to make their smoothie before the end of the week. They have decided what fruit they would like to put into it and used the internet to research prices of their ingredients.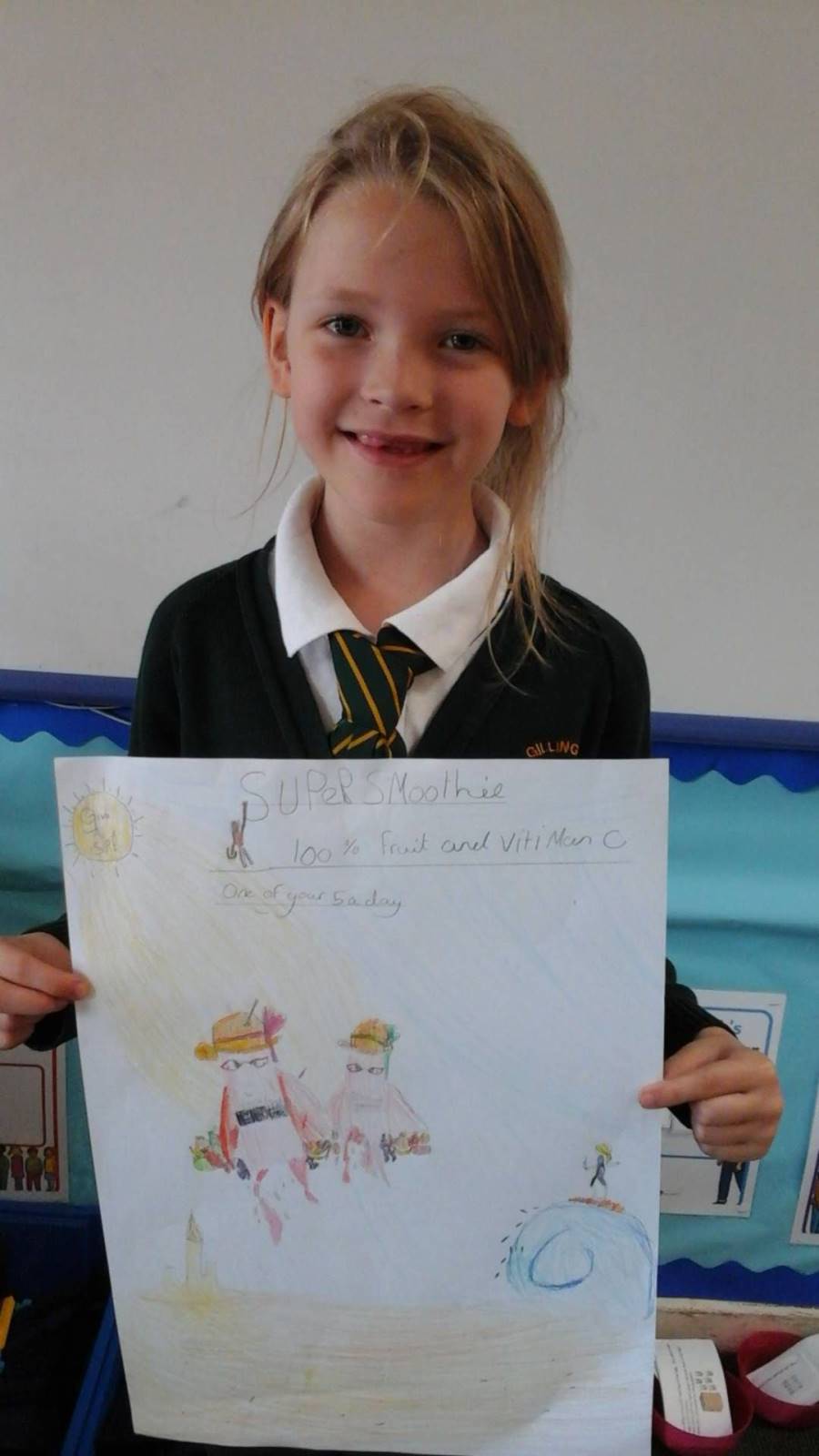 Tuesday 2nd October
Last week in year 3, the children have been exploring and reciting 'nonsense' poems and then writing their own. They based their learning around the poem 'Ning Nong Nang' by Spike Milligan. They really enjoyed performing their poetry to each other and being recorded on video.
Here are a a couple of children performing their version of 'Ning, Nang, Nong'.
Monday 25th September
Year 3 have had a busy start to the year! We are enjoying our new topic 'Scrumdiddlyumptious'. We have been tasting, evaluating and baking our own bread.
Currently, in DT we are in the process of designing our own packaging for a scrumptious food that we have chosen.
To go alongside this DT learning, we have been writing instructions for making bread as well as for our own imaginative creations.
In Maths we have been busy learning about place value and using our skills to solve lots of problems!