Wednesday 18th September
We have had a great couple of weeks getting to know all the children and launching our new Topic - Peasants, Princes and Pestilence. On the first day, the children were greeted by Pestilence personified - aka Mrs Rutter who was fantastic. This really helped the children to engage with and visualise the character. It is quite a challenge to take an abstract concept and give it human form. The children have also been exploring using similes, metaphors and personification in English and have written some fantastic character descriptions for Pestilence.

The children have also been learning about the symptoms of the Black Death and how it spread across Europe. We hope the children will not have too many sleepless nights. We have assured them that there is no risk to them in this day and age!
In Science this week, we have been looking at micro-organisms and exploring good and bad bacteria. The children have also set up an experiment to find out which parts of the classroom are the most contaminated. We have taken swabs from different locations and are now attempting to grow cultures on agar jelly.
In PE, the children have been creating their own 'Dance of Death' listening to the music by the composer Camille Saint-Saens called Dance Macabre. Please could the children bring in a black t-shirt for next week as we are planning to perform to another year group before the end of half term.
The children are learning to create computer games and we hope to create bacteria inspired computer programs. We are using Scratch which is a free online editor that the children can use at home if they would like to develop their skills further.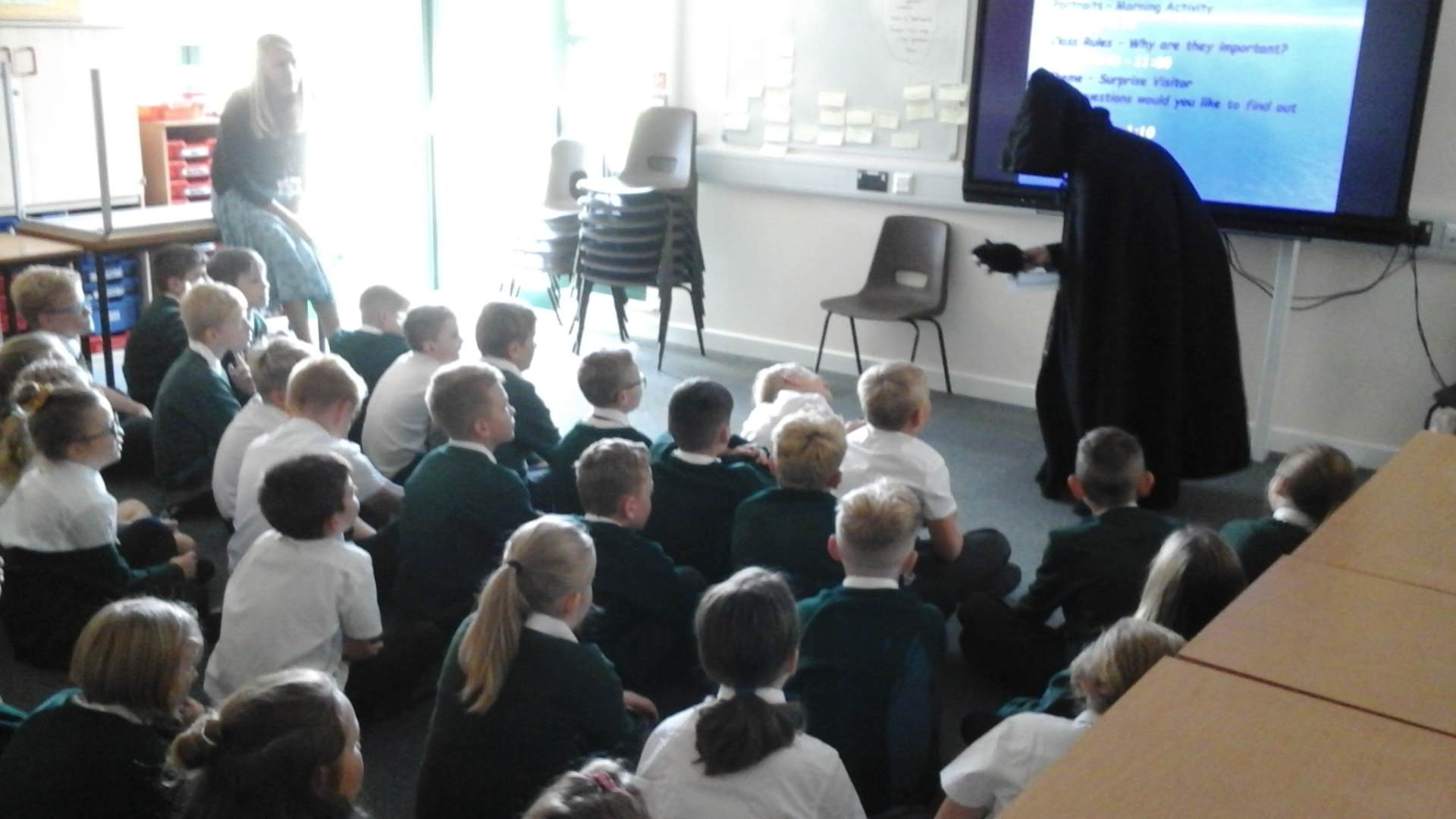 -------------------------------- End 2018-19 -------------------------------------------------
Wednesday 12th May 2019
Wow- what an exciting 8 days we have had back ! Last week we focussed on our innovation project for our Ancient Egypt topic. This involved the children designing and making their own Canopic jars using clay. They have also designed and made their own Sarcophagus- using card, paint, pastels or colours. The children put in lots of effort and it was great to give them the opportunity to be more creative.
During last week, we also took the opportunity to spend a morning sharing the amazing U homework projects that the children have bought it. We have seen a range of projects, including cakes, models, powerpoints, information and of course, mummies ! The children really enjoyed sharing their projects with each other and recognising the effort their peers had put it. We were very impressed !
Thanks to all those parents who chose to attend the SRE meeting this afternoon. Please don't worry if you didn't or couldn't make it. It was completely optional. However, if you have any queries about the upcoming SRE lessons, please don't hesitate to come and speak to us ! We will send a text message out on the day/s we are covering the lessons, so you are prepared for any questions the children may come home with.
Lastly, next week is test week for years 3,4 and 5. It is our school decision, that children in Year 3-5 take NFER tests. Therefore, we are doing some revision this week towards the tests. If your child comes home worried about them, please reassure them that they have learnt everything they can and just to try their best. We will be giving them this message in class.
Friday 24th May 2019
Have you ever wondered how the Ancient Egyptians made mummies?
This week, Year 5 have become experts in the process of mummification. We have researched and then written detailed instructions explaining the steps they took, and the reasons behind each procedure.
In maths, we have been exploring measurement. During your half term break, we encourage all children to continue to investigate different measurement units.
For example:
when cooking, think about weight (grams and kilograms) and volume (litres and millilitres) of the ingredients
when travelling places, discuss the distance
find items in the garden to measure. Think about the best unit to use: mm, cm or m.
Don't forget - U-homework is due back in on Thursday 6th June 2019!
Have a fantastic break!
Thursday 16th May 2019
What a week! The children have been using and applying their problem solving and reasoning skills to answer a variety of problems involving adding and subtracting decimals, and comparing and finding the answers to decimal sequences. Next week, we are going to be multiplying and dividing decimals, before moving on to measuring.
Over the last three days, the children have really enjoyed researching their own information about Ancient Egypt. They were given the choice of choosing death, life in Ancient Egypt or Monuments- such as pyramids and temples. Once decided, the children began researching and making notes about their chosen topic. Yesterday the children used their research to write their own non-chronological report. Over the next two days, we are going to be editing and improving our work, before publishing it in a chosen method. These will be on display in our shared area from next week... we would love you to come and see their hard work!
We have enjoyed our learning about Pharaohs and Ancient Egypt so much, that we haven't nearly covered everything we wanted in the short term we've had. Therefore, we are going to be continuing with this topic for a week or two after the half term topic. As a result of their enjoyment ( and lots of children asking) we are going to be sending home the U Homework ideas today, and children will have 3 weeks to complete it. Remember, these are ideas only and we welcome any creative ideas !
Friday 10th May 2019
This week, we have been finding out about the Egyptian Pharaohs and what their key achievements were. We will continue researching Ancient Egyptians next week, looking at mummification, ancient monuments and daily life. In writing, they have been developing non-chronological reports to present their findings.
In maths, we have been comparing fractions, decimals and percentages. We have found out that percent means "parts out of 100". We have used this to make our comparisons. This has required us to remember how to convert fractions, as we needed the denominator to be 100. We will continue our decimal work next week, with adding and subtracting decimals.
In PE, we have started a new dance linked to our Ancient Egyptians. We have explored movement to mimic building a pyramid. They have been leveling the ground, spotting the constellations, hauling the rocks and assembling the pyramid. We listened to the music (slow and solemn) and how it represents the use of slaves.
We have given out a website for children to access from home to support their maths. This website allows 10 free questions daily without the need to subscribe. The link is:
Ancient Egyptians- Horrible Histories Friday 26th April
This term, we are learning about the Ancient Egyptians, in particular the Pharaohs. We started our topic with a very exciting and engaging trip to the Mayflower Theatre, in Southampton, to watch the Horrible Histories show. The children were very excited and engaged from start to finish-the show was amazing- complete with flossing Pharaohs and raps. The second half began with 3D glasses and much screaming as flying objects, mummies and cobras came towards us. We can honestly say the children had a fantastic time and we were very proud of them and their behaviour.
We will keep you updated with the other exciting activities we complete in our topic.
As part of our learning, we are going to be learning more about the Pharaohs over the next 2 weeks and the children are going to be writing their own non-chronological reports to share some of the information they find.
In maths, we are going to be learning about decimals, and converting between decimals and fractions.
Music concert- Friday 29th March 2019
On Thursday, Ayla, Olivia, Verity and Eva performed for Year 5 a selection of songs on their violins. We were very impressed with their dedication to practise and refine their skills. It took a lot of confidence and bravery to perform to an audience. Well done girls.
Moon craters- Thursday 14th March 2019
Wow - what an exciting couple of weeks we have had! Over the last 2 weeks we have been learning about Sir Isaac Newton and our solar system. We have researched why and how the Earth experiences night and day.
This week we have been focusing more carefully on the surface of the moon and why it looks different colours. We have then created our own pictures, thinking carefully about the surface of the moon and how it reflects on to water.
Next week we are going to be writing our own stories about a trip into space and we will be trying to move the story on and show how characters are feeling by using speech.
In maths, we will be continuing with our fraction learning- this week involving adding proper and mixed number fractions.
Finally- thank you to everyone who contributed towards our cake sale, or bought cakes. We raised over £140, which is going towards the cost of our trip next term.
Star gazing in the Planetarium- Tuesday 26th February
Well doesn't half term seem like a long time ago? We hope you all had a wonderful time and enjoyed spending some time in the sun.
In year 5, we have begun our first week back nice and busy- just as you would expect. Our topic this term is 'Stargazers'- where we will be learning lots about space and our solar system - The Milky Way.
We were very lucky to have a special visitor in school yesterday, who came with his Planetarium. Bob showed us and talked to us about the night sky, constellations and meteorites. During the visit, we were given the opportunity to look for different animals and shapes in the constellations- including dolphins, a dog and a hare. It was an amazing opportunity for the children and we all really enjoyed it- unfortunately we were unable to take photos to share with you.
The rest of the week looks set to be just as busy- with a cake sale- more fact finding about the Solar System and some fraction work in maths- this will include adding and subtracting fractions and finding equivalent fractions. Some of us will need to use our previous learning of converting mixed number fractions into improper fractions and vice versa in order to find missing fractions in a number sequence.
Mining Exhibition
In year 5, we have been very busy designing, making and presenting for our Mining Exhibition. We have used a range of the skills from DT, art, literacy, maths and science to create a range of different exhibits about different areas of mining.
We will be showcasing our work on Thursday 14th February from 2:50 to 3:30pm and Friday 15th February 8:30 to 9:00am, so please drop in to see our amazing work.
Celebrating our amazing children !
In year 5, we feel strongly that lots of our children are working really hard. Although we celebrate some of these in our Gillingham Growth celebration assembly on a Friday afternoon, we as teachers, felt that we needed be celebrated more children for their accomplishments- this could be academic, social or personal achievements.
We held our first year group celebration last Thursday, and a total of 10 children from both classes were awarded a certificate for achievement. These will stay up on display in our rooms for a week, so visitors to our classes can see who we are proud of. The certificates will then come home so you can share in the celebration.
This week we are doing some maths assessments and writing newspaper articles about the Oaks Colliery mining disaster. We can't wait to see who deserves a certificate this week.
Thursday 31st January 2019
We have been thinking carefully about what life was like for miners, both in and out of the mines. As part of our learning, we looked at some of the paintings by a group of miners, called the Pitman Painters. These people were miners, who wanted to learn how to paint. They asked a local artist to help them and he refused, explaining they needed to practise and learn their own techniques. The Pitman Painters went on to produce a series of paintings that reflected what life was like for miners and their families.
After being shown some of the paintings, the children then designed and painted their own painting, to show part of mining life. By the end of next week, some of these will be on display in our shared area, along with some of our diary entries from a Victorian mining child. Please do come and have a look.
Exciting learning ahead!
Following on from our exciting start to the topic, we spent the rest of last week beginning to learn new facts about coal mining. This included learning about the location of coal mines in the United Kingdom and the children then independently research coal mines to find their own facts.
This week, the children have began looking at diary entries of children, who used to work in the mine, to establish what life was like. They have been looking specifically at:
- Jobs
-Punishments
-Ages of workers
-Hobbies/ Interests
- Injuries
-Feelings
The children are then going to use this information to writer their own diary entry, pretending that they are a Victorian child who has worked in the mine.
In maths, our learning will vary this week. Some of us will be learning and consolidating our 3 and 4 x tables. Others of us are continuing our work with division problems and solving divisions using the bus stop method. ( If you're not sure what this is, ask your child, if they have been in the group learning this this week, they will happily share it with you). We have also been l;earning about prime and square numbers. We're looking forward to a busy week!
Monday 14th January 2018
WOW! What a start to our topic- Firedamp and Davy Lamps. On Friday evening, the children in year 5 were invited back into school to a surprise event. During the intervening period between home time and then, the year 5 teachers and teaching assistants transformed the classrooms into mining tunnels:
When the children arrived back at school, they had to enter the classrooms by a chosen door- which led them straight into mining tunnels. The children spent the first 20 minutes using their headlamps to explore the various tunnels and dark areas. We even got them to explore it with their torches off!
After initial exploring, we got all the children together and they ate their homemade bread rolls and potato and leek soup, which they had prepared and made in school earlier that day! I think it's safe to say, a brilliant time was had by both adults and children and we can't wait to share more experiences with them in the rest of the topic.
7
Friday 14th December 2018
This morning we were very lucky to be invited to watch some of our talented musicians play their brass instruments. The lucky children have been practising their brass instruments since year 4, and invited us to watch their final performance, which of course included some Christmas songs.
The children performed as a group and then some of them plucked up enough courage to perform a solo. We are so impressed with their perseverance, confidence and talent.
Our talented musicians:
Wednesday 28th November 2018
Today we received a special delivery from Alchemy Island, consisting of some LED bulbs, copper film, batteries and some pieces of paper. Our task was to make the light bulb work using the battery, piece of paper and 4 pieces of copper film. In partners, we had to think carefully about how to do this. We were given some instructions that we had to following including:
- The bulb was not allowed to touch the battery.
- We had to use all of the equipment we were given.
- There needed to be a fold in the piece of paper.
Working out how to do this required a lot of perseverance and resilience. Eventually, we were given some instructions to follow if we had tried everything we could think of.
All of the children showed great perseverance and really tried their hardest. I am so impressed with them!
Trying to solve it!
Some of us were relieved when we were given instructions.
Eventually, some of us had some success- great to show it could be done!
We are now eagerly awaiting the next special delivery from Alchemy Island!
Over the last 2 weeks.....
........we have received some exciting deliveries from Alchemy Island. Last week we had some samples from different parts of Alchemy Island and we investigated the properties of these samples, including whether it was magnetic or hard. We used some special heat conducting sheet to test whether or not the samples could conduct heat.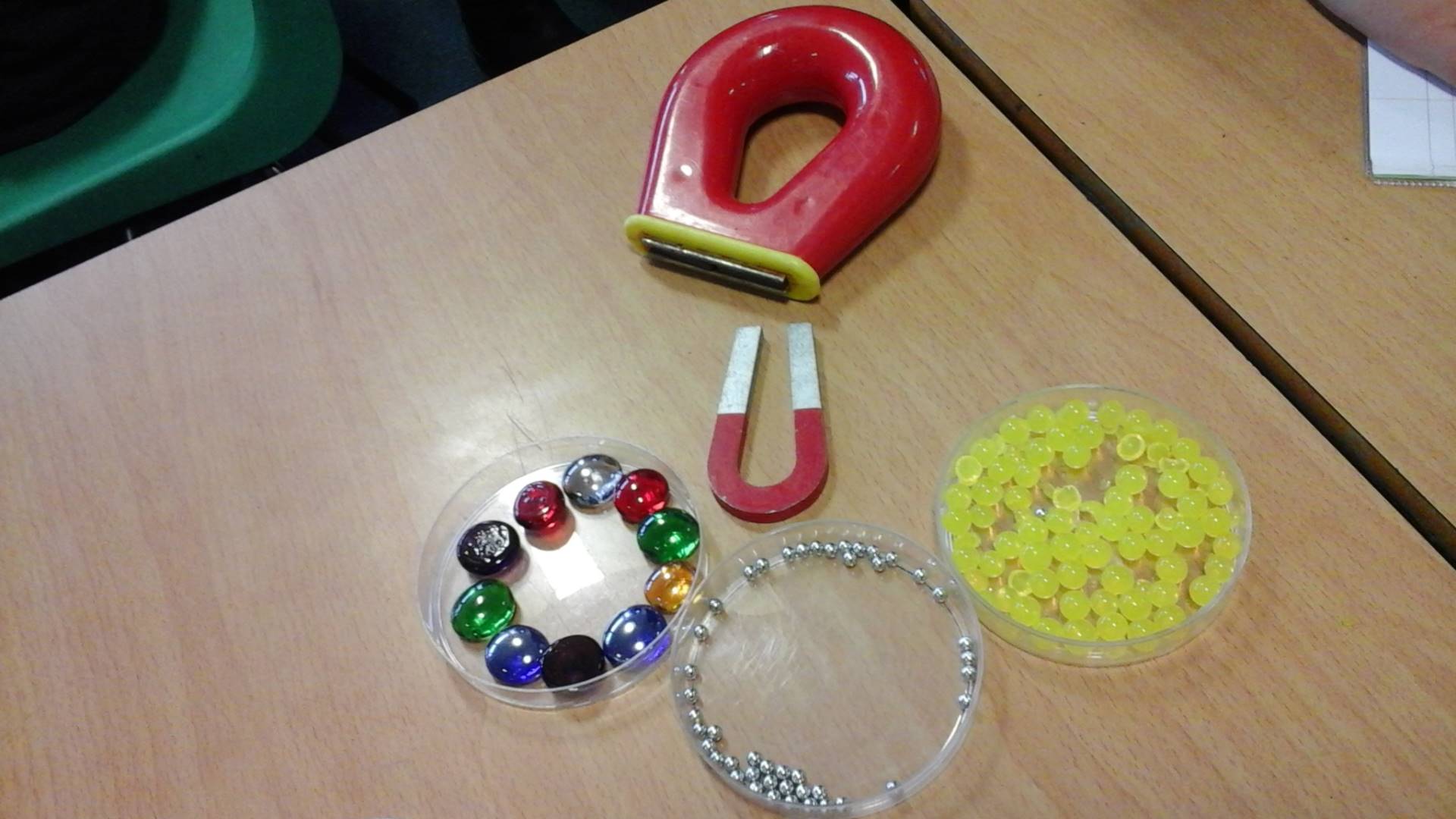 Some of our samples ready for testing.
Heat conducting sheet
This week, we received some samples of contaminated water. There were 3 different samples. A stranded person living on the island, has asked us to turn these samples into drinking water as there is no drinking water on the island. We investigated what we would need to do in order to get clean drinking water from contaminated water.
Firstly we needed to sieve the contaminated water to get rid of any large particles and solids.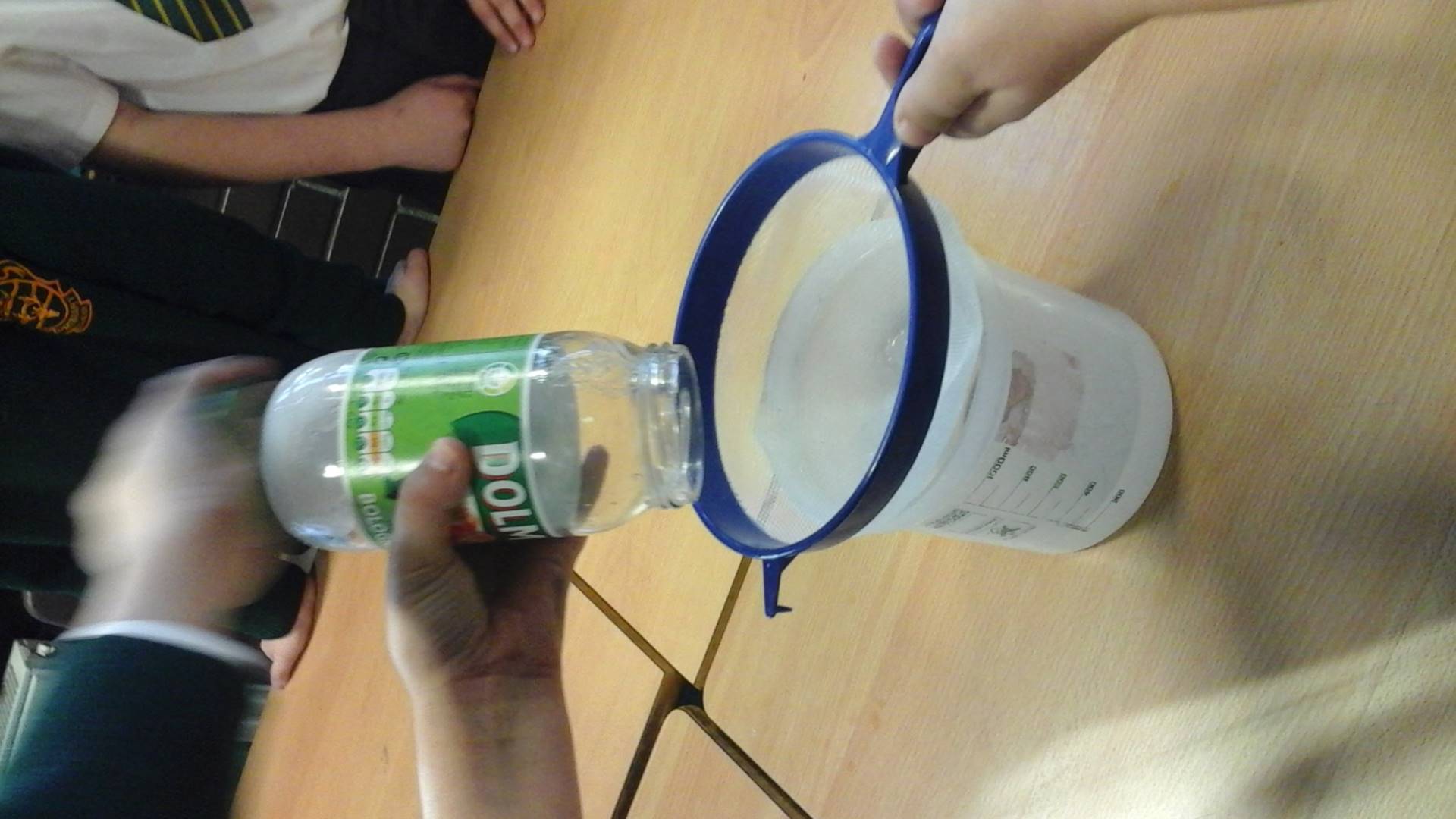 Then we had to filter the water to get rid of any smaller particles.
Lastly, we put the remainder of the water into some homemade solar still . The idea being that the water will evaporate, hit the bin ball and roll down into the beaker. Anything over than water will be left in the bowl. Now we need to wait and see if the water evaporates and turns into drinking water. ( Don't worry, we won't be drinking it!)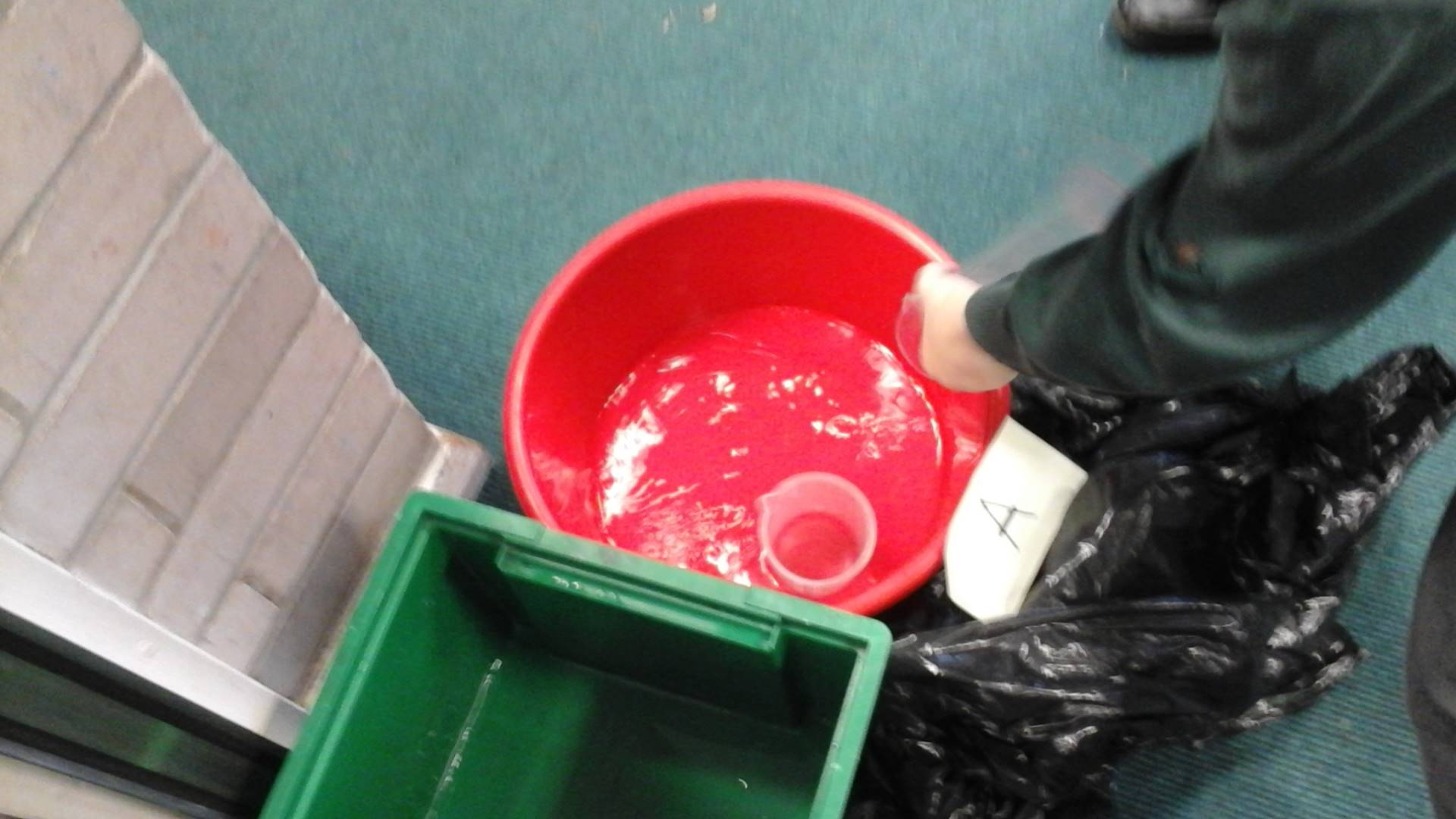 Our homemade solar still.
Thursday 1st November
It has been an exciting week for year 5 this week! We have left the middle ages behind following a wonderful modern day Knights training academy and begun our mysterious adventures on Alchemy Island. Today the children found an interesting box left in our aresola, with a note and some interesting samples that we are looking forward to exploring in the coming weeks. We are firstly exploring portals so please do share any stories you have enjoyed with your children that involve portals.
We would also like to say an enormous thank you to all the parents who came along to our Knights training camp and viewed the wonderful U-homework that your children produced with your support. I hope you can all see from the variety of tasks how many talents your children have. We look forward to watching your children grow in confidence and skills as our projects develop.
Finally thank you to all those parents who have joined us to discuss your children's learning this week. If you missed parents evening and would like to come and discuss your child's progress please do speak to Mrs Logan who will happily arrange a mutually convenient time for us to discuss what your child does well and what we can all support them with to develop.
We look forward to working with you in the unwrapping of the mysteries of Alchemy Island!
The Year 5 team
Tuesday 16th October
Our Visit to Farleigh Hungerford Castle:
Wednesday 10th October
In year 5, we have been getting very excited about our trip to Farleigh Hungerford castle tomorrow. Yesterday, we used some websites and information booklets to find out some extra information about Knights. We can't wait to find out more tomorrow......
Friday 05th October
Another busy week in year 5 Tigers with us learning about the life cycles of rats, fleas and bacteria. Who knew life could be so interesting! The children researched information and used that along with information we already had about life cycles from our science learning to create powerpoints that we could present.
In preparation for our exciting trip to Farleigh Hungerford Castle we have been learning all about the art of being a knight and Chivalry. Life in the Medieval period was very complicated so decided to find out about people from different groups – it was called the Feudal system. That is why Knights were very important. Knights went to war and fought for the King, they loved lots of ladies and jousted for fun! It must have been quite hard being a knight because they wore metal all the time. The horses must have been very strong. Luckily the Knight had helpers to get their armour on and off, they were called squires and boys could become a helper at the age of five! Parents paid for their children to become knights because they had to be trained.
Hopefully we will find out more about life in a castle next week on our trip!
Friday 28th September
This week have been learning about the life cycle of the flea, rat and bacteria. We have been focusing on writing journal entries about the Black Death, having watched videos about what life in the Middle Ages might have been like. We have used quality description to make our writing interesting - look out for our presentation copies on the walls at parents evening.
We have also been focusing on learning about place value in maths – using place value to round larger numbers to the nearest 10, 100 and 1000. This has been challenging for some of us but we have persevered and struggled through our learning to help us grow our brains.
On Thursday we presented our Harvest work with four groups reading the information they found out about how farmers worked in Medieval times and what the farming year was like. Our Mural was really good at the front of the hall and lots of people said they liked it. We felt proud because we all had a hand in creating it.
The dances we have been working on based around the piece of music called Danse Macabre is really coming on – we practiced moves to Michael Jacksons' 'Thriller' and it is amazing how good some of the children's moves are – we have had lots of leaders confident enough to show others how to do moves, which has been brilliant for all of us.
Finally we are very excited about the trip we found out about today – in October we are hopefully going to visit a Medieval Castle! It is not complete because most Medieval Castles were demolished during the Civil War but there are parts left and we are going to see a wall painting, which is what we based our Mural idea on. So much going on!
Tuesday 25th September
This afternoon, we have been busy learning about the Flagellants. The children really enjoyed listening to eye witness accounts, using information on the learn pads and looking at texts to find out facts about the Flagellants. It was a really exciting topic and the children have found out lots of gory facts, including that they whipped themselves as they believed it would please God. Using their amazing facts we are going to create a display.... watch this space for photos!
Wednesday 19th September
In year 5 this term we have been learning about Pestilence and how the Black Death affected London, we also had a visit from the mighty Pestilence during class. The visit has taught us about the symptoms and what happened while this was happening.
We have settled in nicely to our new classes and made a lot of new friends.
We are now focused on a medieval frieze, this is a frieze of the seasons, Winter, Spring, Summer and Autumn. We were all split into four groups, each holding four or five writers, this is all taking place for the Autumn harvest. The frieze is meant to show the harvest that happened in medieval times.
Year 5 has been very fun so far and everyone has settled in well, we have seen some new faces and it's now like they've been here since Reception. In maths we have been learning about place value and rounding, some of us are finding it easy and some hard but it doesn't matter as we all learn at different stages.
Last Friday two people came in from Dan the skipping man to teach us how to skip, it was a very fun day and most of us have improved on skipping and we have all learned some new tricks and skills, we also know some fun games about skipping.
In literacy, we have been writing about the black death and we have also been learning about similes, metaphors and personification, some of it has been hard but we've all got over it.
In guided reading we have been reading a book named The pied piper of Hamlin, we have been answering questions about it and we have also been identifying adjectives, adverbs, and verbs in the text by underlining them in coloured pencil
In science we have been looking at different types of bacteria and what they can do to you, we have also been collecting and growing it in a kind of jelly and we have been waiting for results since it happened. Some people's samples have already got some results but others may not have them yet.
By William T